The 2009 Dutch HRCA AGM was held on Sunday 7th June 2009. Host this time was Hans van Dissel. Although a member of the HRCA, Hans is well known for his broad interest in vintage toy trains in general. Trying to also find the lesser known brands of days gone by, according to his own estimate, Hans has managed to collect locomotives, wagons and accessories from over 150 manufacturers.
---
Hans his home is divided into many rooms, some of which are packed with trains. This picture shows the layout, which is in a basement under his home Hans has dug himself. As you can see, the layout is more of a showcase of the golden years of toy trains than a working layout, with many sidings. The walls in the layout room are packed with nice rakes of items. Above the main gauge 0 layout a single track of gauge 1 circles the room.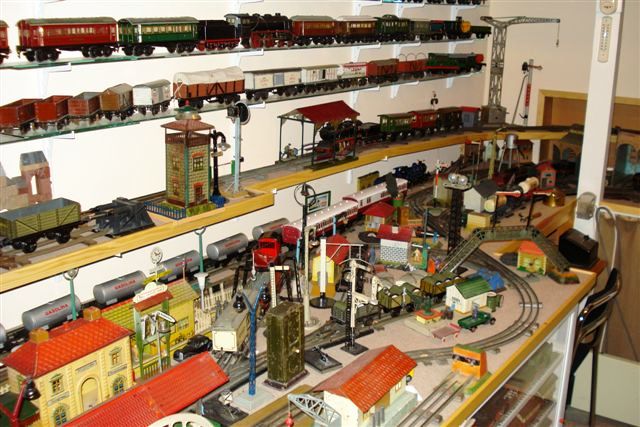 Here you can get a nice idea of the mix of items on the layout. A gantry crane by Doll is combined with an early canopy of unknown German manufacture, sheltering some Leeds wood-and-paper wagons, with some Biller Bahn narrow-gauge items of the Fifties in the foreground.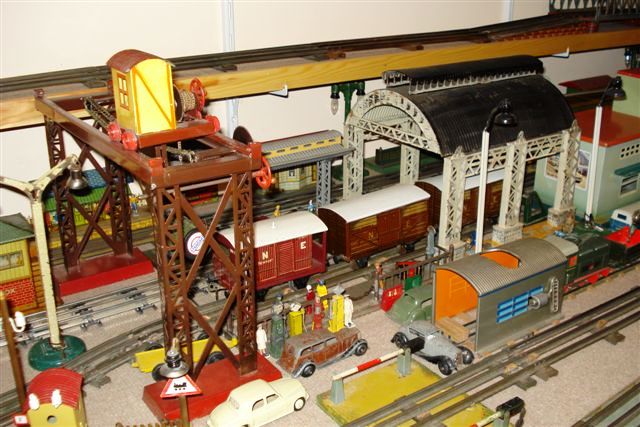 On this side of the layout items are on show of the old brands from the beginning of the 20th century. On the right you can see a very rare Issmayer customs office, which Hans had just bought on eBay. In front is a Carette station with a (later) Bing station on the other side of the track. The two short-wheelbase coaches are by Bing, while the yellow postal van was made by Hans out of tinplate, inspired by a picture of a gauge 1 Plank item of around 1900. The crossing in the right-hand corner, with its bell and raised guards house, is also by Carette.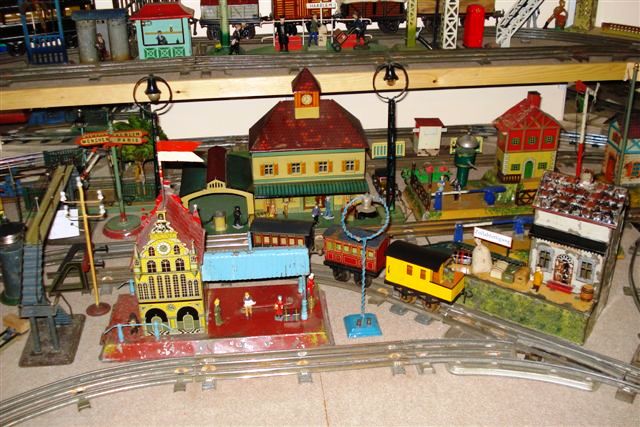 Since the HRCA is Hornby only, our secretary Peter Zwakhals brought some items from his collection. This time it was the complete set of 12 tinprinted No. 0 Vans from the late Thirties. As usual with Peter, all items are in good or better condition and complete with original box.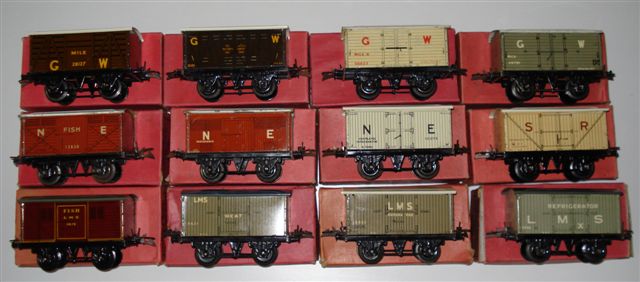 We had a special guest over from the United Kingdom. HRCA member Anthony Garton (left) joined our ranks for the meeting. Anthony was doing work for a Dutch company and found time to join our meeting. The weekend before he had visited the Dutch National Railway Museum, and is showing some of the photos he took Niek van Ees.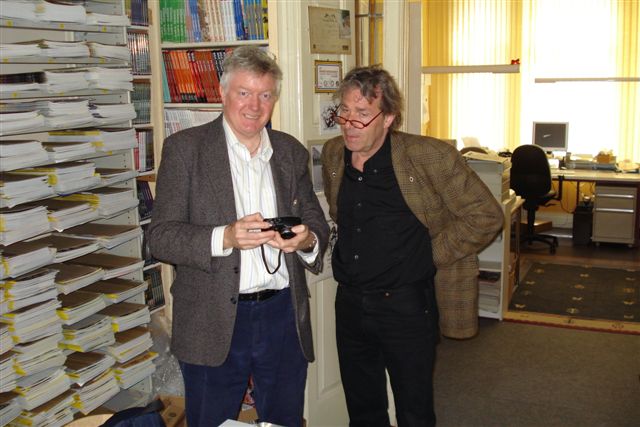 Hans van Dissel (right) shows Peter that a major part of his collection are Hornby items. Here you can see the specially-made Hornby cabinet in his train room with a selection of the 4-wheel goods stock.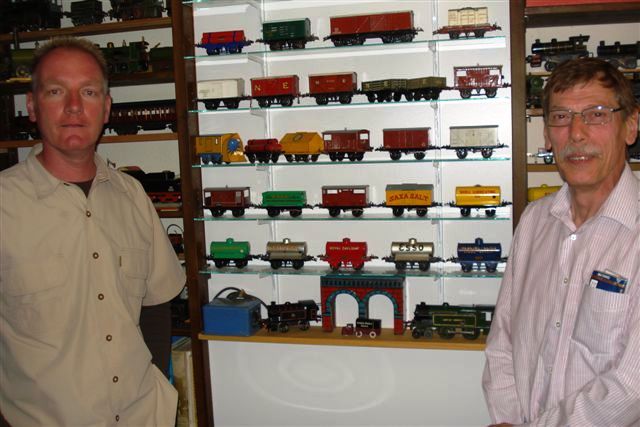 Back in the train room just above the layout room. The electric outline locomotives of the type known in France as boîte à sel and in America as center cab electrics, found a place over here. They are from makers like Märklin, JEP, Elme, Louis Roussey (Le Rapide) and Bing. On the shelves above a nice electric tender locomotive, coaches and goods wagons by Husch found a place.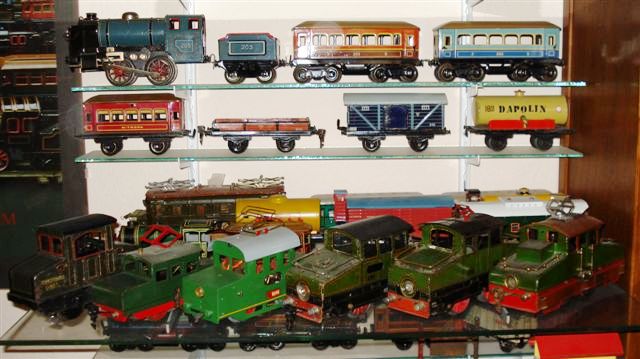 ---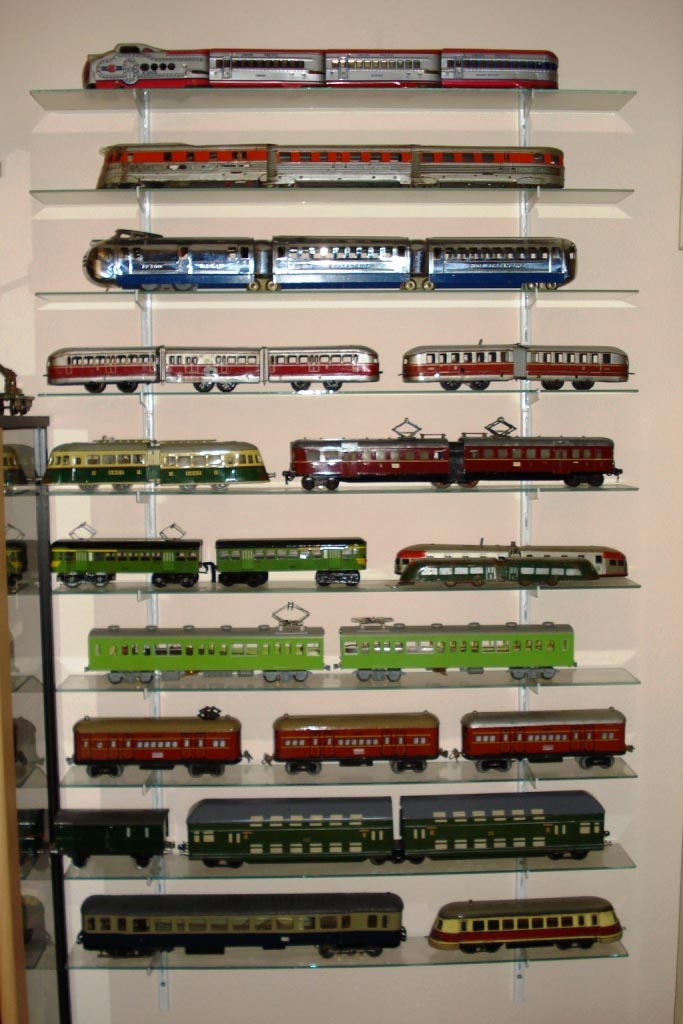 Hans is also keen on streamliners. Here you can see a selection. Starting from the top: Marx, American Flyer, Hoge, Distler, Joustra and Fleischmann. On the shelves below are electric and diesel railcars by Gils, KTM, Ferris, Cam and Märklin.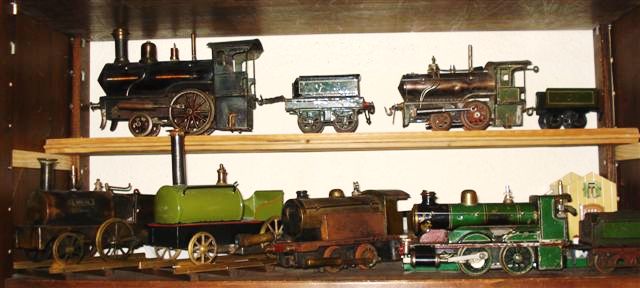 Some of the live steam locomotives in the collection, with on the upper shelf circa 1905 Schoenner locomotives in gauge 1 and gauge 0 and on the lower shelf examples by Clyde Model Dockyard, Stevens Model Dockyard, Bowman and Märklin.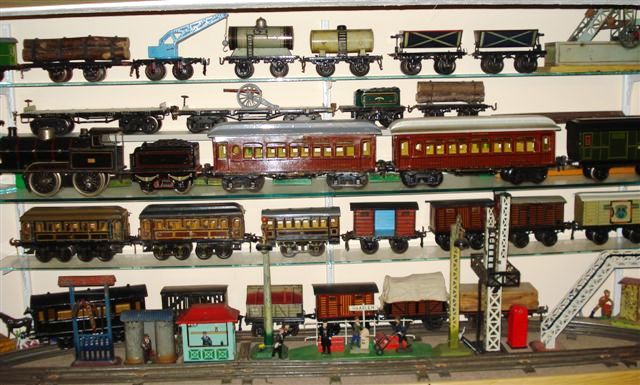 Hans also has a small collection of gauge 1 items, mainly by Märklin, Bing, Carette and Bub.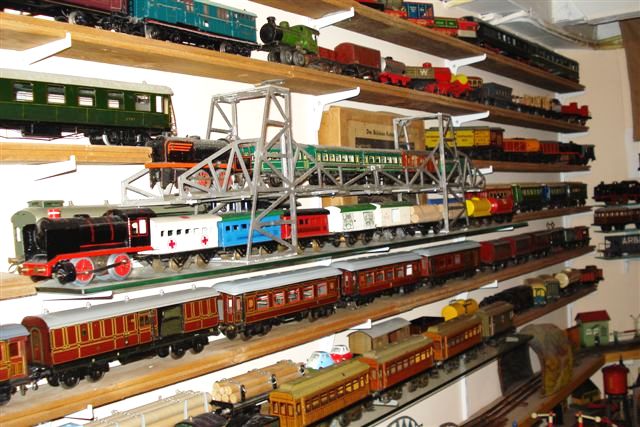 A rather special item. It is a railway bridge made up by Hans from a German building set dating from October 1945, which is made up from scrap aluminium from German military equipment of the second World War. A variant of turning swords into ploughshares....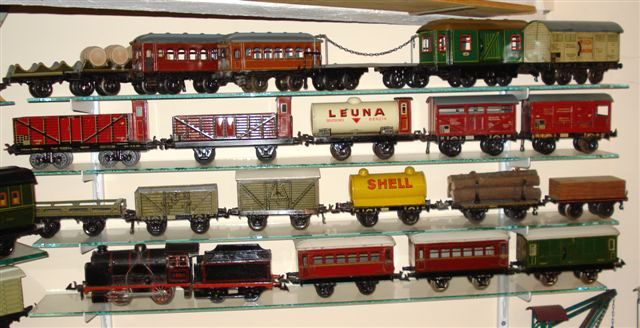 Some two-wheeled stock by Bing of the early Thirties. Some of the items were originally intended for the British market, but were also sold in Germany, with appropriate changes in the markings on the vans.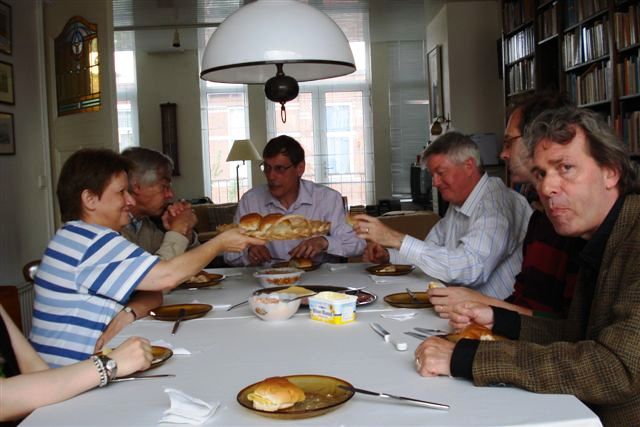 Hans his wife Elisabeth prepared a lovely lunch, which we enjoyed very much. Judging by his expression, Niek van Ees (on the right) is not too keen having pictures taken during lunch.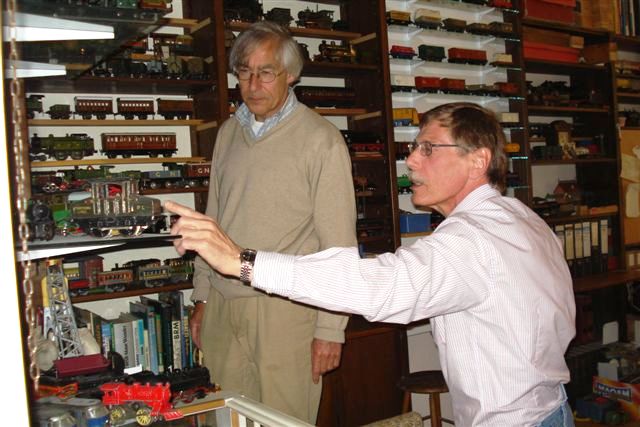 Paul (right) and Hans join their passion for the lesser known brands of toy trains. This can lead to lengthy, but enjoyable discussions.