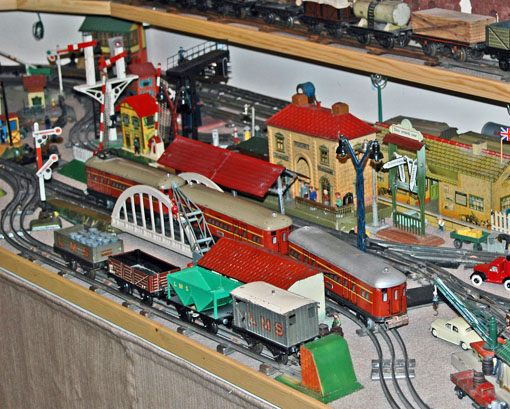 It has taken me years, but I have managed to build a layout of sorts in my basement. The layout is not that big (about 4.5 x 3 meters), but contains 23 switches, allowing three trains to run at once and giving plenty of scope for shunting - once I get round to installing all the wiring. At the moment the outer loop is functional and powered by an old Lionel transformer. I have a Hornby and a Fleischmann unit lined up for the other two loops.
Track and switches are a mixture of Hornby, Jep, Märklin, Bing, Lionel, Ditmar, Paya and Bub and one switch by a make you've probably never heard of: Lion. If I was to start all over again, I'd probably stick to track of one make, as it is sometimes quite a lot of work to get locomotives and rolling stock functioning properly over the hotchpotch of track. But then, the layout is not only there to run trains: it is also a showcase of tinplate 0 gauge products (or, to put it another way, I don't have enough space on my shelves for all my trains and accessories, so a lot has been put shoulder to shoulder on the layout. A proper railway modeller would probably shudder at the sight of the layout.
Here in the picture some Hornby wagons are on a siding with a Hornby crane and Cabo goods shed, while an Australian Ferris Suburban rumbles across a Märklin bridge, past a pre-war Paya covered platform and a Märklin station with Dutch lettering. Next to the station is a Jep operating crossing and behind the Märklin station is Hornby No 4E one. The upper shelf contains a single loop of gauge 1 track.