In the summer of 2010 the Dutch HRCA had a joint meeting with the Dutch branch of the TCS. And although some of our Dutch HRCA members also belong to the TCS, this get-together was a first for both clubs! Host for the occasion was Fred van der Lubbe, who did it the other way round in joining the Dutch HRCA while being a TCS member first.
---
Fred has been collecting toy trains for many years, by many different manufacturers and in all possible gauges. Star attraction of the meeting was Driehuis Junction, Fred's magnificent garden layout, named for the town he lives in.
Some of our members present (l to r): Rob van Teylingen and Paul watching the train approach, while Hans Kusters is distracted by Henk Brouwer and Niek van Ees discussing its merits.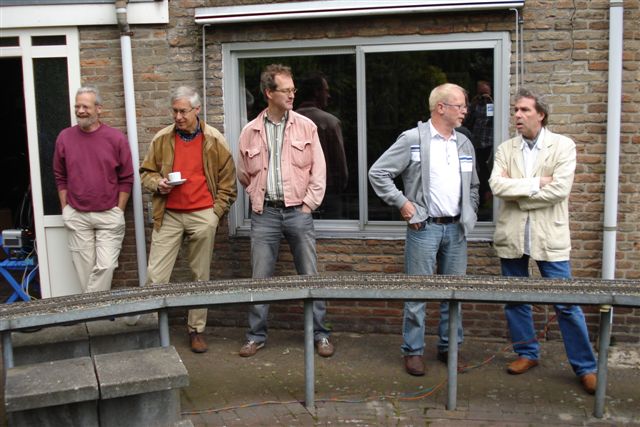 A Hornby E220 Special Compound with a rake of Corridor Coaches was among the first trains to have a go on the outdoor track.

A post-war Leeds Model Company LNER 0-6-2 with a LNER twin coach articulated train passes the water tower.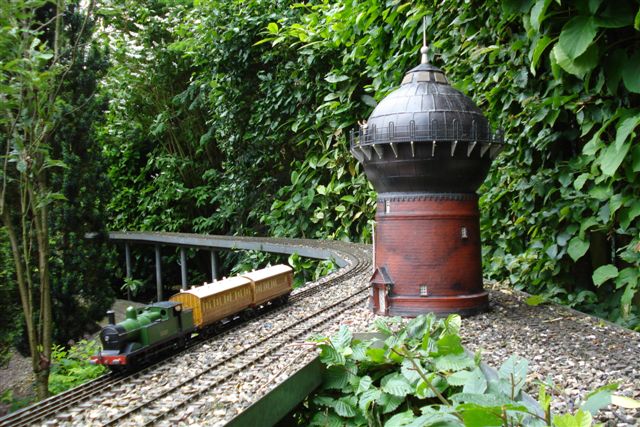 Fred has ingeniously adapted the inside loop to allow both 0 and 1 gauge to be run using either 2- or 3-rail power. The outside loop is 1-gauge 2-rail only.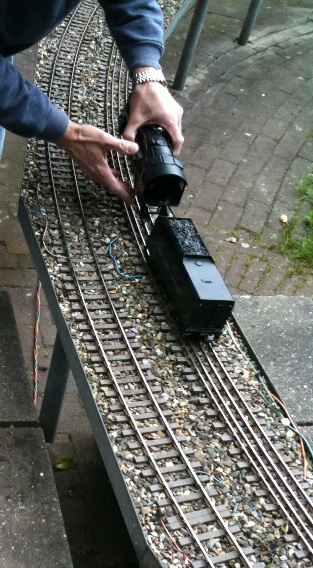 On the outside track a Kiss gauge 1 Deutsche Bundesbahn E18 with a rake of Marklin coaches passes the LMC LNER train, looking rather dwarfed in comparison.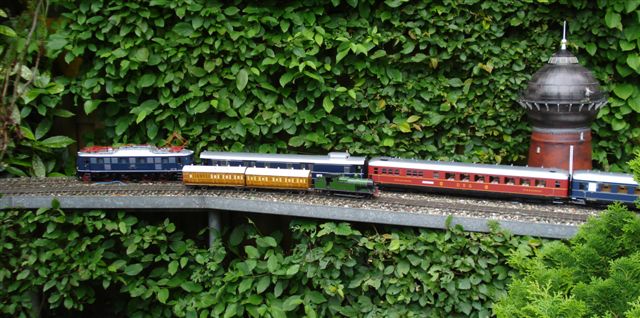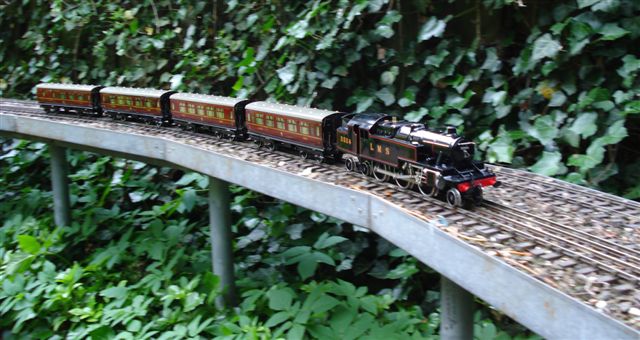 Next, a black ACE Trains E/8 LMS Stanier locomotive took over the Hornby coaches.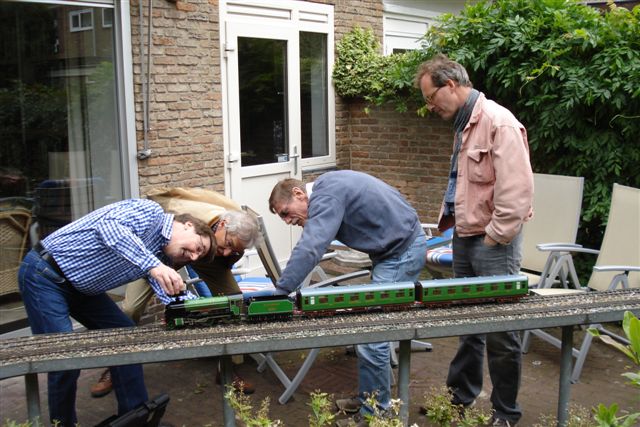 Fred van der Lubbe (left) providing a detailed demonstration to Paul, Hans van Dissel and Hans Kusters on how to prepare a live steam loco for duty. The loco in this case being a splendid Aster Schools Class 4-4-0 in gauge 1 with Southern coaches.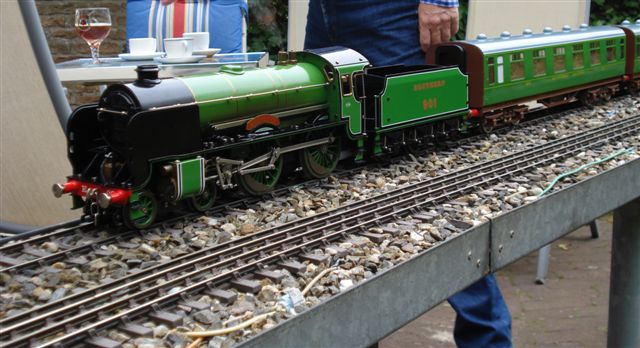 All set to go - just waiting for the whistle!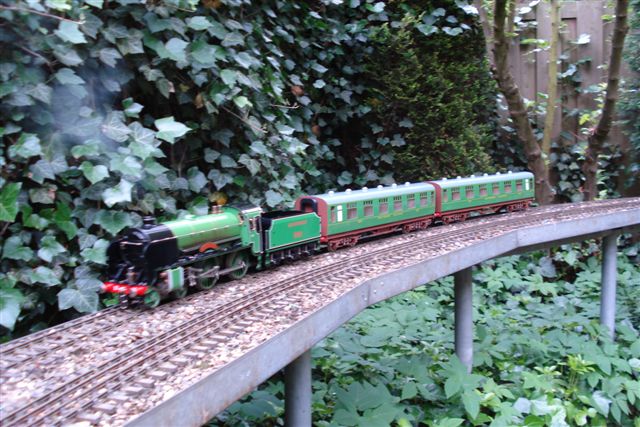 Always a magnificent sight, a model train running on real steam.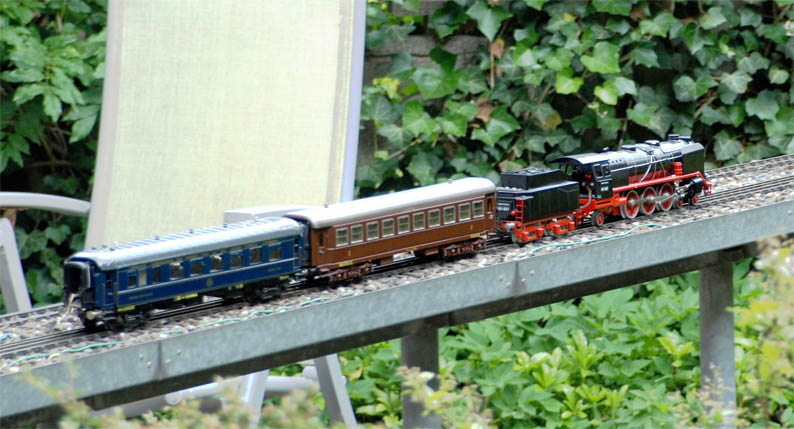 An O-gauge replica Liebmann 2C1 locomotive passing by with a pair of Elettren coaches.
---
Just one of the display cabinets showing the great diversity in Fred's collection.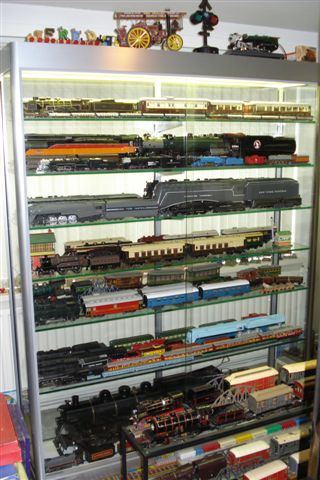 To run all these different gauges, you need a layout like this!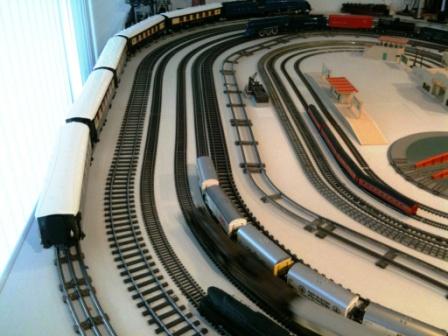 And to add even more variety to the day, Henk Brouwer brought along this lovely Meccano dealer display model of a Western-style steam train.