From 8th June until 26th august 2012 the museum Willem van Haren in Heerenveen hosted the Meccano exhibition 'Meccano: Oude liefde roest niet' (Meccano: old love lies deep). During the opening weekend special Hornby days were held, where the Dutch HRCA displayed a Hornby-only O-gauge layout.
---
The layout team was formed by Niek van Ees, Henk Brouwer, Duco Postma en Peter Zwakhals. We had only limited time to set up on the Saturday morning before the museum opened, so we settled for a slightly more compact layout than usual.
We ended up with 2 loops of replica double track, without any sidings. On the inside we created a more complex layout with sidings and points. Here you can see Niek van Ees laying the track.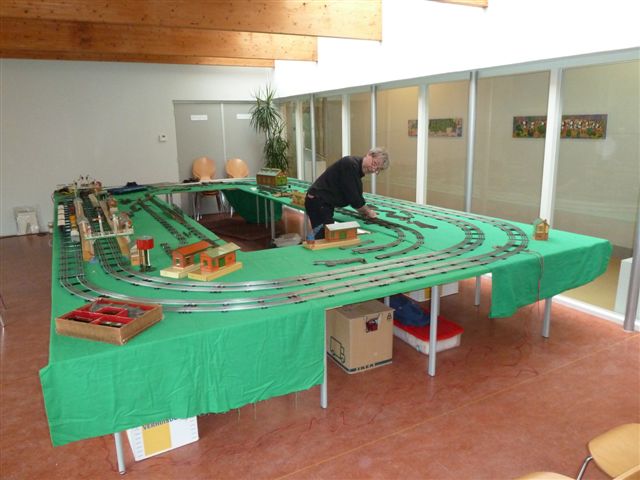 The finished layout with 2 stations and a loco shed. At the back Duco Postma and Peter Zwakhals are at the controls of the layout.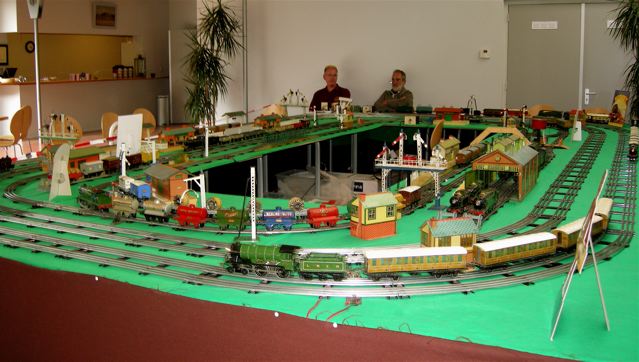 Just before opening we had completed the outside loops and the Windsor station. The outside loop was dedicated to the GWR, with a GWR E220 Special Tank with a rake of goods wagons. Next to it an E220 Special Locomotive 'County of Bedford' with a rake of GWR Corridor Coaches. On the inner loop you can see a Princess Elizabeth with a rake of Pullman Coaches.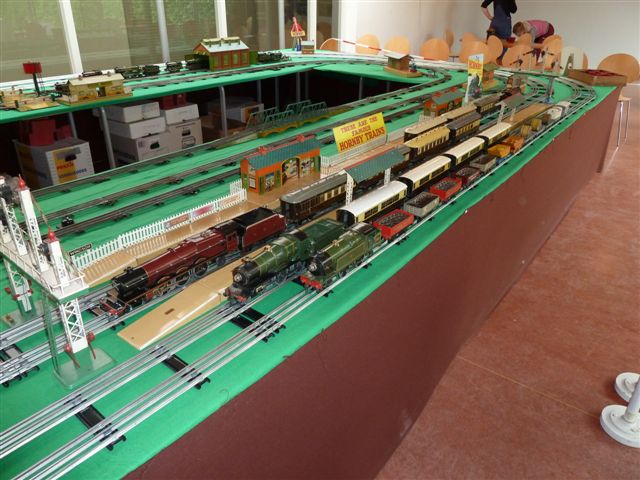 A look at the Engine shed with some of the GWR loco's, including EM320 Tank, E120 Tank, E120 Locomotive and E120 Special Locomotive.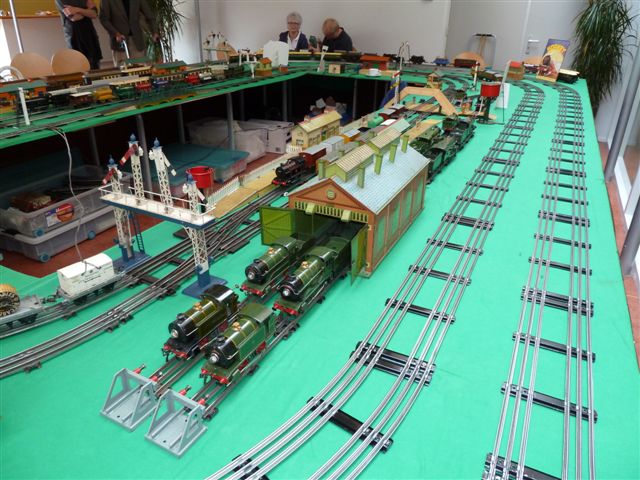 Slightly later the inner circuit was completed too. You can see an electrified No. 2 Locomotive with some of the old style Pullman coaches and a tank wagon train with an E220 Special Tank Locomotive. At the station an E320 Nord Locomotive with Flech D'Or coaches and a ETAT Composite Coach.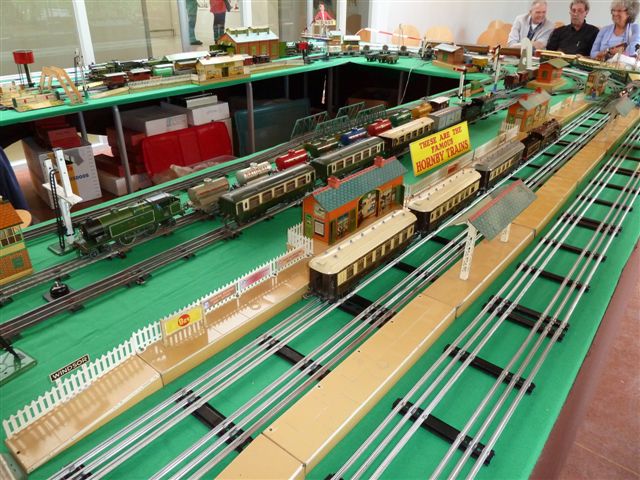 ---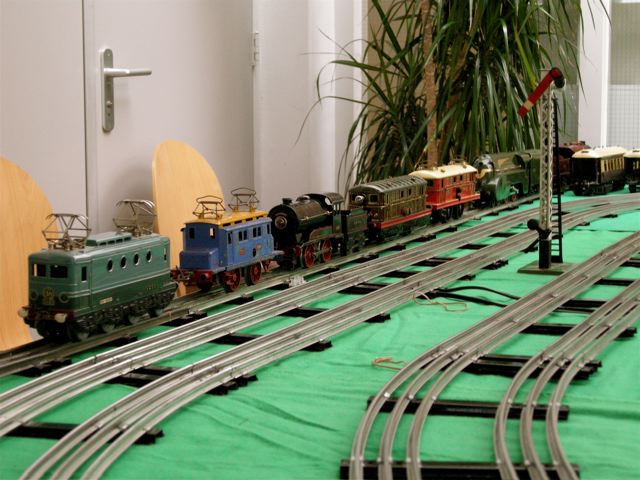 We also brought some of the more rarer Hornby loco's to run. Starting from the front: post-war French TBB locomotive, LE120 Locomotive, E020 Locomotive in LNER black, Metropolitan HV locomotive, LE2/20 Locomotive in red and French No. 4E Etoile Du Nord.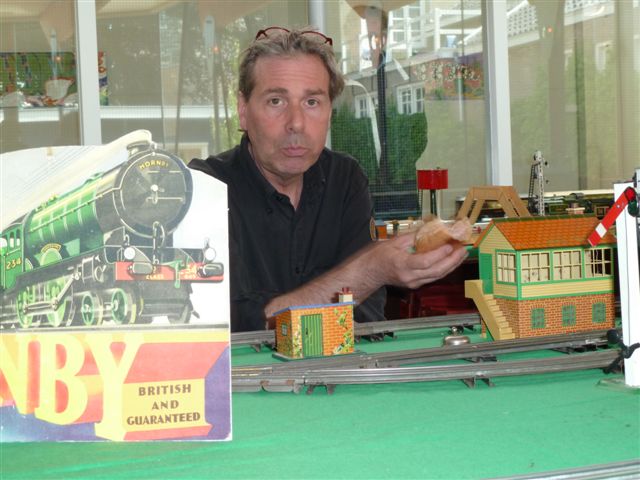 Running a vintage layout is hard work: Niek van Ees having a short break with a sandwich.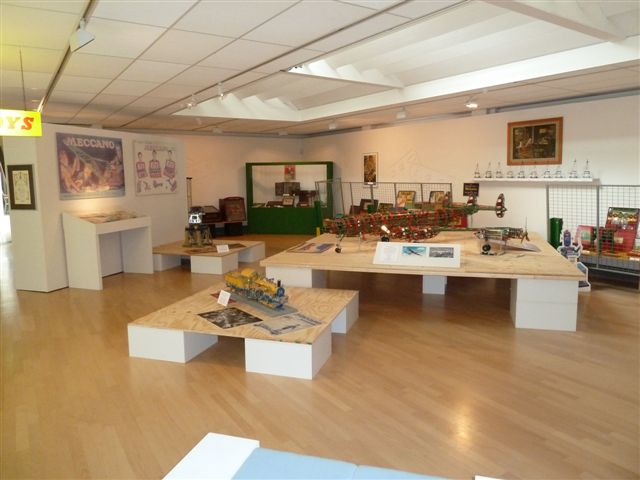 An overview of the Meccano Exhibition with a central place for a huge model of a Super Constellation, built by Dutch Meccano Guild member Henk Verhoef.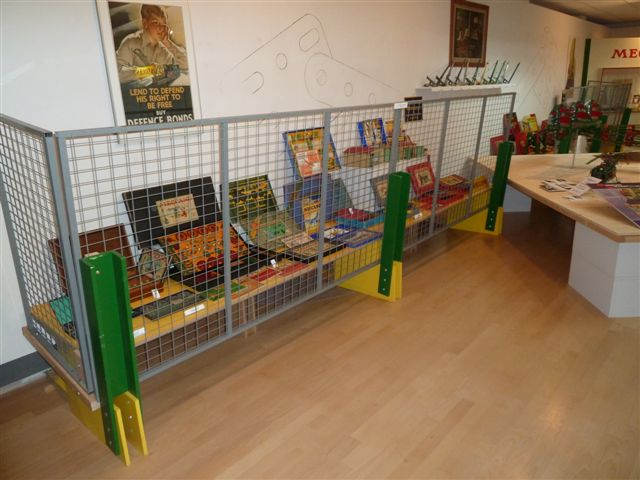 Against the wall there were Meccano sets from the start until the end of Meccano, showing all the variations of colour.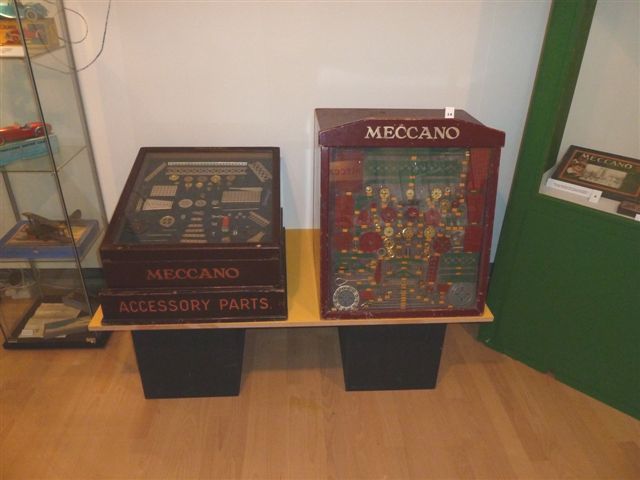 Some of the dealer cabinets that Meccano supplied.