During the 0 Gauge Days in Zutphen on 15-16 October Hans van Dissel and Peter Zwakhals put on a display of Leeds Model Company trains, showing the fine-scale aficionados what scale modelling (well, alright, near-scale modelling) was in the Twenties and Thirties. Trains ran on an oval of Milbro double-track and on an oval of Leeds single-track and showed a number of locomotives, coaches and wagons, as well as some Leeds kits.
People were surprised to hear (and see) that most of the rolling stock was made of wood and lithographed paper or of Bakelite. Peter had also brought examples of the hand-built, so-called Type B scale models stock, along and it was nice to have a train made up of these rather rare wooden wagons doing its rounds. As most of the fine-scale modellers who were present build their locomotives from brass, they were also interested in the soldered tinplate construction of the LMC locomotives.
---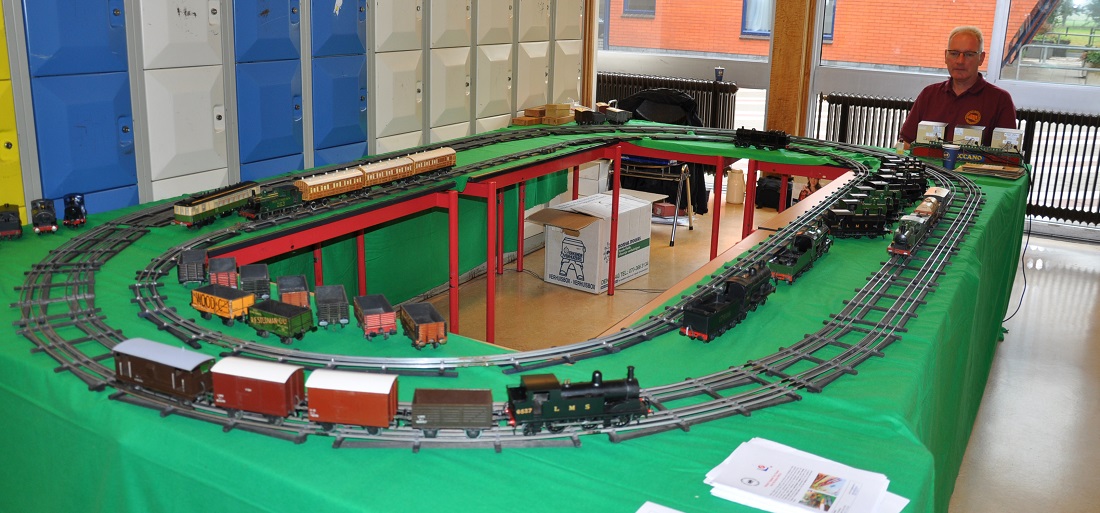 As usual, we took more loco's for the layout then we had time to let them all run. We brought most of the famous 2nd series Tank Locomotives.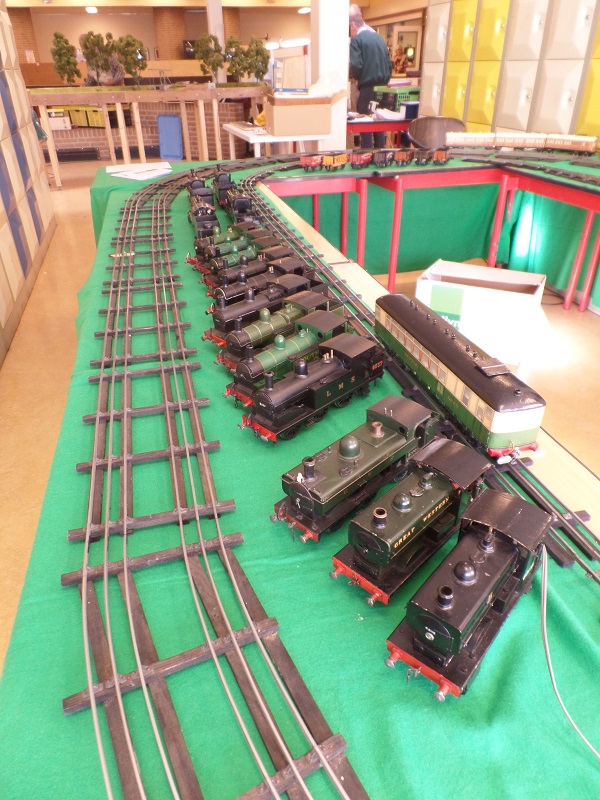 Hans van Dissel (the logo on his sweater gives away his other hobby) in control of a S.R. 0-4-4 Tank Locomotive with a pre- and a post-war S.R. Bakelite Coach.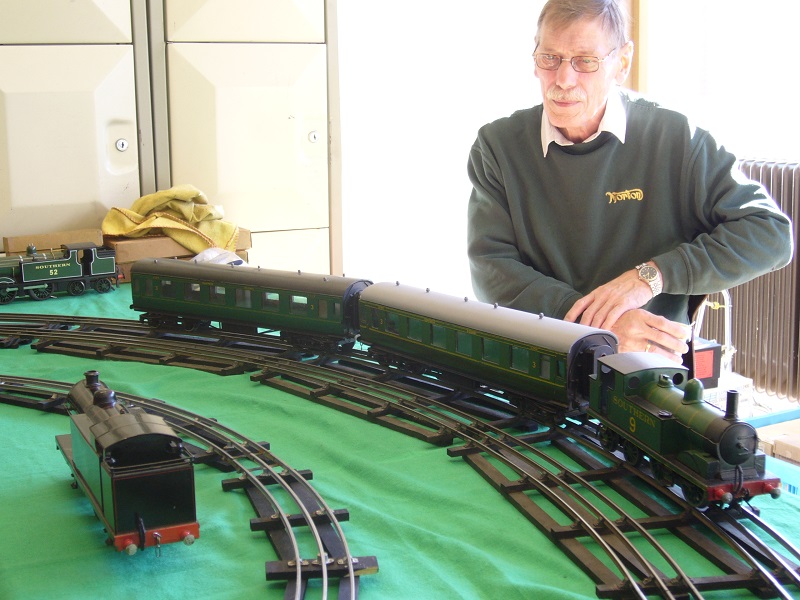 Modern meets old: goods train on the outer loop with Bakelite Goods vans, inner loop with Type B Scale Models from the late 20's.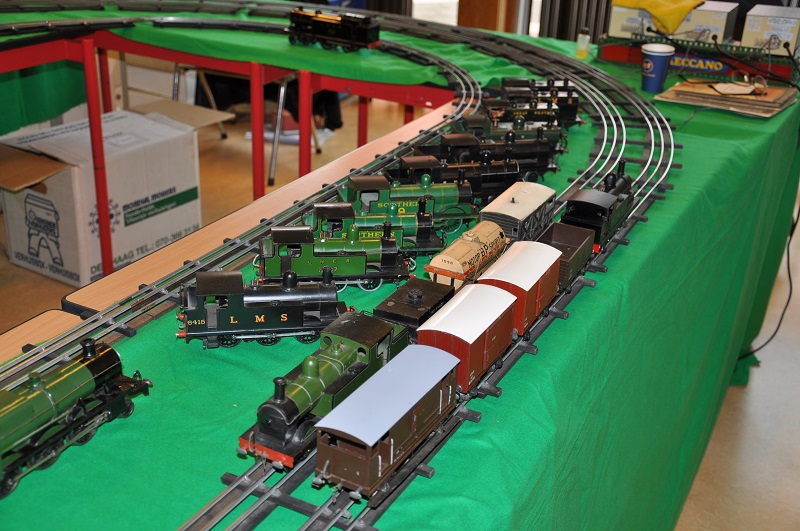 An early L.N.E.R. 4-4-0 Tank Locomotive from the 1st series with some handmade Type B Scale Models.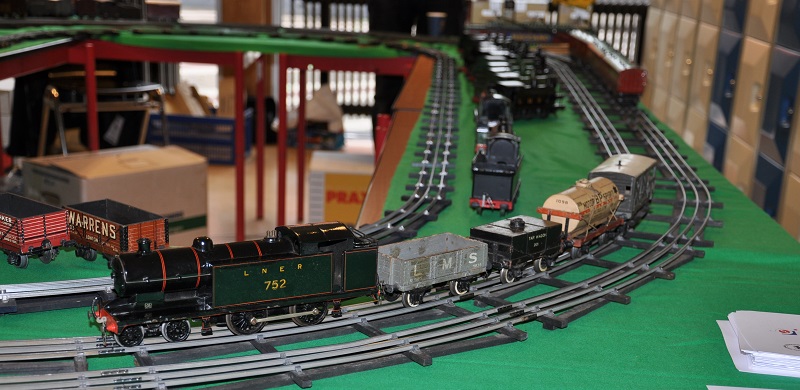 Post-war S.R. 0-6-0 Tank Locomotive with wagons of the litho private owner series.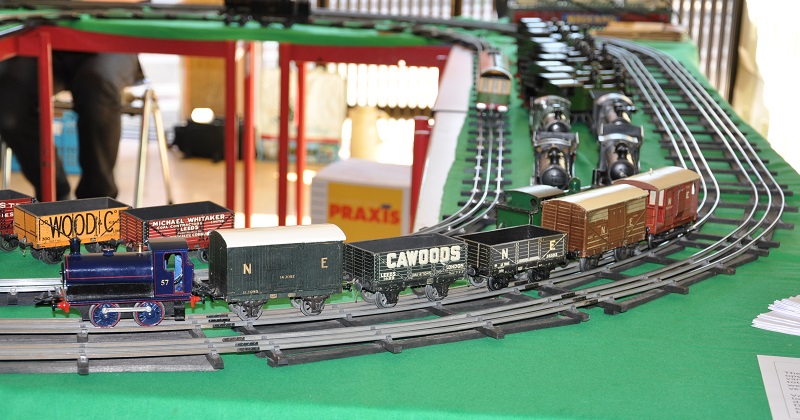 One of the few non Leeds loco's we brought: a Highfield 0-4-0 Tank Locomotive performed duties on a goods train of litho Goods Wagons.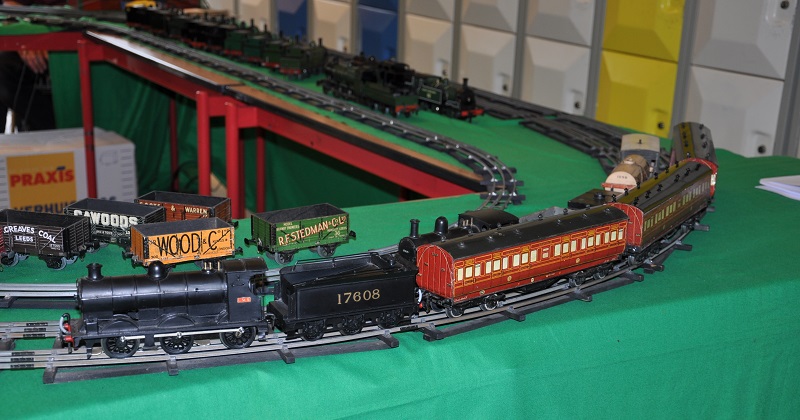 A L.M.S. 0-6-0 Goods Locomotive pulling a rake of early N.E.R. litho Coaches.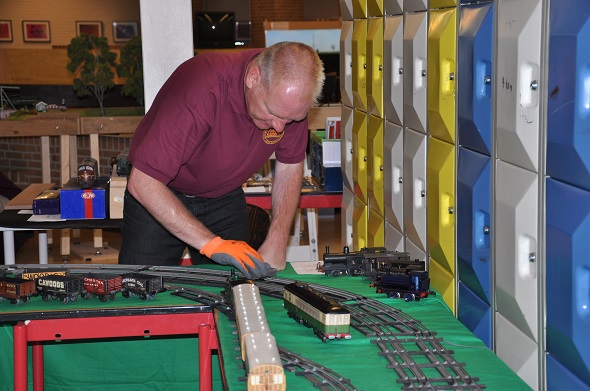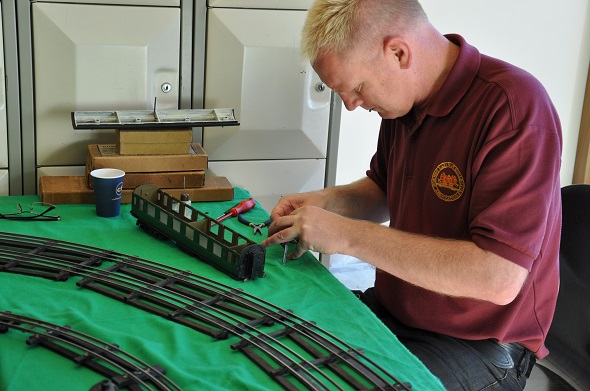 We succeeded in running Leeds trains all weekend, though several locomotives developed engine trouble. Luckily, most performed well which, given that they were all at least 60 years old, was actually more than we had hoped for (to be on the safe side, we had an ACE and a Highfield loco standing by). Our experience is that Leeds locos when not having been run for a year or more, are prone to difficult running and need some tlc to get them going. We thought this to be a peculiarity of Leeds (Hornby locos rarely suffer from this), but some of the fine-scale modellers told us that they have exactly the same problem with their locos when they have not been run for a period of time. The conclusion must be that the more toy-like, the less chance of problems when running trains!
To have the locomotives running smoothly, you have to keep the track and wheels as clean as possible. With Leeds, you sometimes have to be prepared to do some minor repairs during the day: the wheels on a Bakelite Coach got stuck, caused by swelling of the bogies. A quick change of parts made the coach a good runner for the rest of the show.
The concept of the Leeds Model Company was to produce a near scale product from a recognisable prototype. Leeds tried to make the widest possible range at minimum costs. For the 2nd series of Tank Locomotives, this was achieved by re-using the same cab and firebox in combination with different lengths of the boiler and bunker.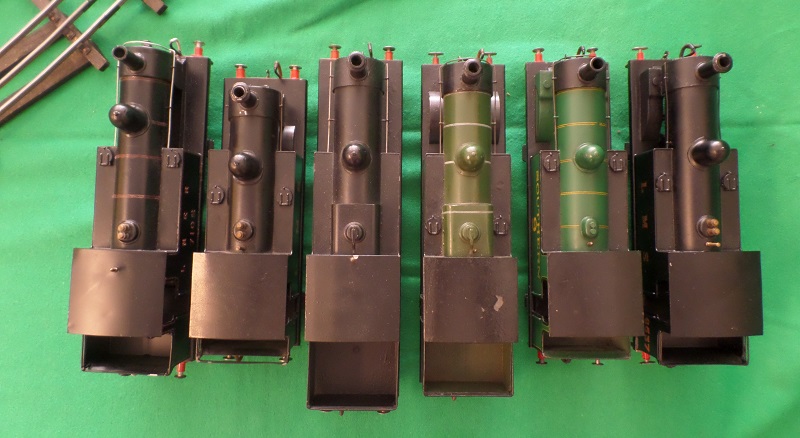 ---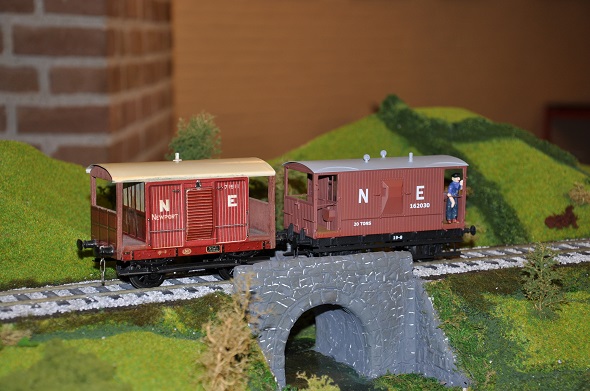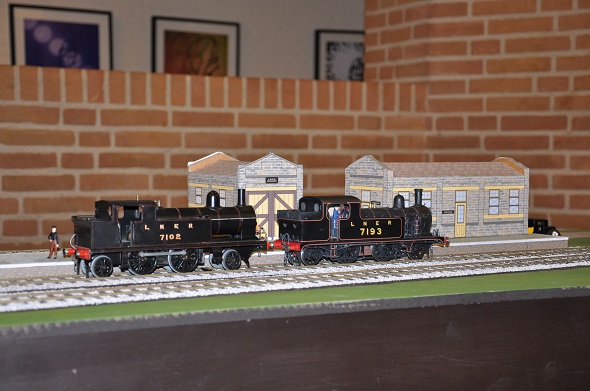 One of the fine-scale layouts had the L.N.E.R. as its theme and the owner was particularly impressed with the way in which the Leeds L.N.E.R. locomotives succeeded in capturing the lines of the originals without actually being 'true' models. We could not resist to put the N.E. litho Goods Brake Van and the N.E. 2-4-2 Tank Locomotive next to their modern counterpart. Needless to say that the items of Leeds were very close to what can be achieved these days by a skilled modeller.