The 2008 Dutch HRCA AGM was held on Sunday 8th May 2008. Members joined at the house of our secretary Peter Zwakhals. He had been busy all winter rebuilding his train room, and members present were invited to have a look at the result of all the work done.
---
As is usual at the Dutch HRCA AGM, most of the members bring along something to display. Most of the members have a wide interest in collecting vintage toy trains, so we always have a lot to discuss. Here you can see discussion having been started already, although not all members had arrived yet. From left to right: Henk Brouwer, Marius Schoon, Niek van Ees, Paul and Hans van Dissel.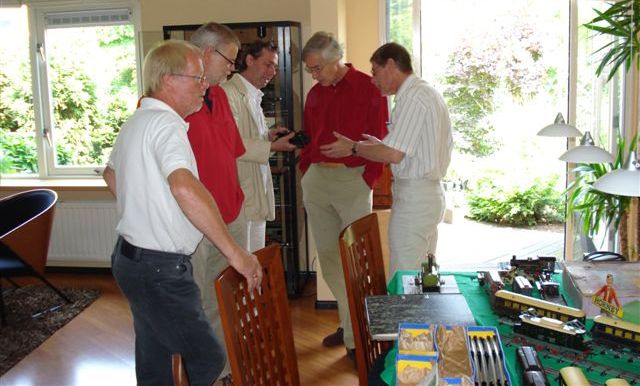 A closer look at toys on show. Hans van Dissel brought his Steven's Model Dockyard live steam engine which looks suspiciously like the one on a 1901 Mechanics Made Easy box. Behind the loco some of Hans's non-Hornby stuff: two Bing snowploughs, a Carette clockwork tank engine and a Gunthermann operating railway gun.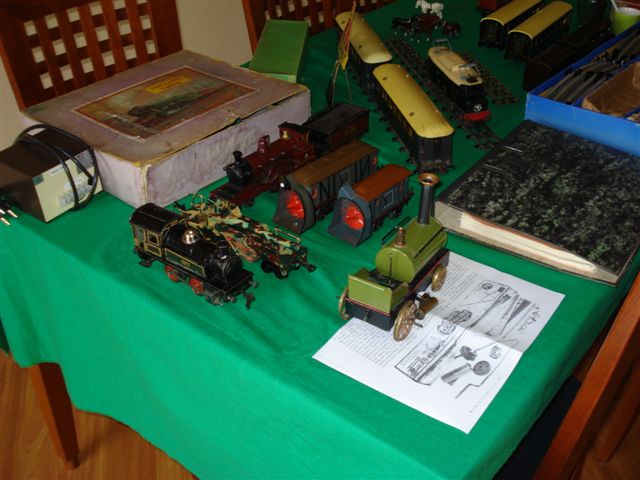 A good tradition is having lunch together. Peter and his girlfriend prepared lunch for the visiting members. And as the weather was very nice too, we could have lunch in the garden.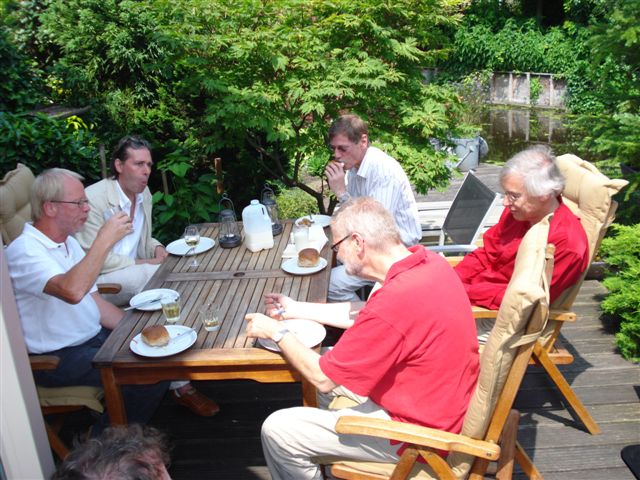 Hans van Dissel and Hans Kusters at the layout in the new train room. The layout is now all around the train room where, in the past, it was in a corner of the room. Peter's impressive collection of boxed Hornby items has found a place under the layout.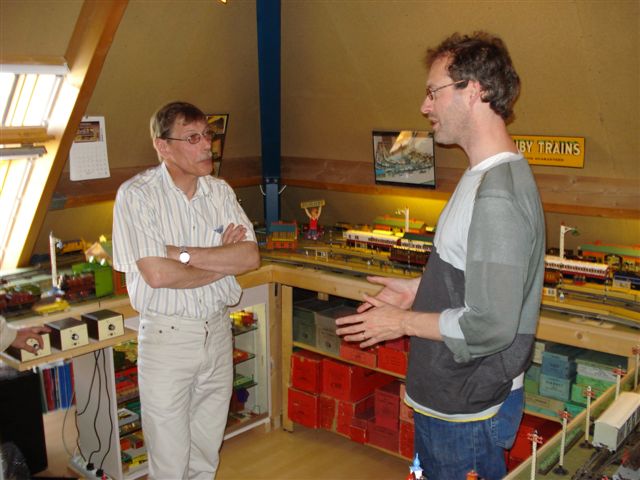 Although Peter's collection is British-made Hornby O-gauge only, it took Hans van Dissel close to no time to get his newly acquired ACE Trains Celebration Class Caledonian set running on the tracks. There's no denying that a four-coach train rumbling along on tinplate track is an impressive sight.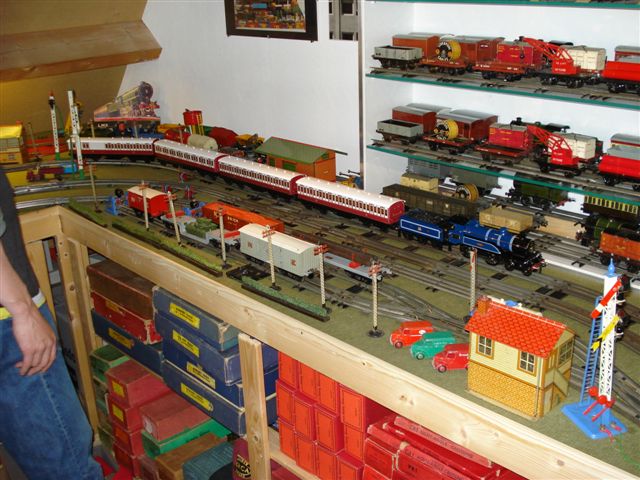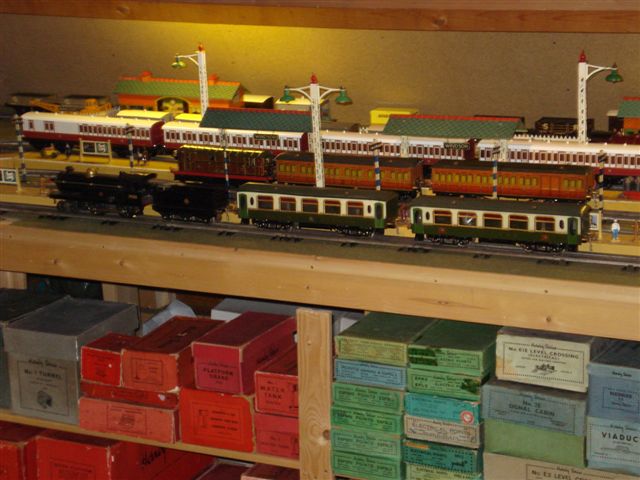 Niek van Ees has installed an ACE Trains mechanism in a vintage clockwork Hornby No. 2 Locomotive. This loco runs very nicely now on electric power, seen here in the station area with 2 early green Pullman Coaches. On the next platforms you can spot a Hornby Metropolitan and the ACE Trains CR set.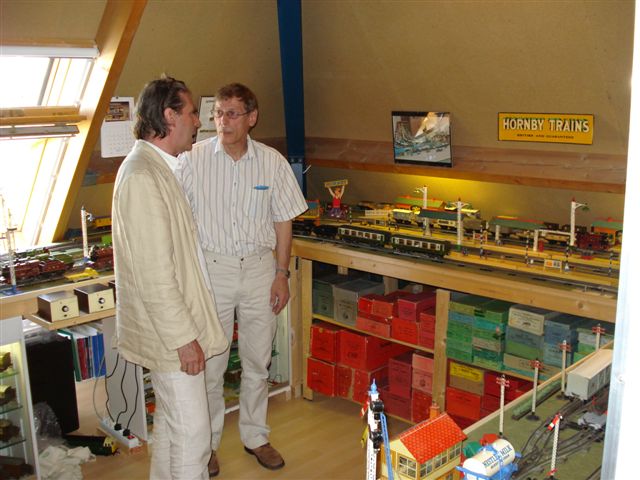 Niek van Ees and Hans van Dissel in conversation: would they be talking Hornby? You bet they did!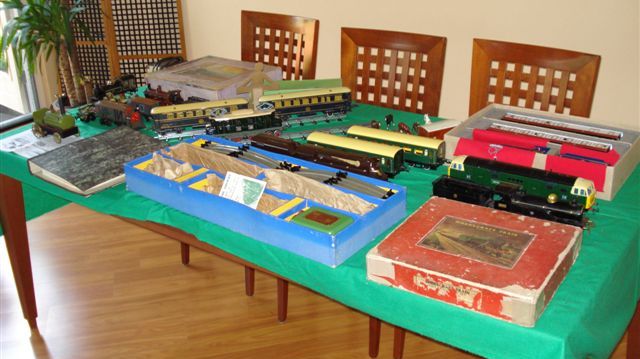 Some of the toy trains at the show table.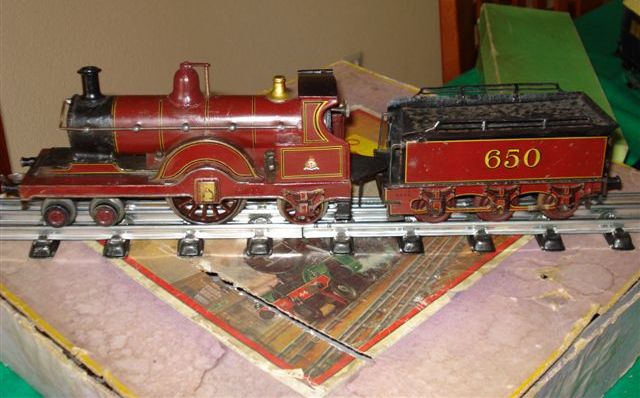 Hans van Dissel also brought along a very nice, ca. 1913, clockwork Bing Midland 'Single' locomotive. For this picture it is placed on a badly torn, but rare, if not very rare, Hornby Dutch export M2 Passenger set.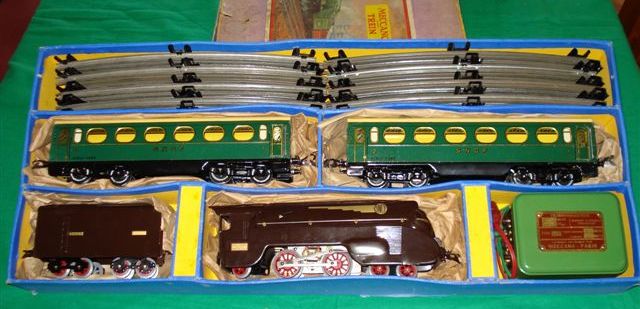 Henk Brouwer had this magnificent French Hornby Etoille Du Nord set with him. Again the Hornby Dutch export M2 Passenger set proved to be a useful support.