The annual international model railway event 'Eurospoor' was held in Utrecht in November 2017. We were invited to show the O-gauge layout again. Although many of the items on the layout were products of Binns Road origin, the Dutch HRCA is a broad church and members brought along locos and rolling stock from makes as diverse as Bassett-Lowke, Leeds Model Company, Buco, Darstaed, ACE Trains, Bonds, Märklin, R Models, Jep, British Marx and Lionel. In short, we had a lot of fun! The result is that our 'British Tinplate Toy Trains' layout can best be seen as a joint effort by the Dutch members of both the HRCA and TCS.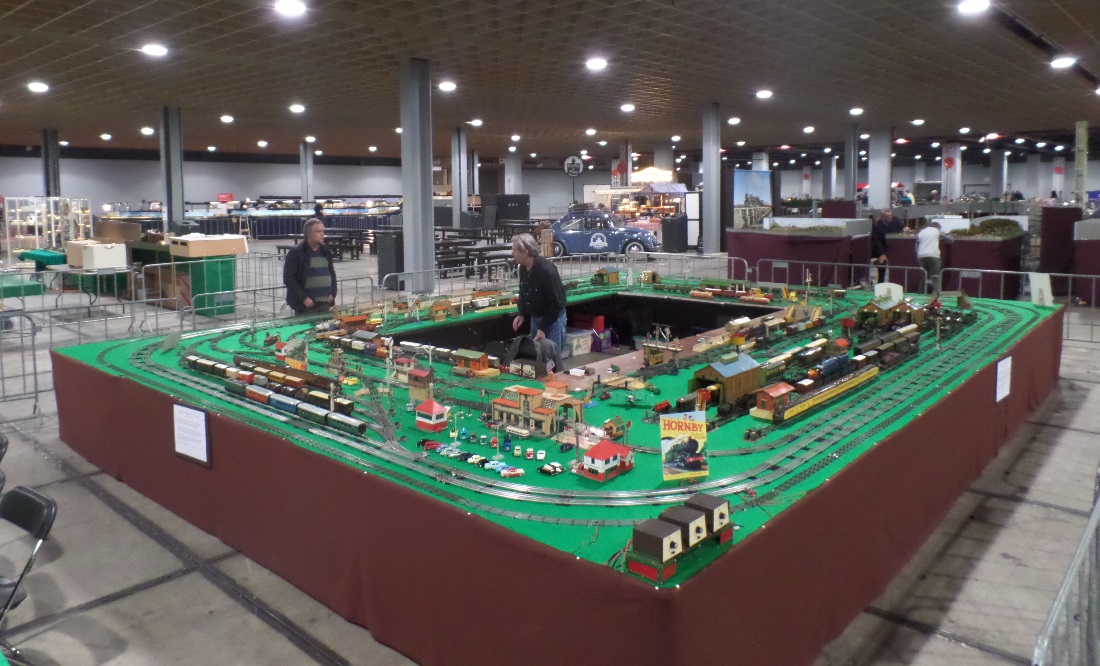 We copied the design we used for the 2013 and the 2015 events. The O-gauge layout was about 9 * 7 meters and was capable of running 5 trains simultaneously. The 3 loops in the inner area were all interconnected, so trains could start on the inner branch line and, after completing nearly a full circle, could end up running on the innermost track of the 3 main ovals on the outside of the layout. The outermost oval was made with original Hornby steel track, allowing locos with more fine-scale wheels, such as Leeds Model Company ones, to run smoothly too.
---
---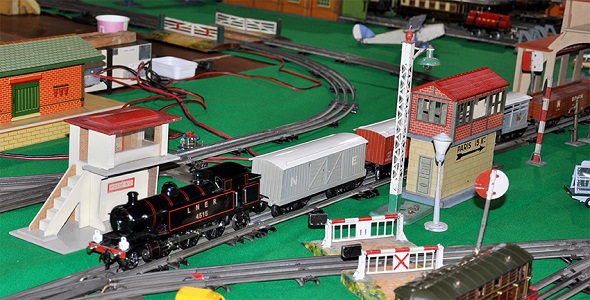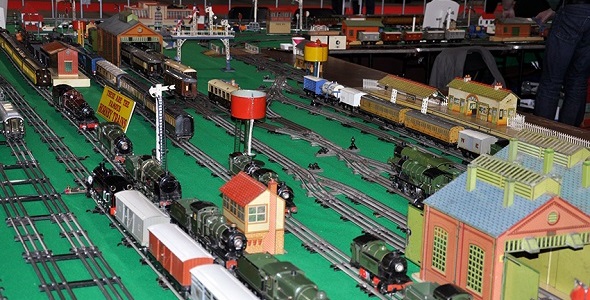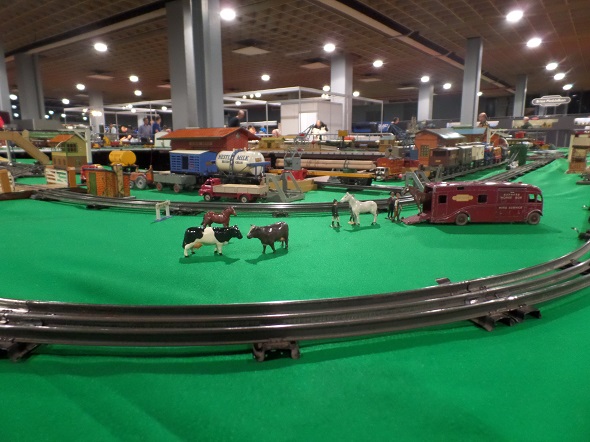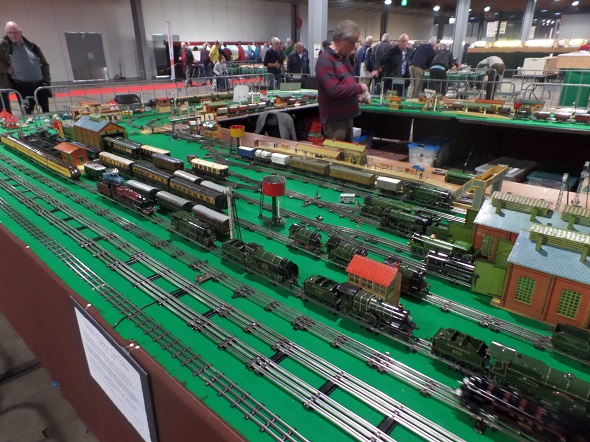 Double-heading with Hornby Princess Elizabeth.

A Hornby LNER E120 Special Tank Locomotive with pre-war Petrol- and Oil Tank Wagons.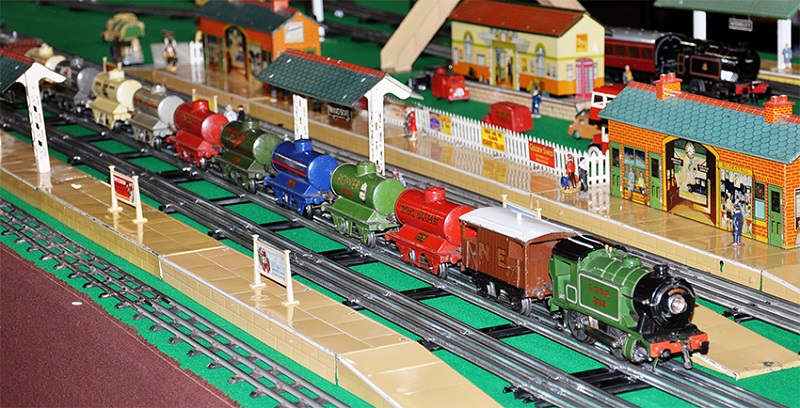 All variants of the Hornby electric Southern locomotives were on shed: from the EM320 Tank up to the E420 Special Locomotive 'Eton'.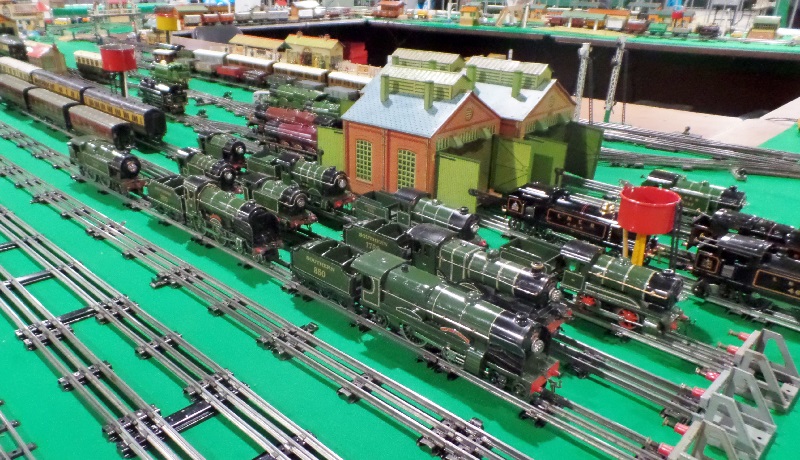 LNER was also represented well on our layout with E120 Special Locomotive, E120 Special Tank, black E220 Special Tank, early No. 2 Tank and some modern ACE Locomotives.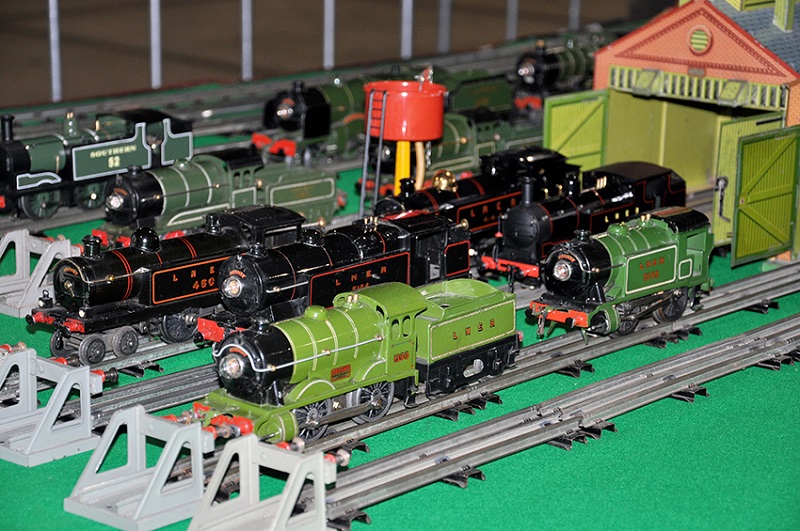 Barend Westerveld was added to the layout team, and wasted no time to recreate a part of France on our layout with a No. 17 Gare démontable 'Lille', French style Bayko building and a parking lot filled with French cars.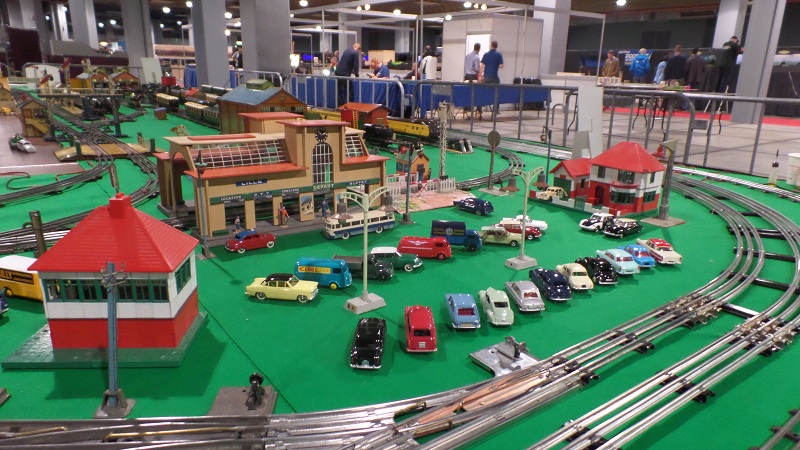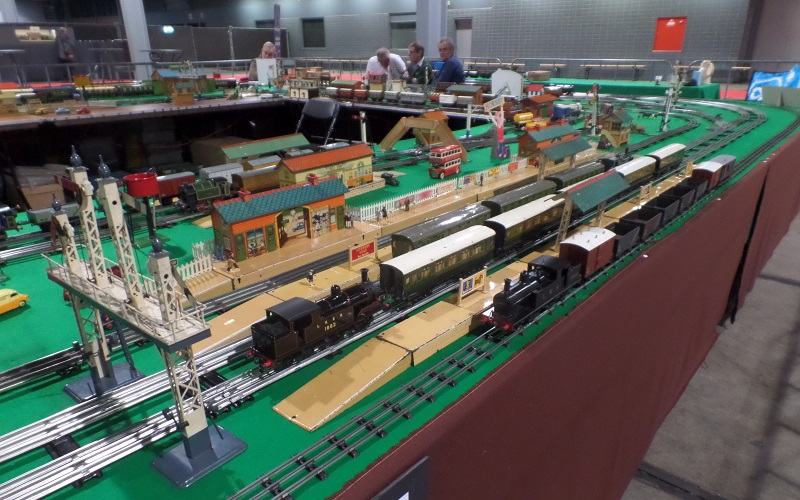 Hornby pre-war Windsor station with Southern Passengers Trains and a goods train build up from LMC wagons.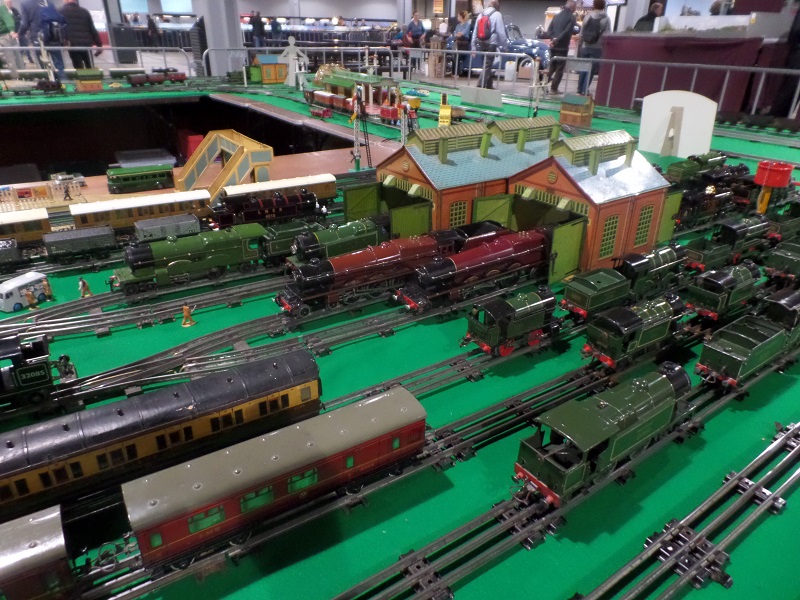 The loco shed with 2 Hornby Princess Elizabeth Locomotives.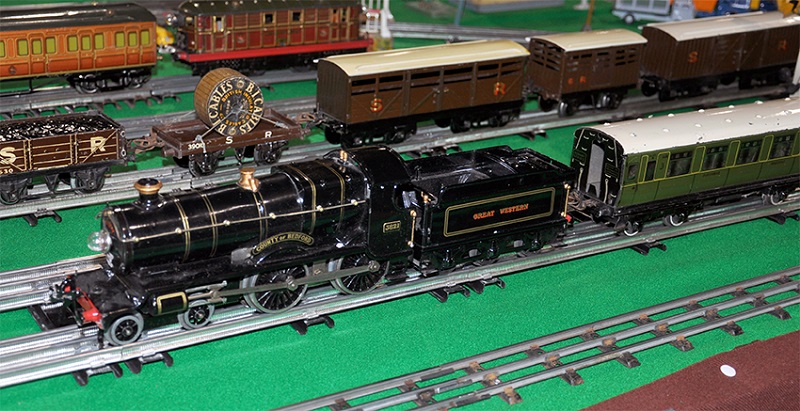 Some visitors bring their loco to run on the layout such as this E220 Special Locomotive 'County of Bedford'.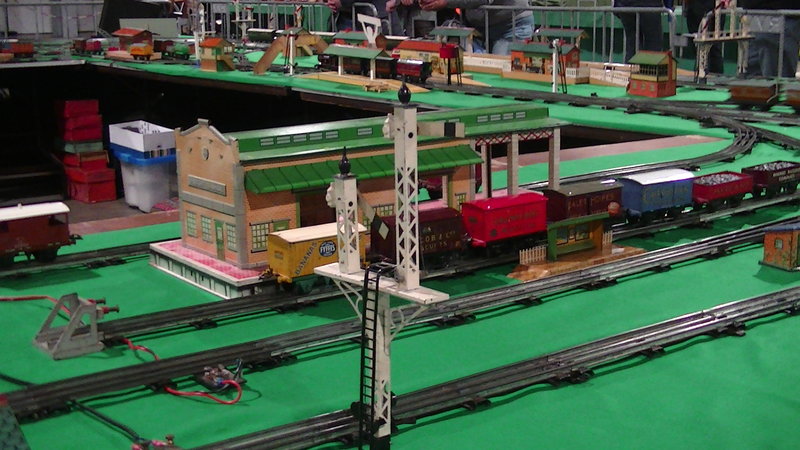 Niek van Ees finally found space to display his Marx Goods depot on the layout.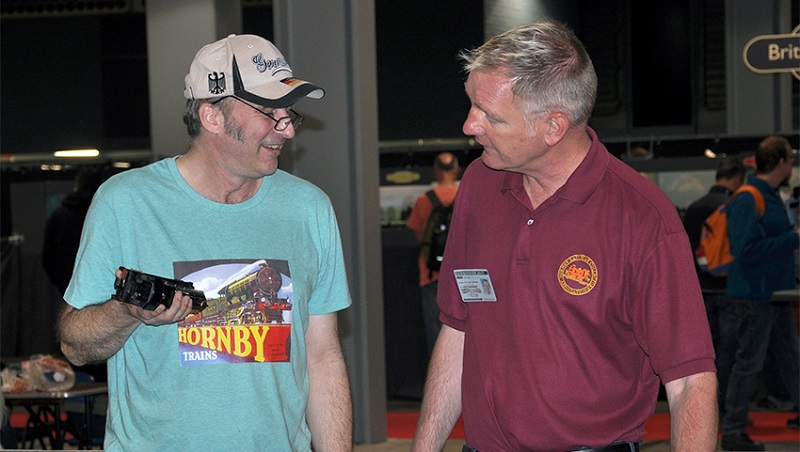 Hornby collector Torsten (left) came over from Germany especially to see the layout and meet with fellow Hornby enthousiasts. Both Peter Zwakhals (the Dutch HRCA secretary) and Torsten were wearing appropriate shirts.
---


We also have trains running on the layout from other manufacturers, from the golden age of toy- and modeltrains. Starting with pictures clockwise from top left: Tri-ang Big Big Hymek diesel with Bassett Lowke coaches, LMC Sentinel-Cammell Rail Car 'Nettle' with reproduction trailer, JEP BB8100 double heading with a rake of JEP coaches, restaurant cars and postal vans and Darstead A4 with Hornby Special Pullman Coaches.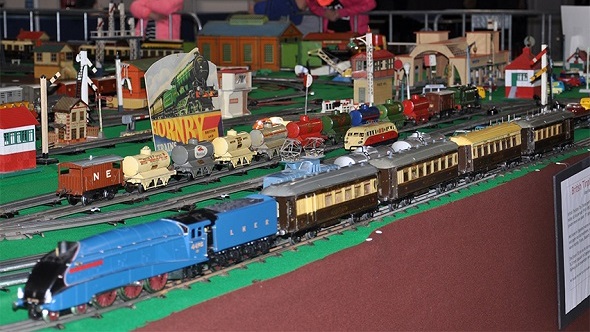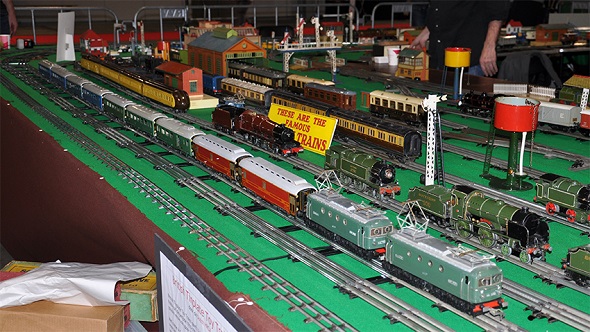 ---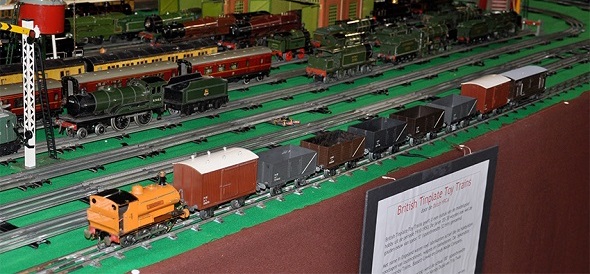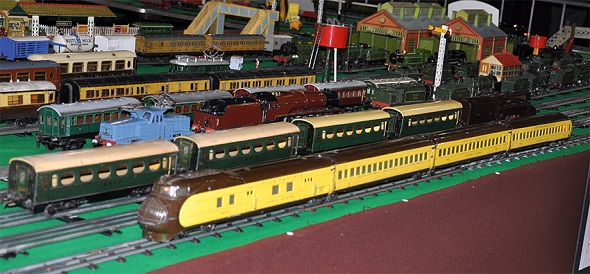 Starting with pictures clockwise from top left: Bonds Bonzone with LMC Bakelite goods wagons, Lionel City of Portland with French Hornby Etoile du Nord behind, British Marx clockwork LNER Silver Link and LMC Pannier Tank with R Models coaches.


---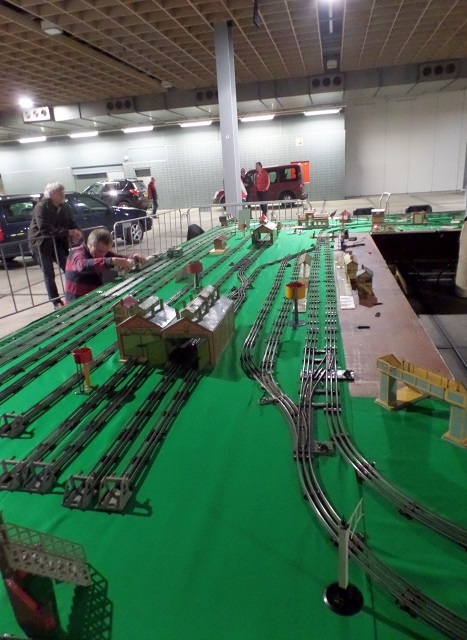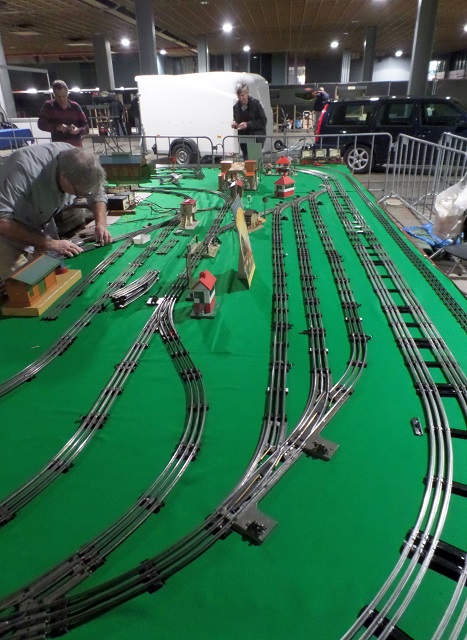 We took pride to build a layout which gives us plenty of opportunities to shunt, change and alter trains during the days. Here you can see us setting up some of the interesting point work on the layout.
---
Eurospoor is held in one of the largest exhibition centres, the Jaarbeurs, of the Netherlands. As before, we had full day to set up the layout. Our vintage layout is built on the spot, using old-fashioned handwork. The pictures below give you an idea of the work involved from setting up the layout up until dismantling on the last day of the show. Our packed cars are allowed in the hall for unloading, saving us the trouble of having to cart all our stuff from a parking lot to the hall.
The layout team this year consisted of Niek van Ees, Peter Zwakhals, Fred van der Lubbe, Dick van der Lubbe, Hans van Dissel, Barend Westerveld, Duco Postmaa and Paul.