The annual model railway event 'Eurospoor' was held in Utrecht in October 2015. The Dutch HRCA was invited again to show an O-gauge and Hornby Dublo 3-rail layout. Although most of the items are of Hornby origin, we also have trains running on the layout from other manufacturers, from the golden age of tinplate (such as Bassett-Lowke and Leeds Model Company) up until modern day representatives like ACE Trains and Darstead. This way our 'British Tinplate Toy Trains' layouts can be seen as a joint effort by the Dutch members of both the HRCA and TCS.
We had favourable reactions to the layout we built 2 years ago, so we copied a large part of that design for the 2015 event. The O-gauge layout was about 7 * 7 meters and was capable of running 5 trains simultaneously. The 3 loops in the inner area were all interconnected, so trains could start on the inner branch line and, after completing nearly a full circle and passing some nifty point work and a reversing loop, could end up running on the innermost track of the 3 main ovals on the outside of the layout. The outermost oval was made with original Hornby steel track, allowing locos with more fine-scale wheels, such as Leeds Model Company ones, to run smoothly too.
The layout team this year consisted of Niek van Ees, Peter Zwakhals, Fred van der Lubbe and Hans van Dissel for the O-gauge layout, while our Dublo layout (size does matter!) was set up by Rob Van Teylingen himself. During the show days Henk Dubbelt, Paul and Barend Westerveld acted as stewards.
---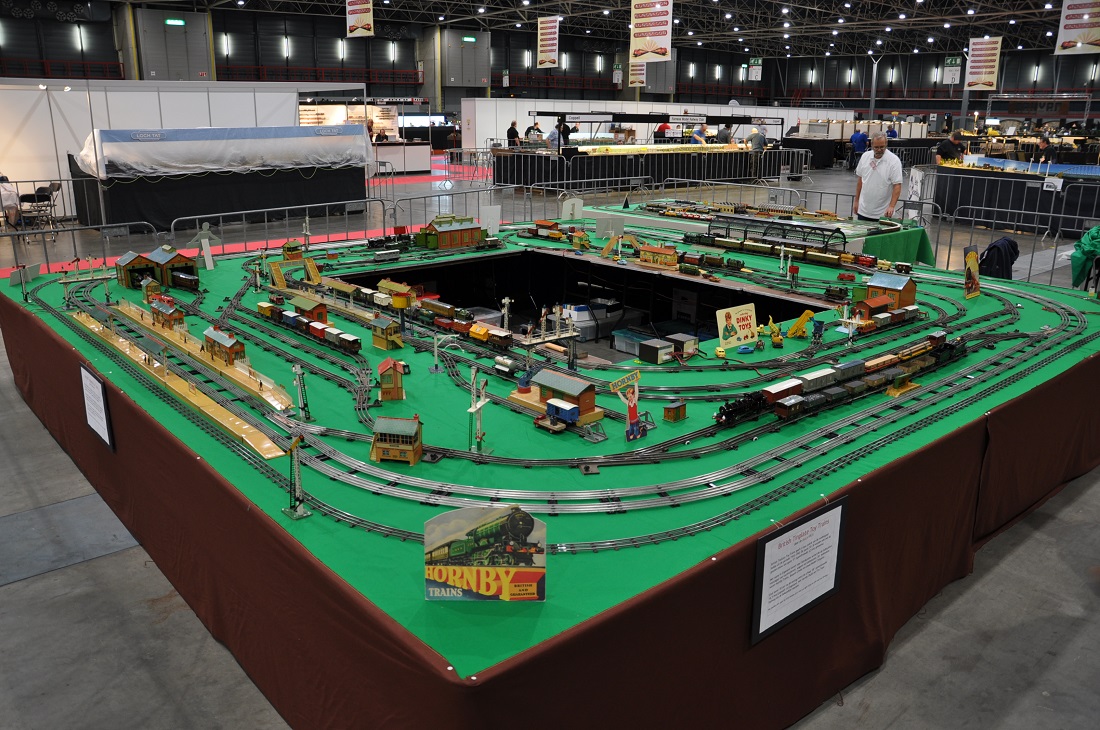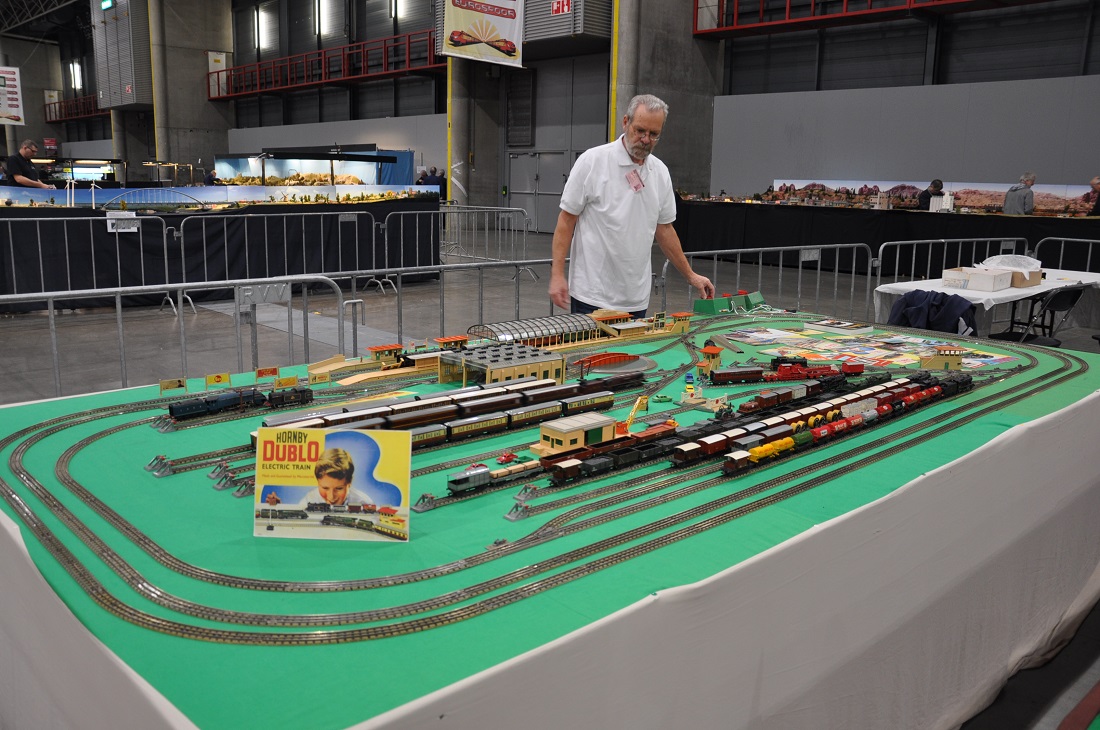 ---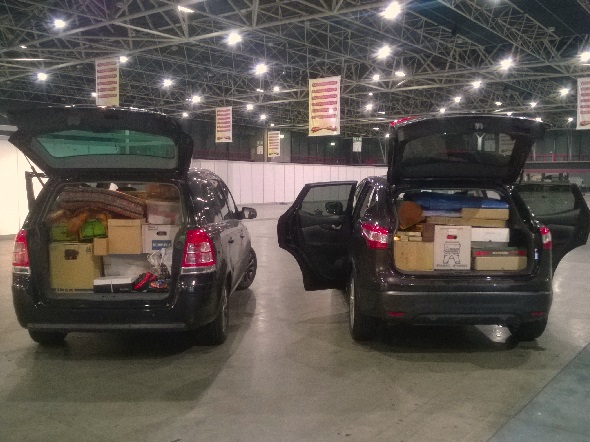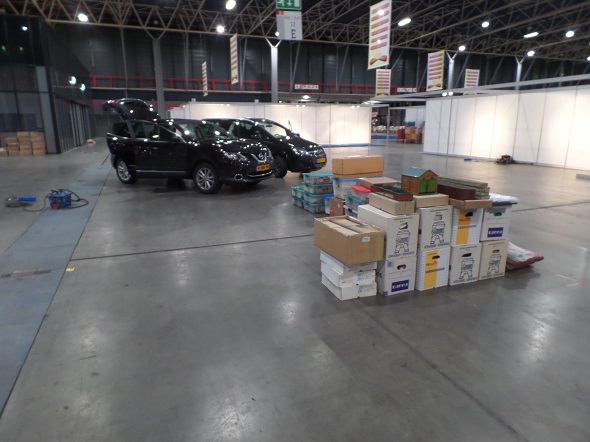 Eurospoor is held in one of the largest exhibition centres, the Jaarbeurs, of the Netherlands. We had a full day to set up the layouts. As usual, most of the layouts present on the show are made up from readymade modules. Our vintage layouts however are built on the spot, using old-fashioned handwork. The pictures below give you an idea of the work involved. Our packed cars are allowed in the hall for unloading, saving us the trouble of having to cart all our stuff from a parking lot to the hall. One trick we use for the 3-day event, is screwing the outer curves of the O-gauge layout to the tables, so preventing the rails to shift, which may lead to derailments.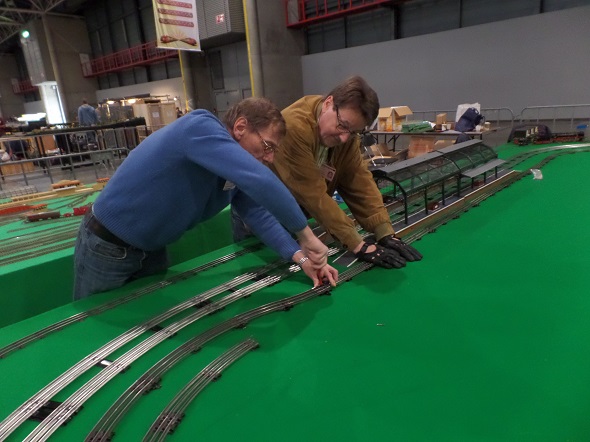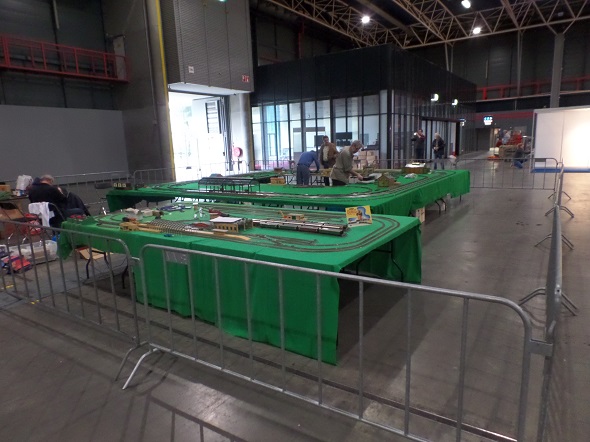 ---
We (especially Niek van Ees) took pride to build a layout which gives us plenty of opportunities to shunt, change and alter trains during the days. Here you can see some of the interesting point work on the layout.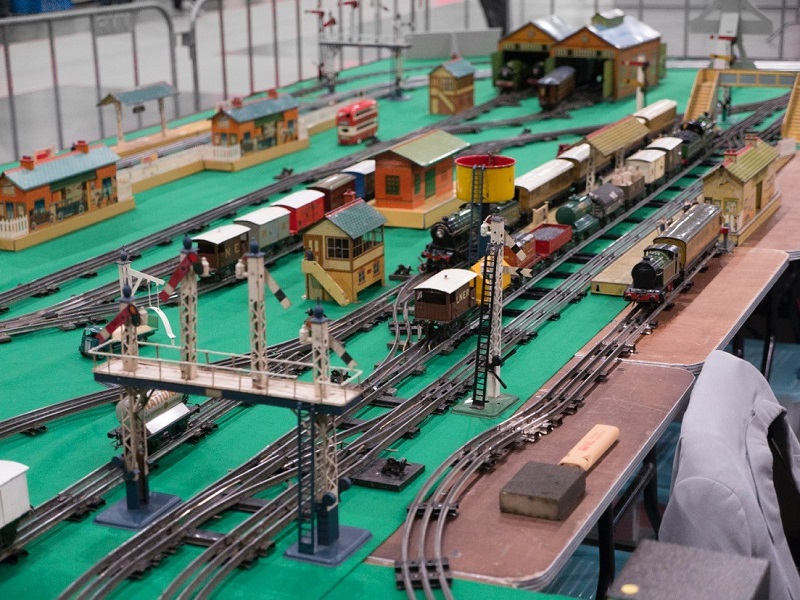 As we followed the design of the 2013 event, the O-gauge layout had 2 outer loops without points and no connection with the rest of the layout. These are intended for continuous, trouble-free running during the 3 days of the show. Here you can see 4 of the 5 tracks running with a Goods Train.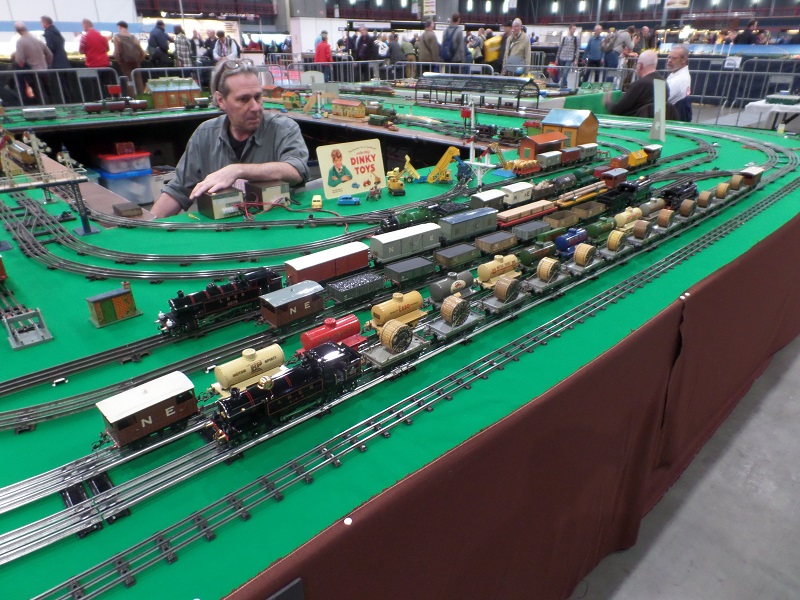 ACE canopy with (starting from the left) a HV Hornby Metropolitan, an ACE Trains E/2R British Railways with Hornby Oil Tankers and a Hornby E220 Bramham Moor with LNER Corridor coaches.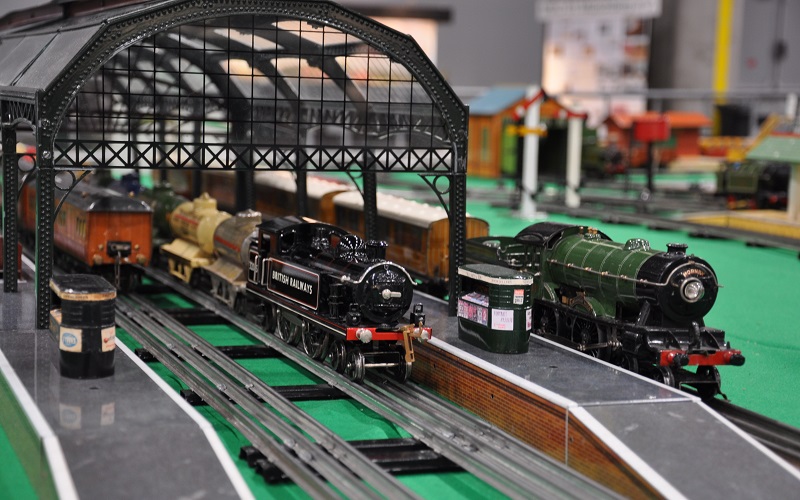 The loco depot with an ACE Trains E/7 BR Castle Class locomotive and Hornby E220 LNER Special Tank locomotive.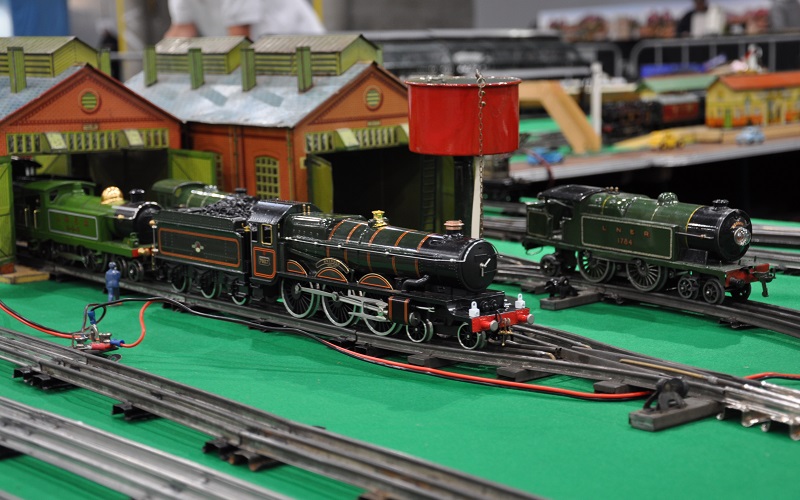 The inner loops had a station area too.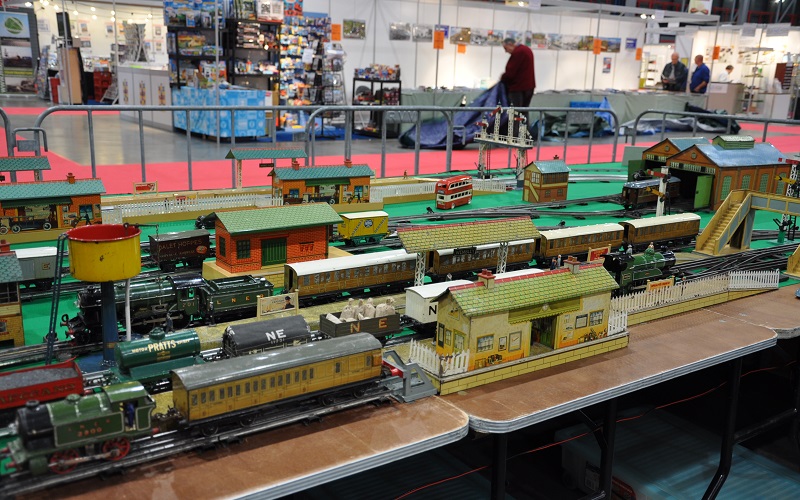 ---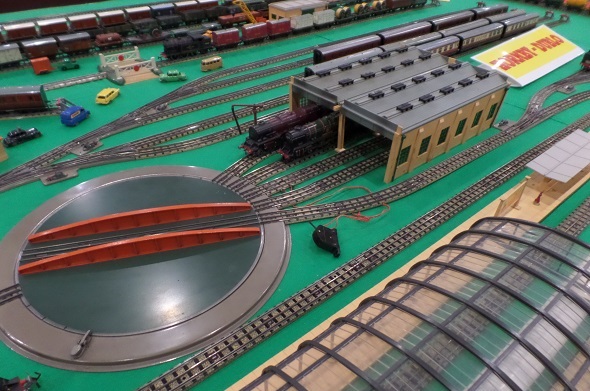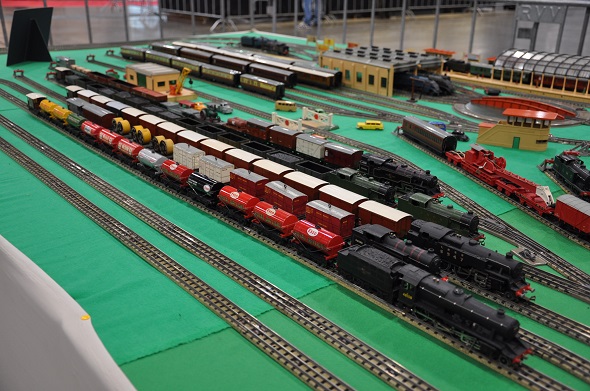 The Dublo 3-rail layout gave the visitors an almost complete overview of the locos and rolling stock made by Hornby. During the weekend goods trains were often seen double-headed. The layout also contained a complete overview of the Hornby Dublo catalogs and leaflets.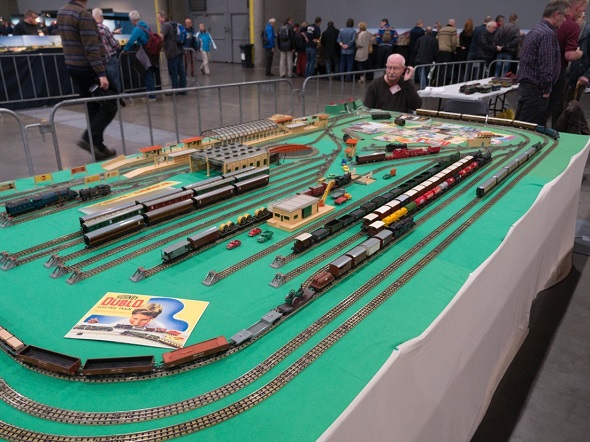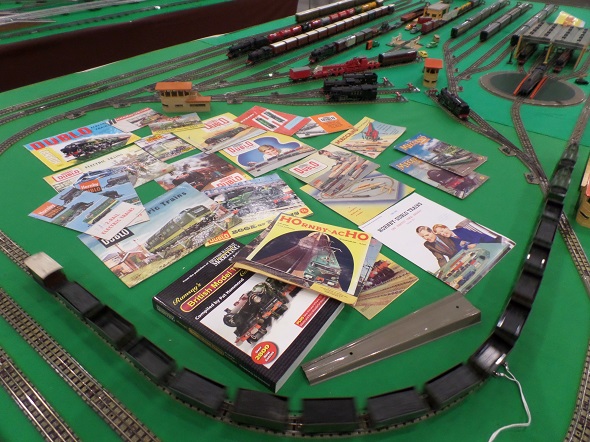 ---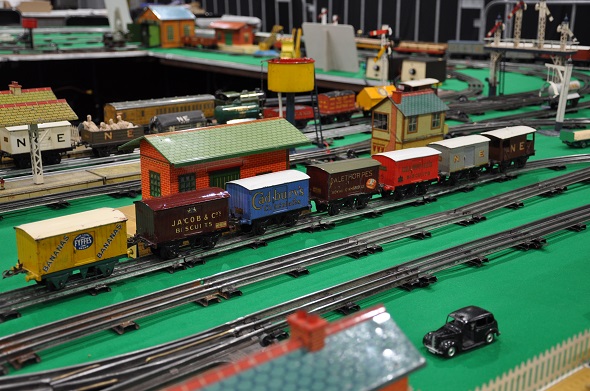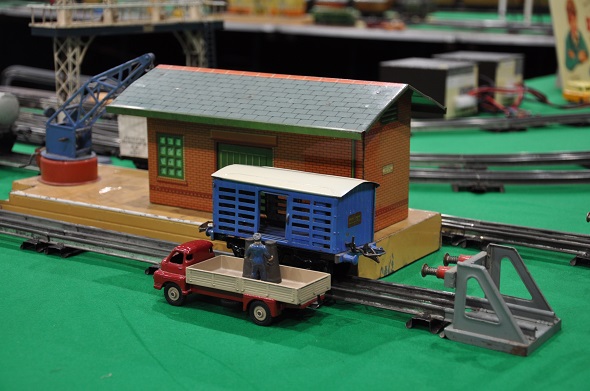 Some details of our O-gauge layout. Here you can see a rake of Hornby private owner's vans, Goods Platform, details from the station with a Signal Gantry and other highlights of Hornby in the 30's. As Dinky Toys were an important part of the Hornby empire, we (i.e. Niek) of course include them in our layout.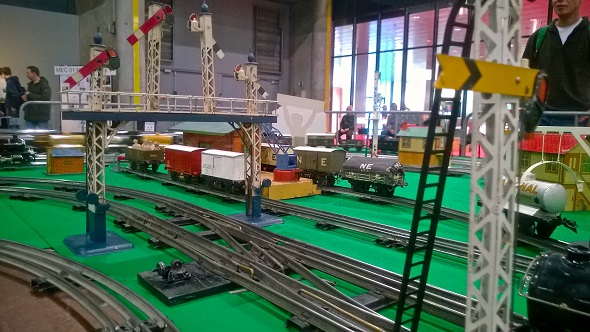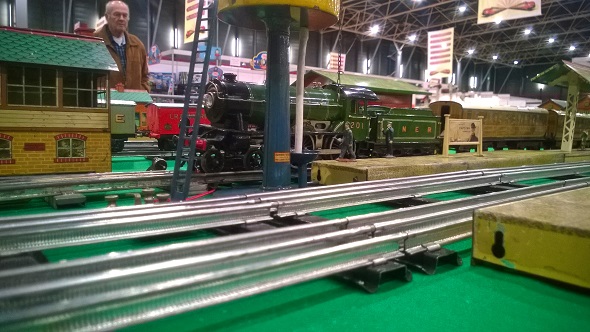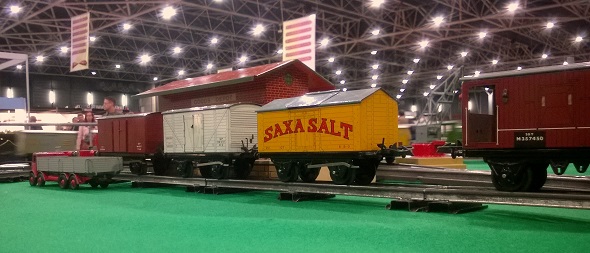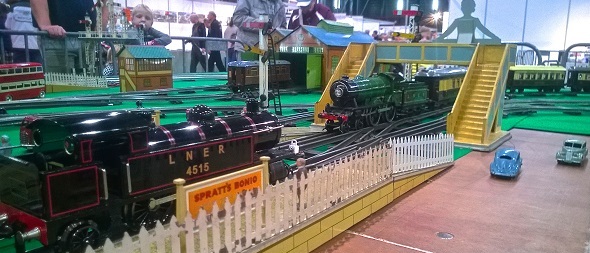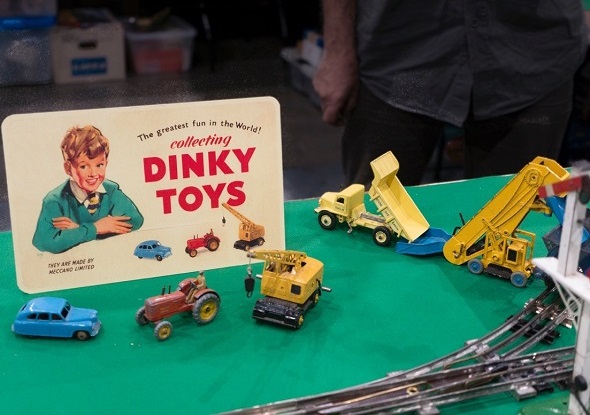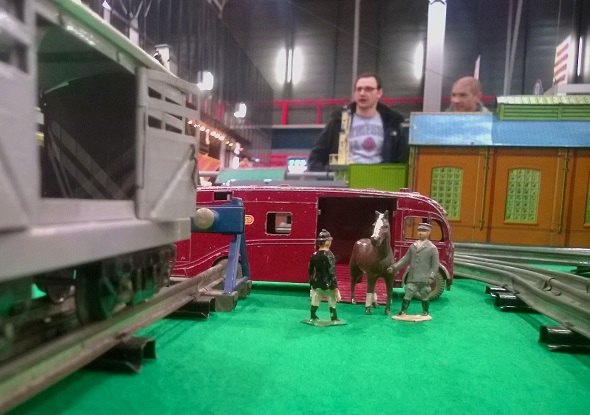 ---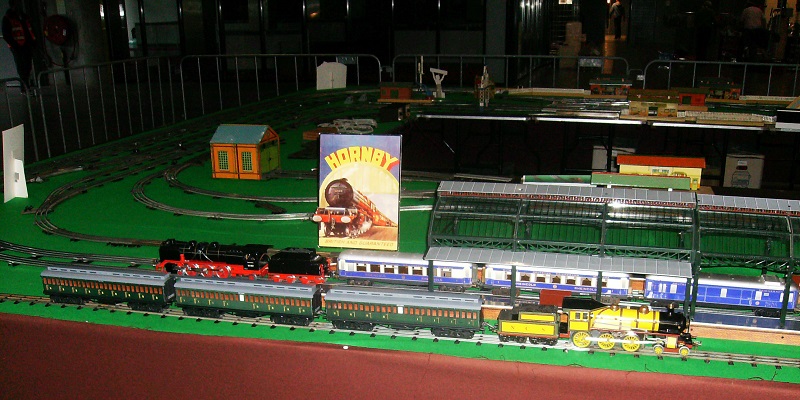 The O-gauge layout is not restricted to Hornby only. Hans van Dissel had brought two trains as guests on the layout. At the front a Bing 4-4-2 which he rebuilt (from a wreck) as a 4-6-0 as used by the former Nederlandsche Centraal Spoorweg Maatschappij (Dutch Central Railway Company), heading 3 NCS coaches created by changing the lettering on some Ace French Nord coaches. Behind it a Liebmann 4-6-2 pulling a set of Rheingold coaches made by the French firm of AS in the Eighties.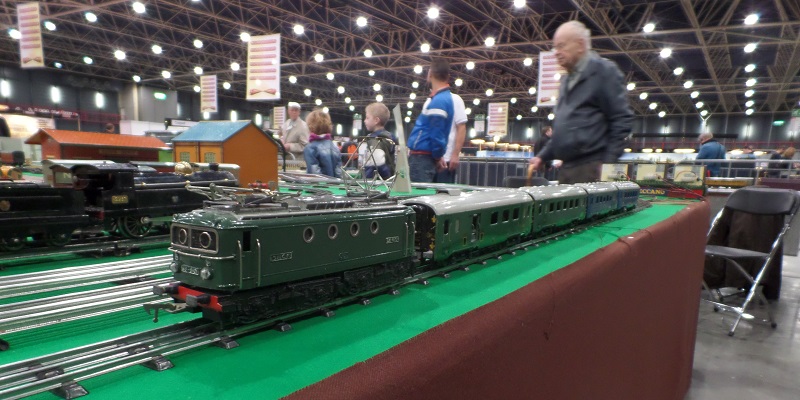 Barend Westerveld brought a JEP BB 8101 locomotive from the early 50's with a rake of coaches.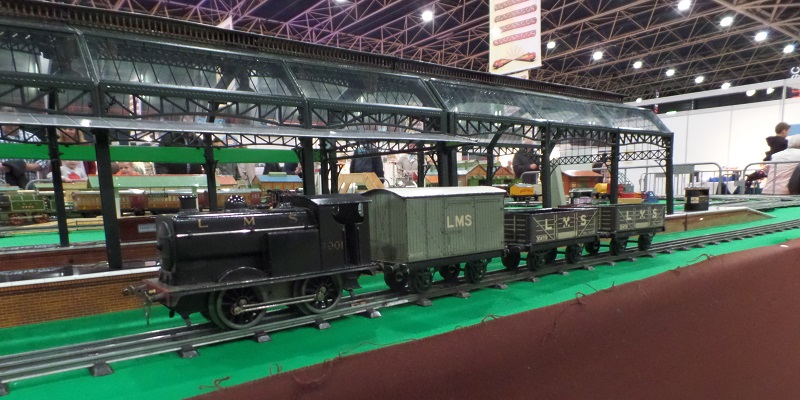 Barend also brought a Japanese copy of a LMC 0-4-0 Tank Goods set from the thirties, made by Seki and sold in Great Britain as Stronlite.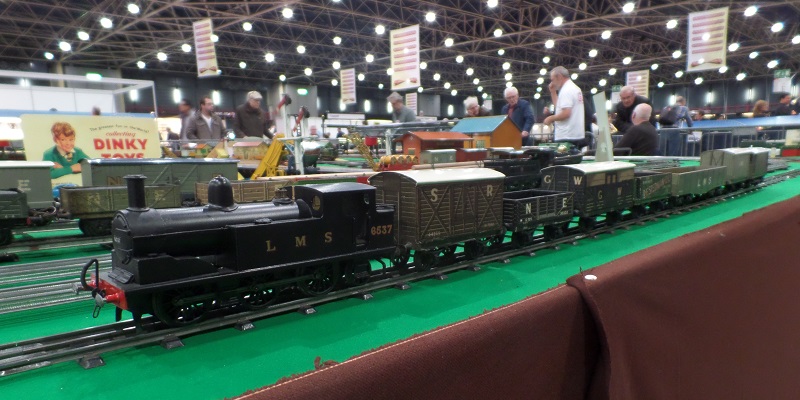 Peter Zwakhals brought some of his Leeds Model Company items to run. Here you can see a post-war Series II LMS 0-6-2 Tank Locomotive with a rake of litho Goods Wagons.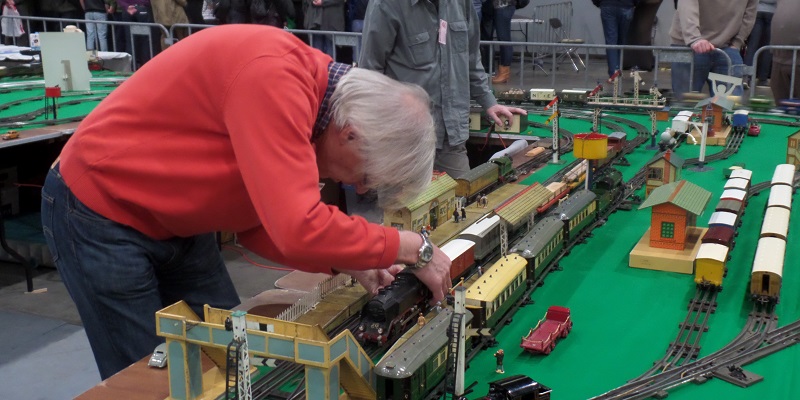 Paul brought a Märklin 4-4-2 TCE 70/12920 Tank locomotive which surprised us all. The loco was not only capable of pulling long trains at a slow and steady pace, but also its built-in auto reverse mechanism functioned perfectly. Something you could not say of every Hornby Locomotive.
---
TCS-stalwarts Elaine and Andy Hyelman had come to visit Eurospoor and had much to discuss with Rob van Teylingen about the ins and outs of Dublo.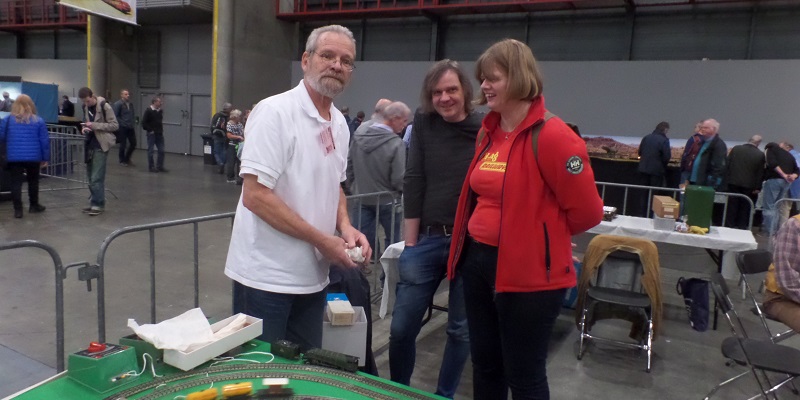 New Dutch HRCA member David Graig moved from Canada to Holland. Being a collector of Hornby Dublo too, Rob van Teylingen had much to discuss with David as well.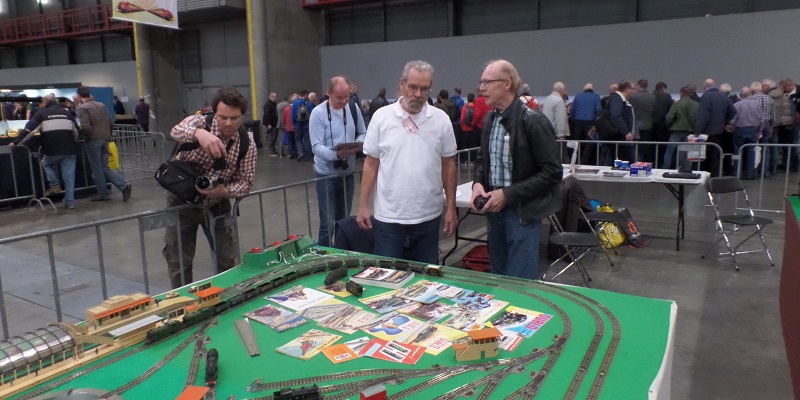 ---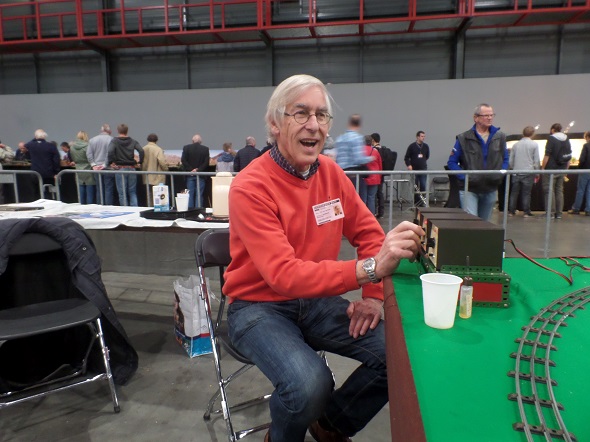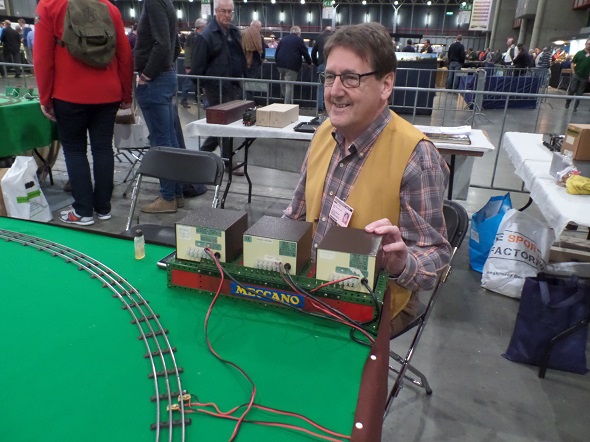 Some members of the Dutch HRCA O-gauge layout team: Paul (top left), Fred van der Lubbe (top right), Paul, Hans van Dissel and Peter Zwakhals (bottom left), Niek van Ees (bottom right). We use Gaugemaster transformers for running our O-gauge layout. Since the underside of these get hot during a 3 day event, Dutch HRCA member and Meccano fan Duco Postmaa made a specially fitted stand to keep the transformers cool. Needless to say, they did!