Sunday 5 June, a dozen members of the Dutch HRCA congregated for our Summer meeting. Our host this time was Henk Brouwer, who also happens to be the secretary of the Dutch Meccano Guild (and, rumour has it, the foremost Meccano collector in the Netherlands). As we soon discovered, Henk's passion does not stop at Meccano alone, but includes all products of the famous Meccano factories, including Hornby Trains, Hornby Dublo and Dinky Toys.
---
Henk and his wife Hanneke lived near the Veluwe National Park in "Villa Vredenhoek", where they also run a Bed & Breakfast. Built in 1989, the transitional architecture of the house is a combination of Neo-Renaissance with Art Nouveau/Jugendstil, with a dash of country cottage style for good measure.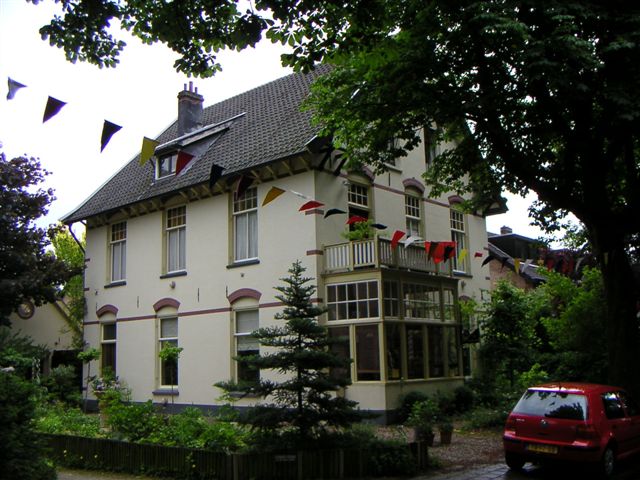 Next to the house and beautiful garden is located Henk's Famous Toys Museum and showroom. Although modest in size, and only displaying part of Henk's collection, the exhibits in the museum didn't fail to make an impression! There was a lot to see and every fresh look seemed to bring a new discovery, with Henk also pointing out some of the more arcane items tucked away here and there.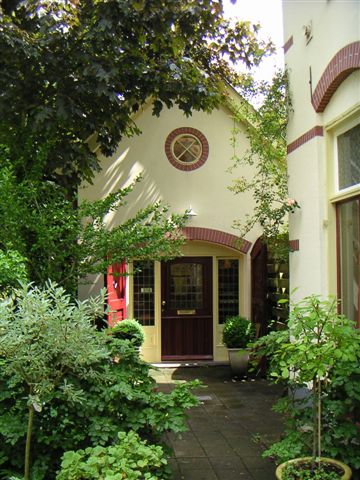 Part of the Hornby 0-gauge collection. The entire collection on display is housed in glass cabinets from a former pharmacy, which sets off the exhibits to great effect and lends a charming atmosphere to this lovely private museum.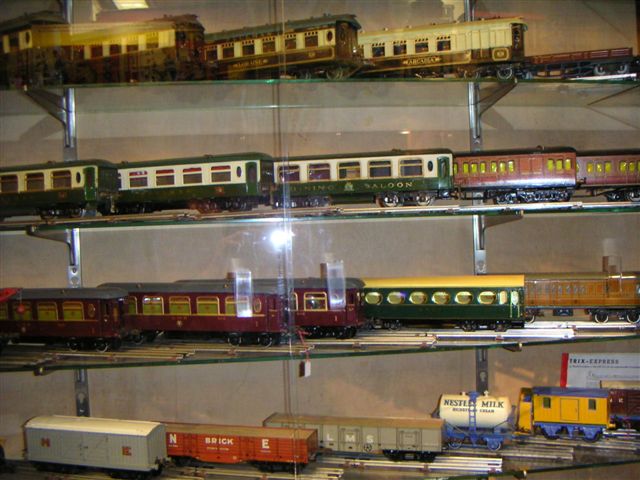 Here we get a peek at the Dinky Toy collection. Many items with original box, and all but a very few in immaculate condition.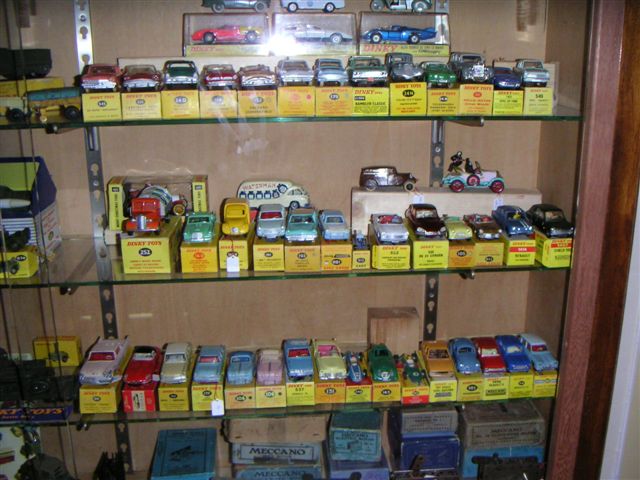 Although most of Henk's Meccano collection is currently on loan to a special exhibition (at the Deventer Toy Museum), there were still more than a few treasures for us to see.
Here for instance is a rare, very early No 1 Storage Cabinet, filled with components of the correct vintage (Henk told us these cabinets were sold empty at the time). Just below it, part of the No 2 version can be seen as well.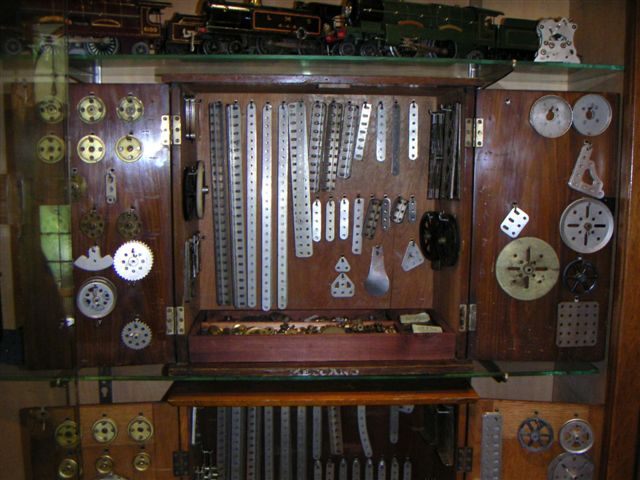 After feasting our eyes on Henk's collection, it was time to feast on Hanneke's delicious lunch. Very popular were the villa's covered verandas, as shown here by (l to r) Niek van Ees, Henk Dubbelt and Derk de Vries.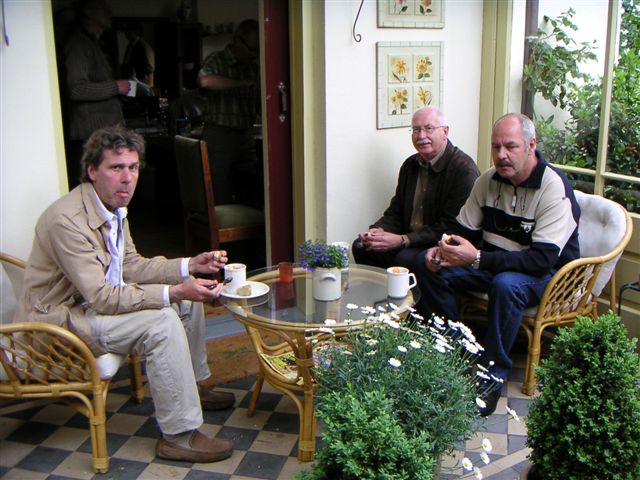 ---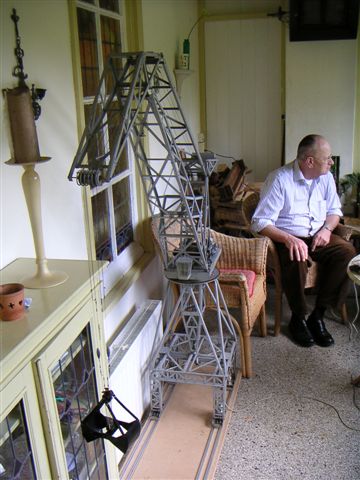 On the veranda next to the museum we discovered this huge crane, which turned out to be entirely hand-built with Juneero. The story goes that it was made by a company representative, modelled after the real cranes manufactured by his factories (quite a few of these cranes can still be seen at the Port of Rotterdam).
Being fully functional, construction must have taken many hours we're sure. Piet Scholten is sitting in the background, and gives some impression of the size of this thing.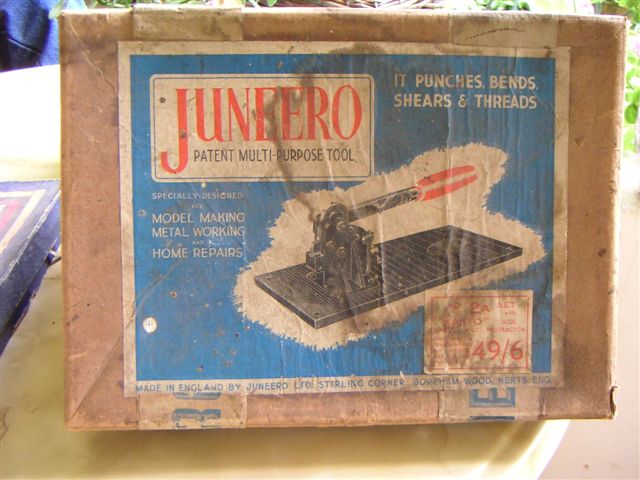 Next to the crane, Henk has an original Juneero tool on display. Contrary to the Meccano series of ready-made components, the Juneero system required all parts of a structure to be hand-made using this tool.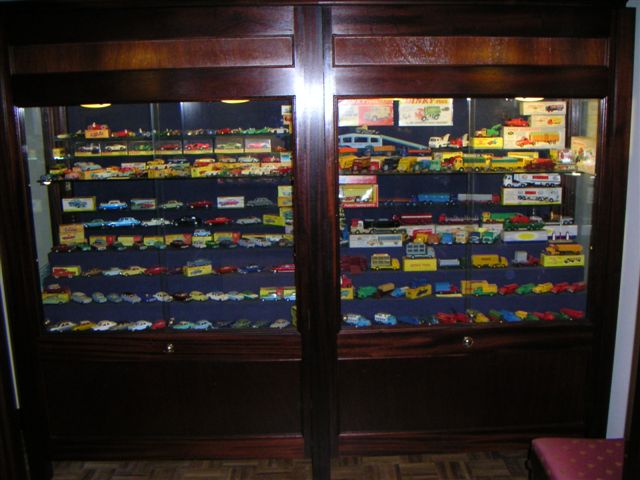 In the afternoon we spent a few enjoyable hours visiting the Toy Gallery in the nearby town of Brummen. Here we found a most handsome collection of toys, splendidly displayed in glass cabinets or even complete shop windows hand-built by volunteers from the museum.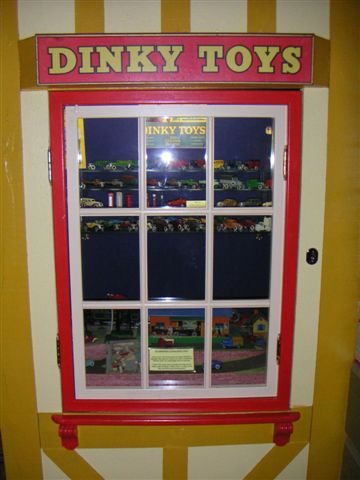 Most of the Hornby and Meccano items were also on loan to the Meccano exhibition, but the museum's displays were impressive nonetheless, with notably a huge number of Dinky Toys to be admired. Some of the remaining Hornby can be seen in the window of this "Meccano shop" display case.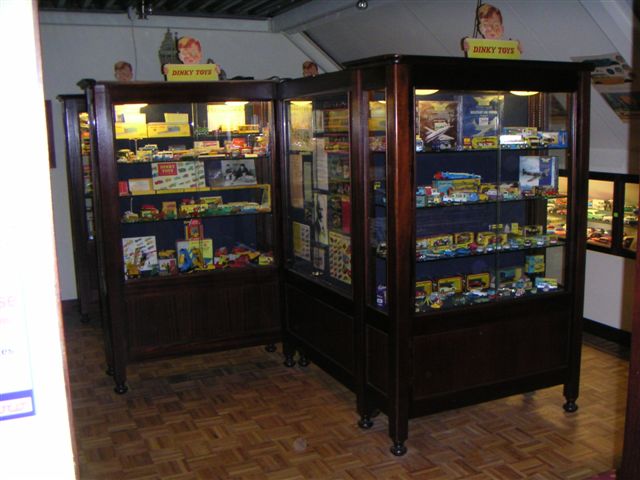 Here is a glimpse of the home-made cabinets housing part of the Dinky Toys exhibit.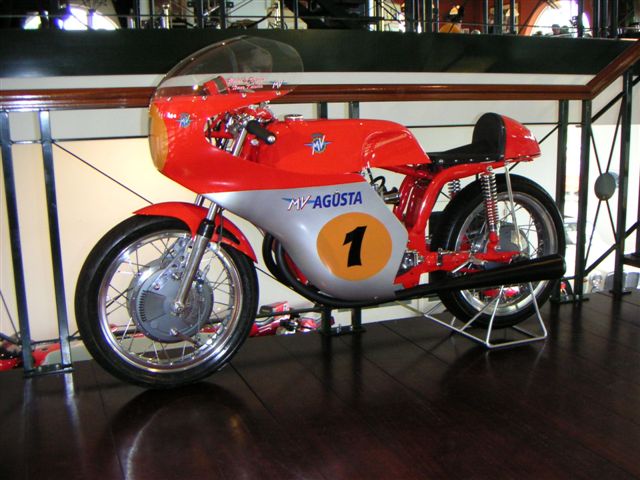 The Toy Gallery museum is located on the top floor of The Gallery vintage car showroom, which also looks like a museum but with every vehicle for sale. So even if you can't buy a Dinky toys Jaguar, Maserati or Ferrari at the toy museum, then perhaps you can buy a real one downstairs!
Being a keen motorcyclist, our secretary felt seriously tempted by this vintage MV Agusta.