On Sunday 12th May 2019 the annual meeting took place of the Dutch HRCA. This was not just a normal annual meeting, but in fact our 25th celebrations. The Dutch HRCA became 'official' within the HRCA in 1994 at the 25th Anniversary of the HRCA.
Being our anniversary, we had a special location for our meeting. Over the past few years some of our members had heard or seen that there was a collector of vintage gauge 0 trains with an impressive collection, and all displayed in an equally impressive setting. So contact was made, and we were very welcome by fellow collector Johan to have our special meeting over there.
The layout allows 4 trains running simultaneously. Most spectacular is a complete branch line, elevated from the main layout, running along the walls of the room to a separate village, complete with sidings. This long length of track allows running long trains made up from many coaches or wagons.
---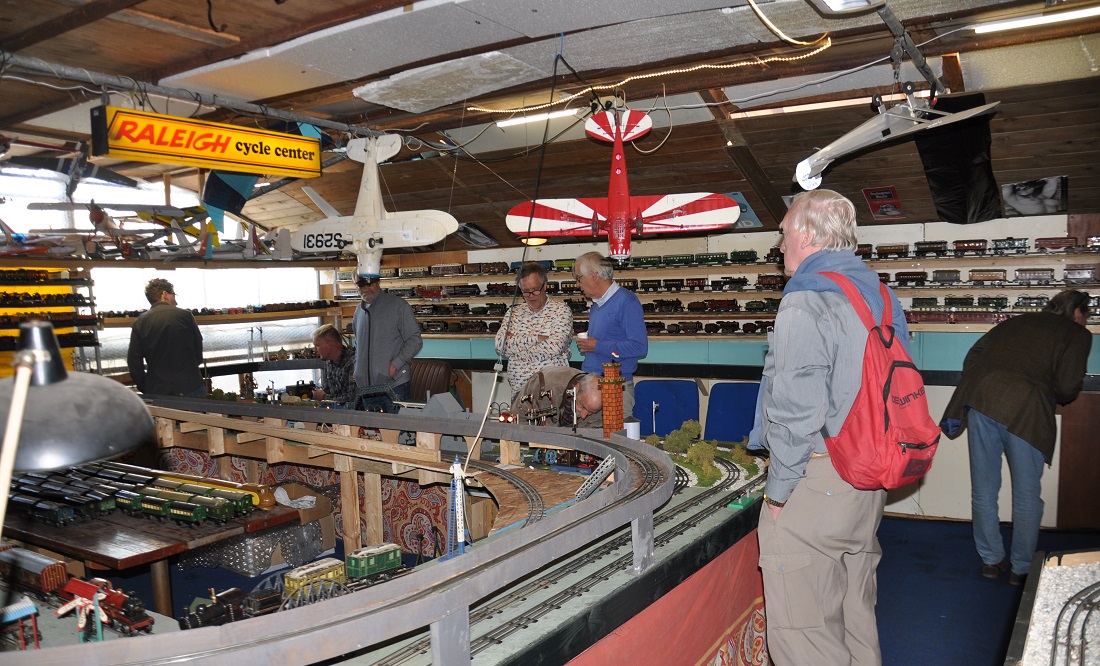 Here you can see some of the Dutch HRCA members, including new member Hans Vingerling (second from the left) and Henk Dubbelt with Harm Degen discussing all the things that could be seen on the layout. The model airplanes hanging from the ceiling are there just for decoration, not depicting a crash.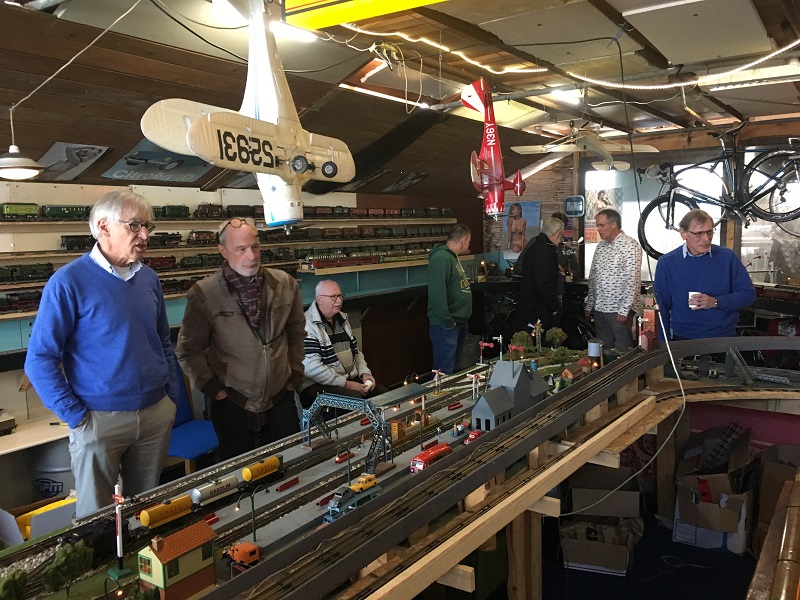 The village at the end of the branch line. This village includes a loop on which tinplate, clockwork driven Schuco Varianto cars drive through the streets. At the locomotive depot 2 Märklin HR loco's have found a place.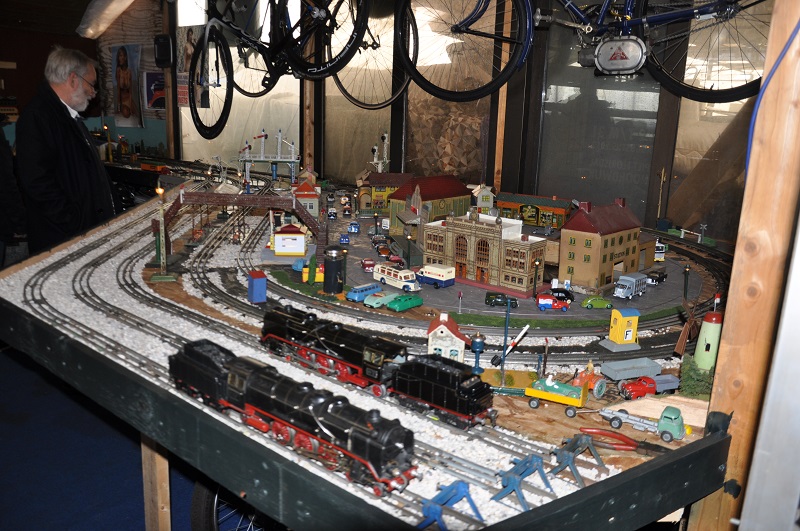 There is a small locomotive depot along the branch line, where a model of HAG is standing.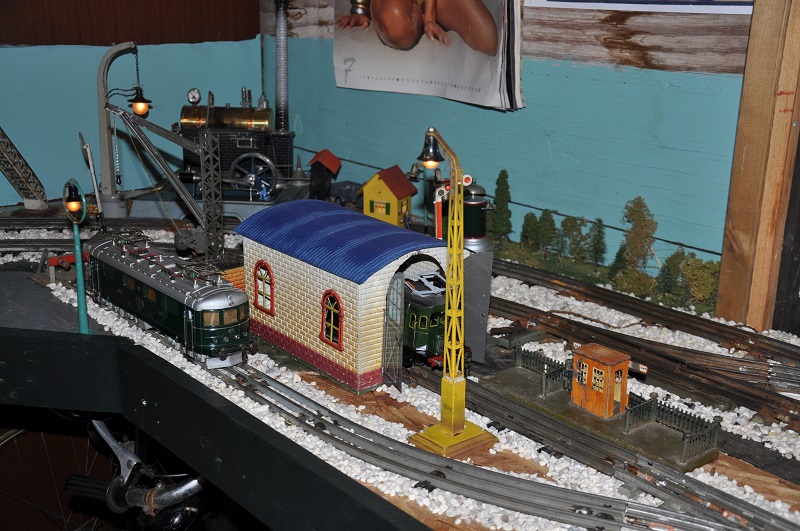 What to do with the remains of an old battered locomotive, and distorted wheels? Make it part of the layout.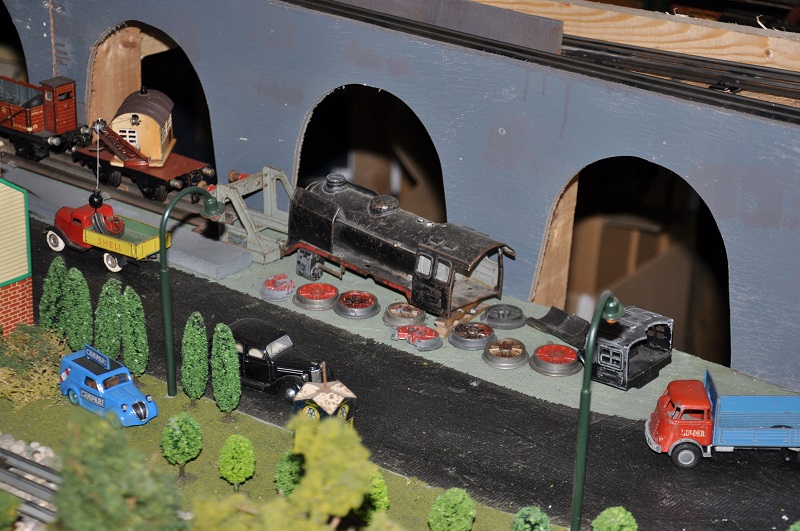 ---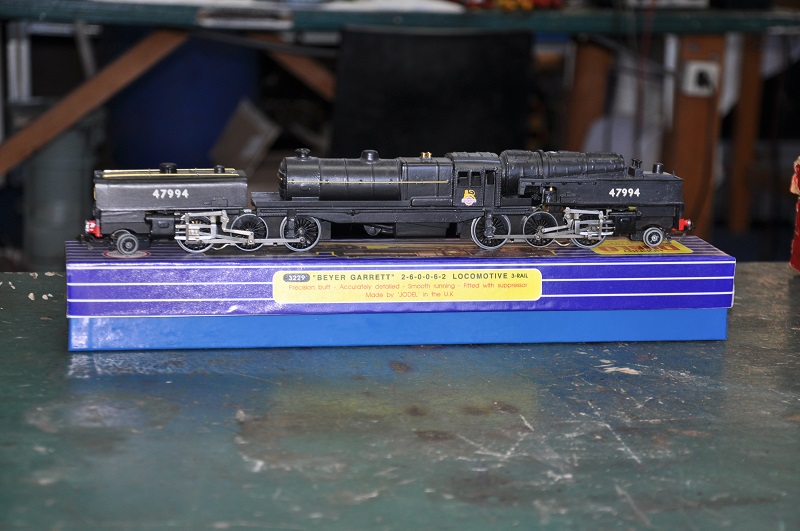 Rob van Teylingen was the only member present collecting Hornby Dublo. He brought along this special model from Jodel Models. These are built in the style of Hornby Dublo but are not restricted to using an original chassis. In the case of the Beyer Garratt the chassis is custom made out of solid brass.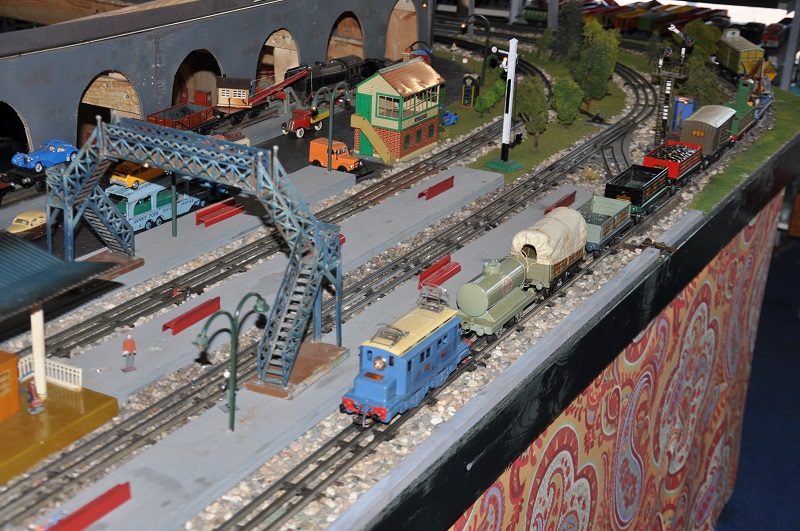 And since we are HRCA, there was of course Hornby running on the layout. Barend Westerveld has recently added a number of items to his collection, made by Hornby France. All pre-war, super condition and boxed, including a 20 volt PO-locomotive.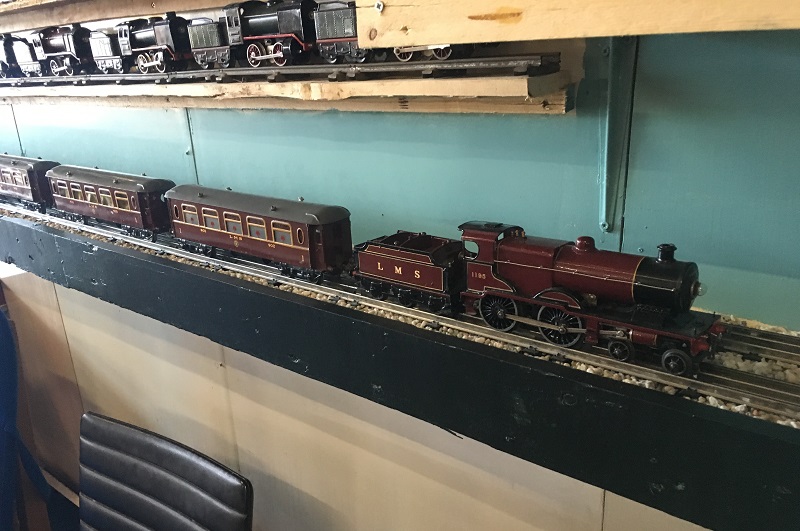 Our host also has some Hornby items in his collection, so soon his E220 Special Compound was running with a rake a No. 2 LMS Saloon Coaches.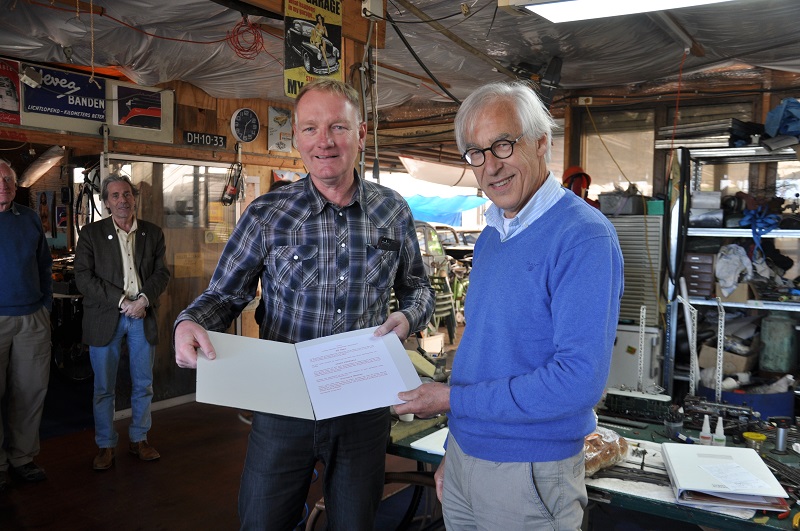 To mark the occasion Paul presented our secretary Peter Zwakhals with a nice certificate, to thank Peter for his efforts for the Dutch HRCA during the past quarter century.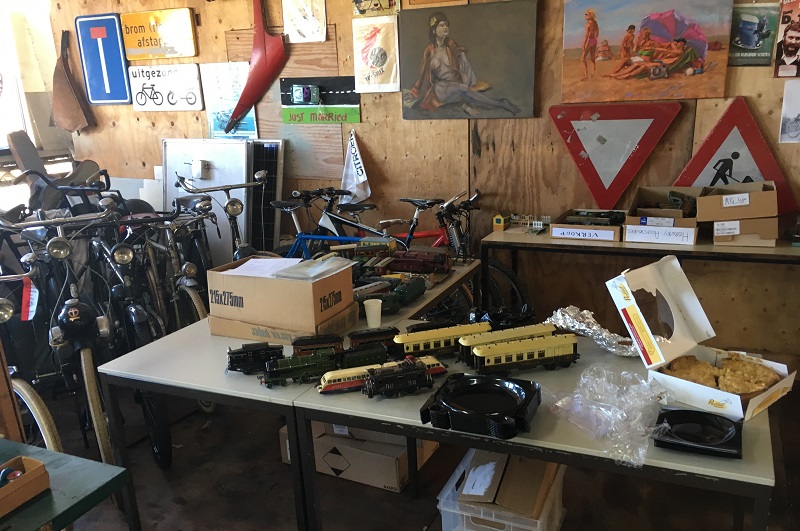 No meeting is complete without a sales table, and coffee, tea, cakes and lunch. All who brought items, did sell at least a few items. Most of the members brought something to drink or eat.
---
Most of the Dutch HRCA have a wide interest in vintage model trains, so during the day a lot of brands were run on the layout. Here you can see a Stronlite Tank Locomotive, with some LMS coaches.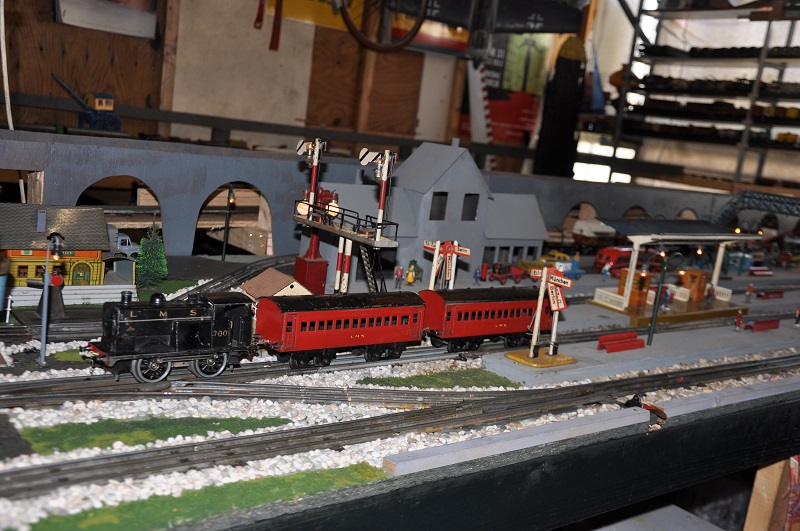 A rare Micheline railcar made by Louis Roussy (LR), nicely rebuild from a wreck by our host.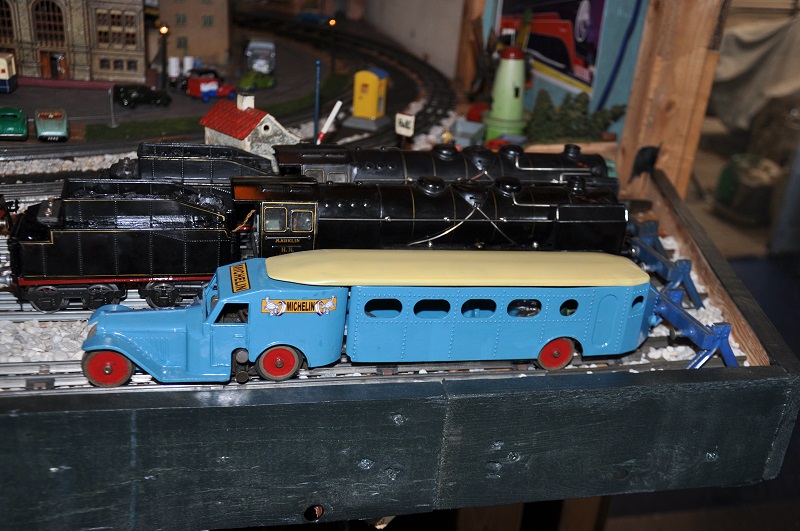 Being a keen collector of Kraus, Paul wasted no time to run this nice example.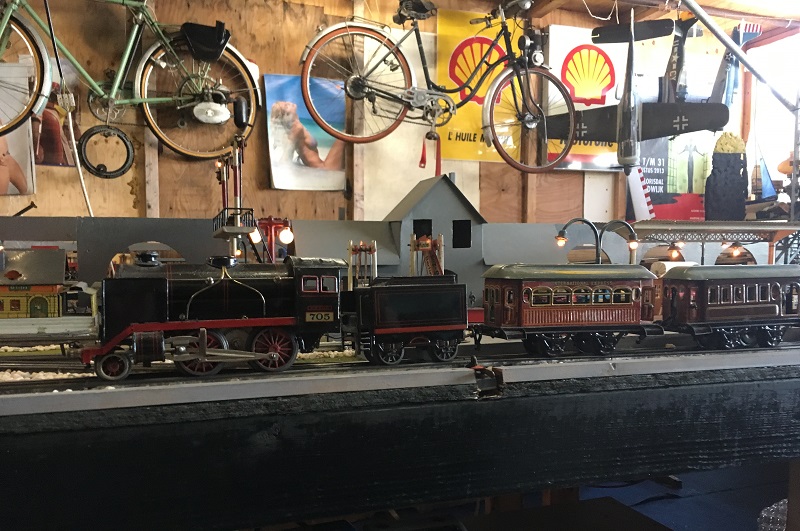 The walls are packed with trains of well-known brands as Bassett Lowke, JEP, Märklin, Lionel and many more.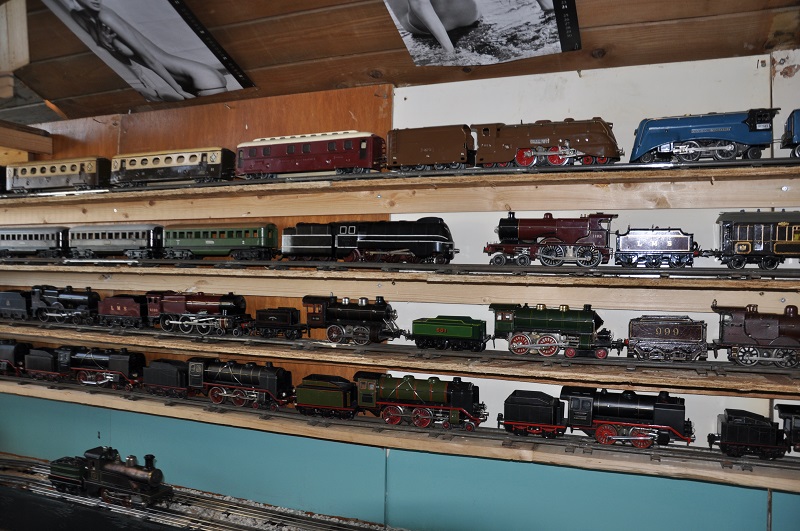 With such lengths of wall you can display a lot of trains.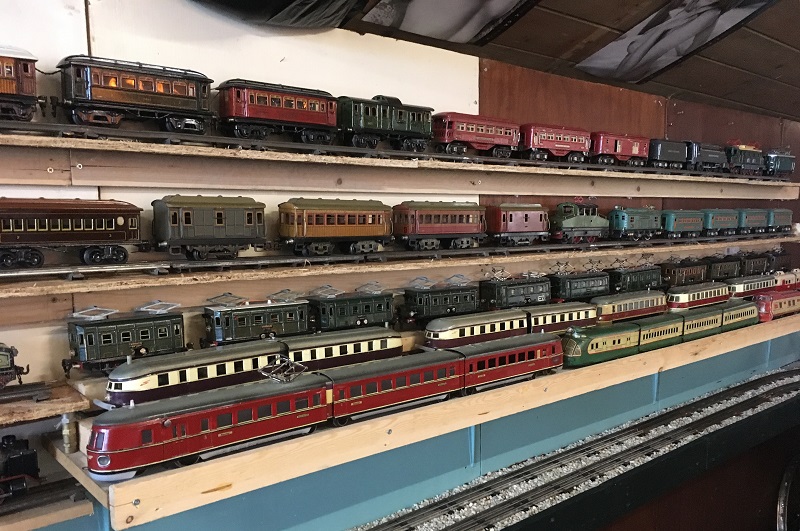 ---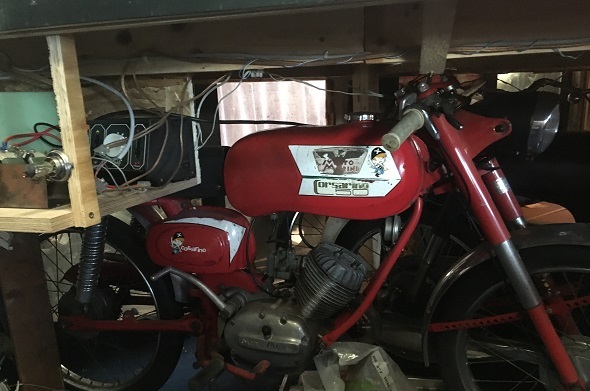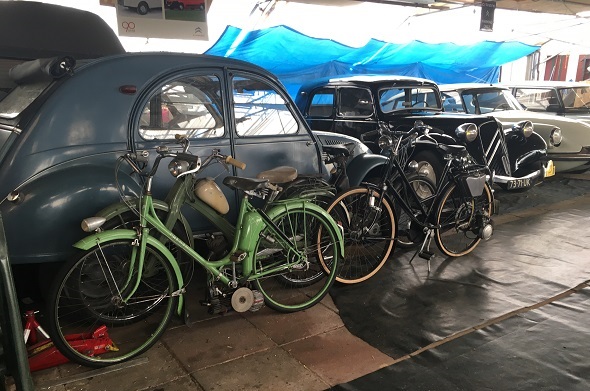 This is what a proper man cave should contain (next to a layout with vintage trains): cars, mopeds, motorbikes and workbenches full of tools. We may be big boys, but we are boys!