The 2016 Dutch HRCA AGM was held on a Sunday 19th June. For the second year in a row we returned to the garden layout of Fred van der Lubbe. We very lucky with the weather, because on most of the days before the meeting it was raining. The garden layout is made with two continuous tracks, which are cleverly constructed by Fred to run trains in S-, O- or 1-gauge, 2- or 3-rail. Fine scale locos and stock, coarse scale or toy model railways can be run. Most of the Dutch HRCA members have a general interest in model railways, so with all these possibilities at hand to run trains from your collection, members used the day to run some favourite loco's and stock.
For those interested: Fred has a Youtube channel where many of the trains can be seen running on the layout.
Fred's only restriction in collecting, is that he collects steam model locomotives. To add something new to his layout, Niek van Ees brought his small collection of Tri-ang Big Big Hymek diesels and coaches to run. The one shown on the pictures below has been nicely repainted in BR Green, and has been upgraded with 2 motor bogies, fitted for 3-rail running. Fred's brother Dick also brought a diesel locomotive: a Gauge 1 DB V200 locomotive made by KM 1. It was coupled to a rake of tank wagons from the ranges of KISS and Märklin. This locomotive is from the digital range, and is equipped with and wide array of sounds, recorded from the actual locomotive. So starting up the diesel engines, running at slow speed and breaking after a run are all done with realistic sounds.
---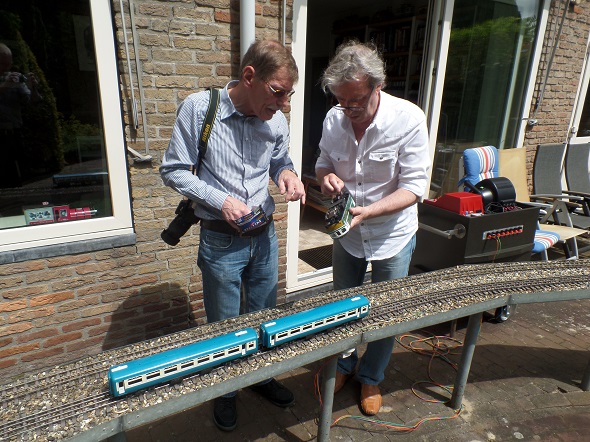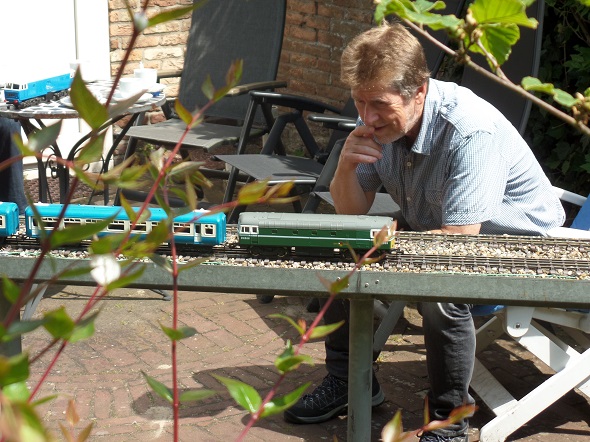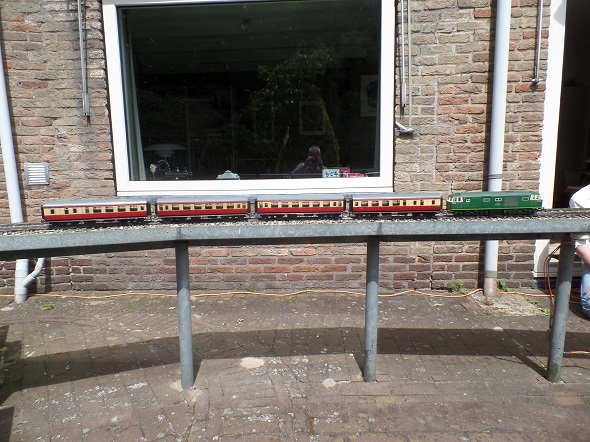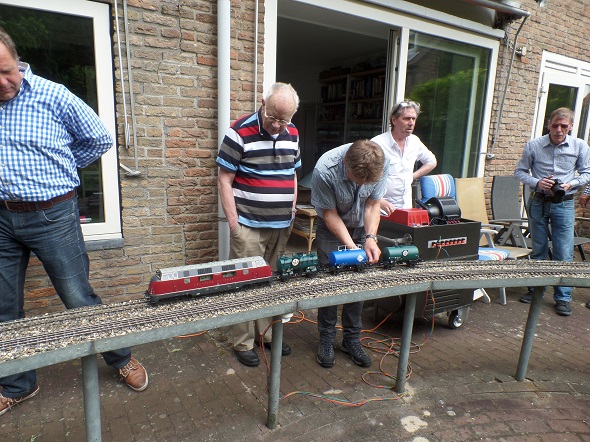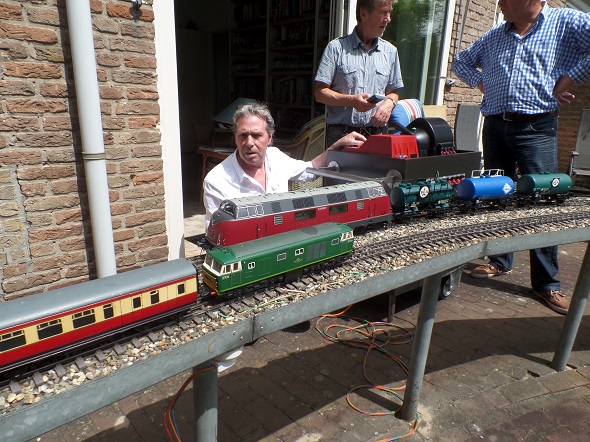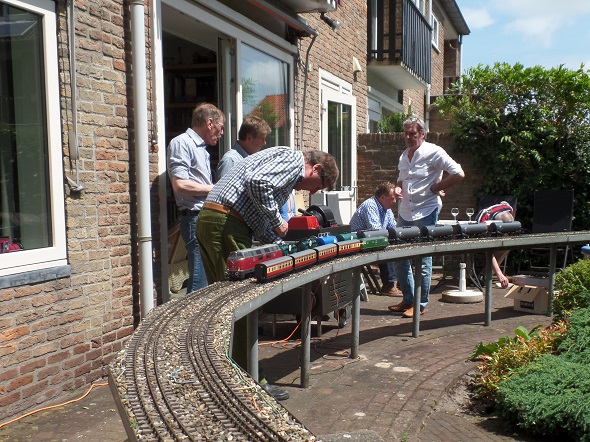 Niek van Ees's newly bought Bassett-Lowke BR Corridor Coaches were run with the Tri-ang Hymek Diesel.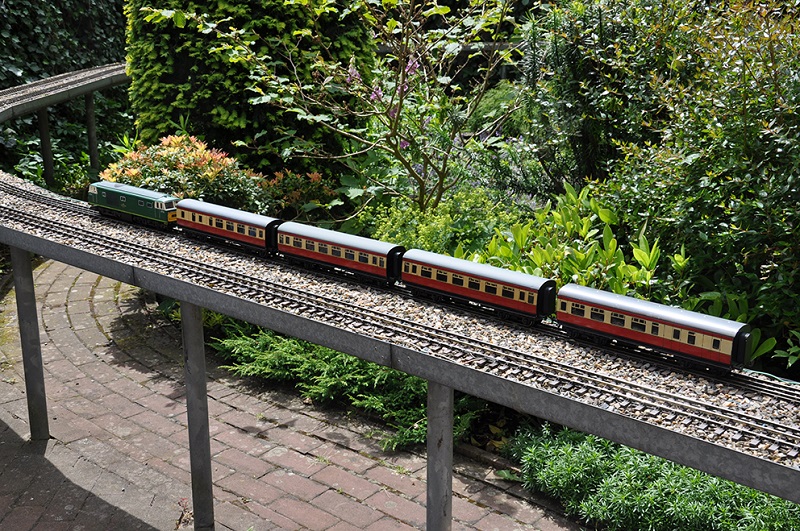 With the coaches already provided, Hans van Dissel wasted no time to couple his Bassett-Lowke LNER 4-6-2 'Flying Scotsman' to the coaches to give it a good run.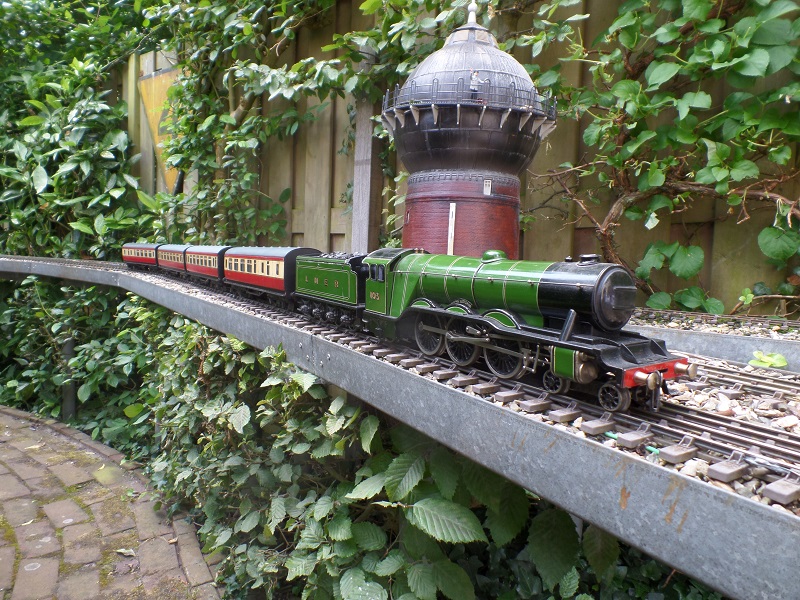 And soon, Fred van der Lubbe followed with a Bassett-Lowke LNER Standard 0-6-0 Tank from his collection.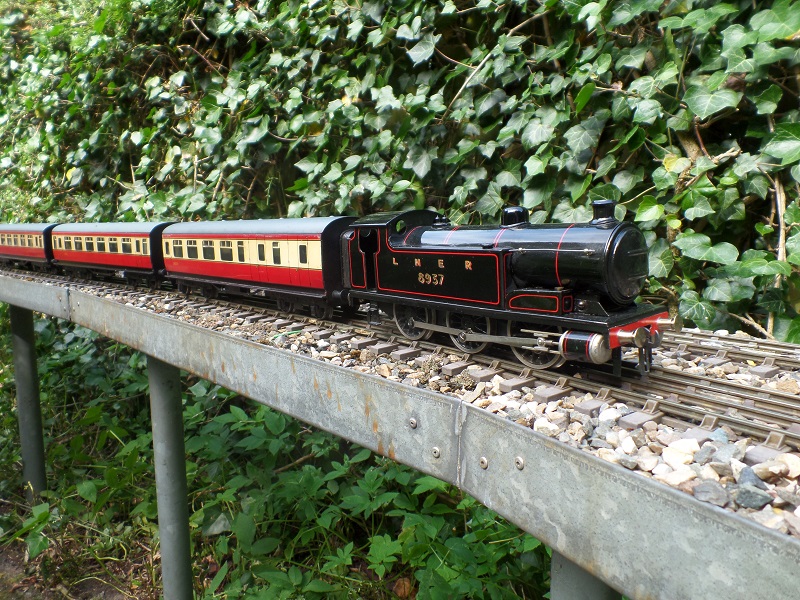 Running a train on a garden railway: always a joy for the eye.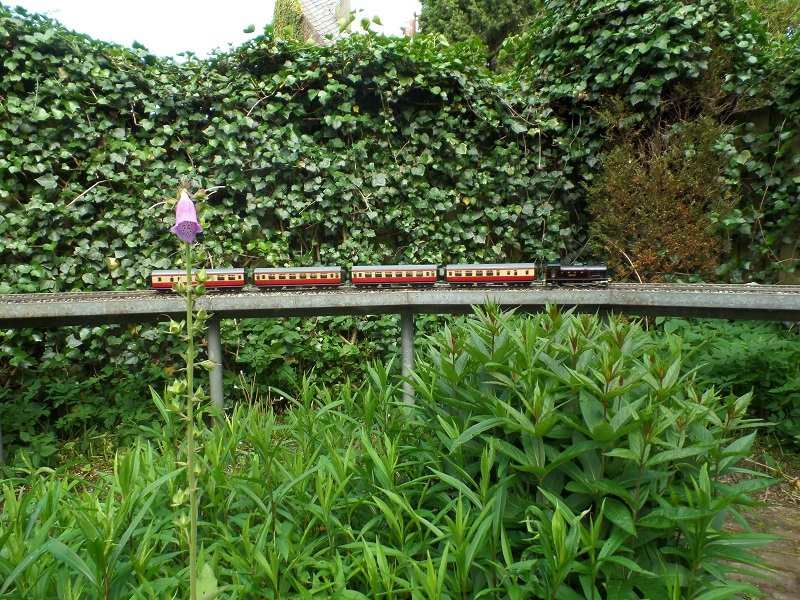 ---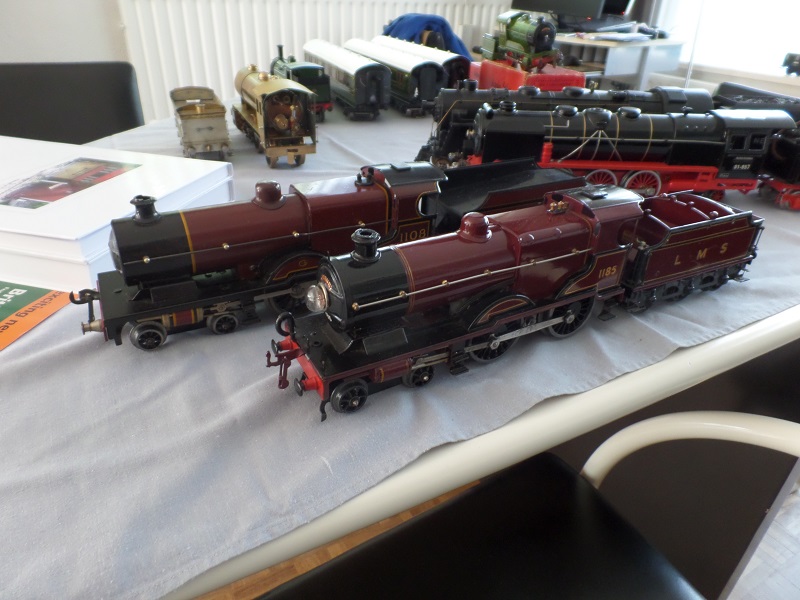 We could not have a Dutch HRCA meeting, without any Hornby trains running. Gladly our secretary Peter Zwakhals took some items of his collection to run. Before running, the Hornby E220 Special Locomotive LMS Compound was compared with the Bassett-Lowke version.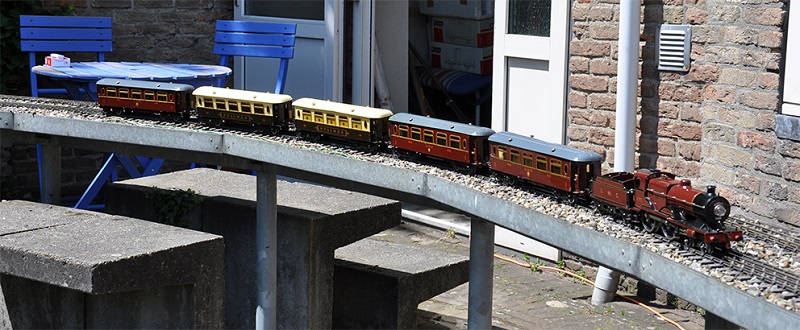 Soon after the Hornby Compound was running on the track with a rake of LMS No. 2 Saloon and No. 2 Pullman coaches.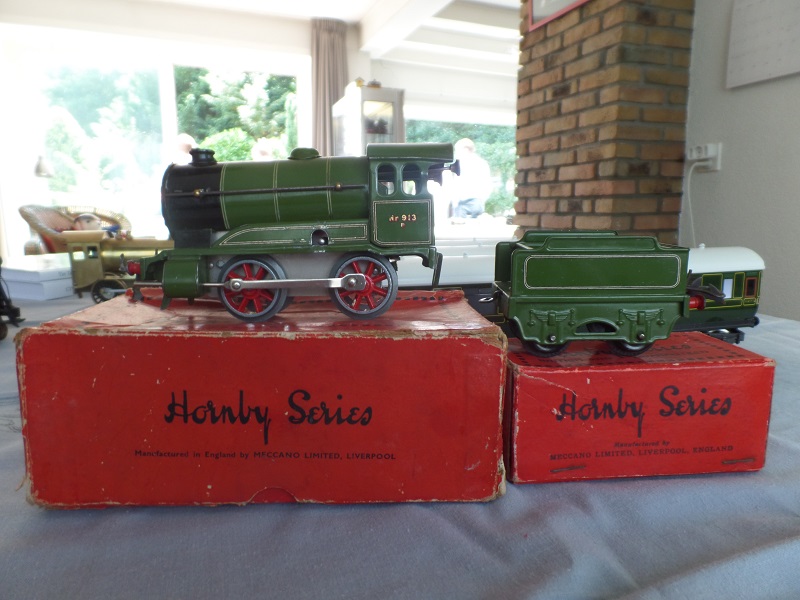 A rare find in Holland: an export version of the Hornby No. 1 Locomotive, especially made for Holland. Complete with boxes, with labels in Dutch, Danish and German. This is same version which was also made for Denmark.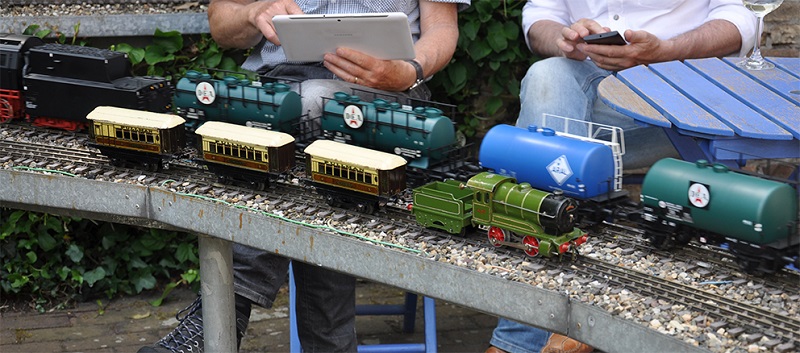 A few Hornby No. 1 Pullman Coaches were added to the loco, the spring was wound, and the loco managed to do a lap. The Gauge 1 Tank wagons gives us a lesson in scale.
---
Hans van Dissel brought a Lobaugh 2C2 New York Central Hudson to the meeting. Niek van Ees and Hans are busy coupling a rake of matching Weaver coaches to this loco, which Fred provided from his collection.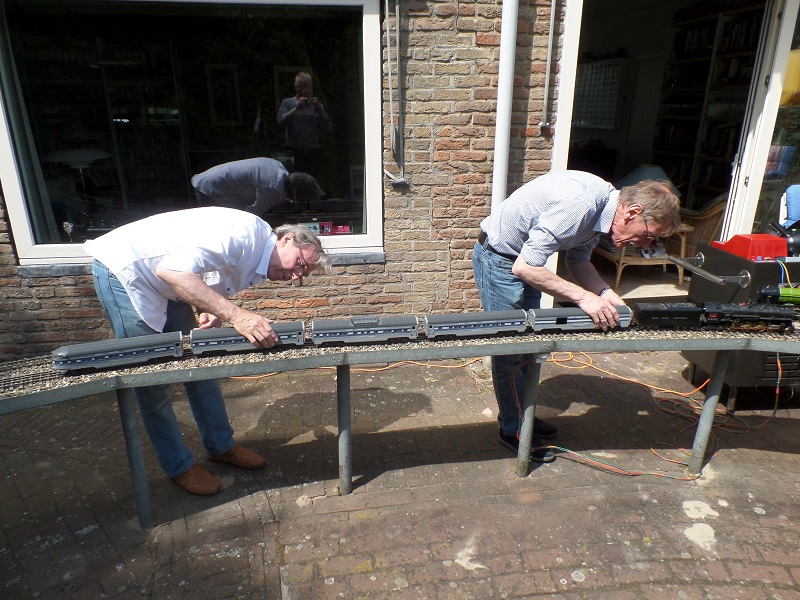 This was giving a proper run on the garden railway. Sadly the doors of the luggage compartment were left open, but no valuables were lost.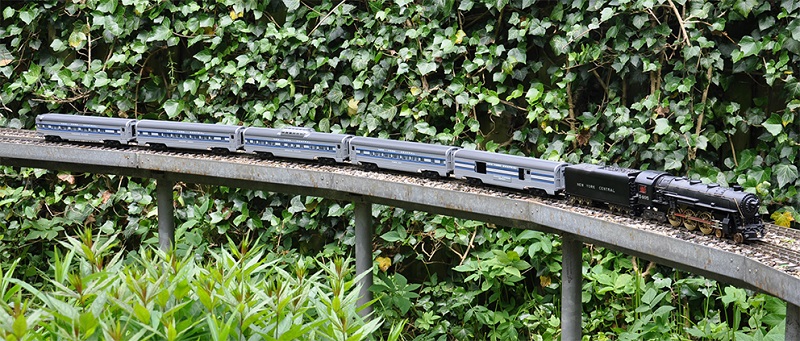 Nice weather, nice company and a garden railway makes the perfect scene to enjoy a beer (or two).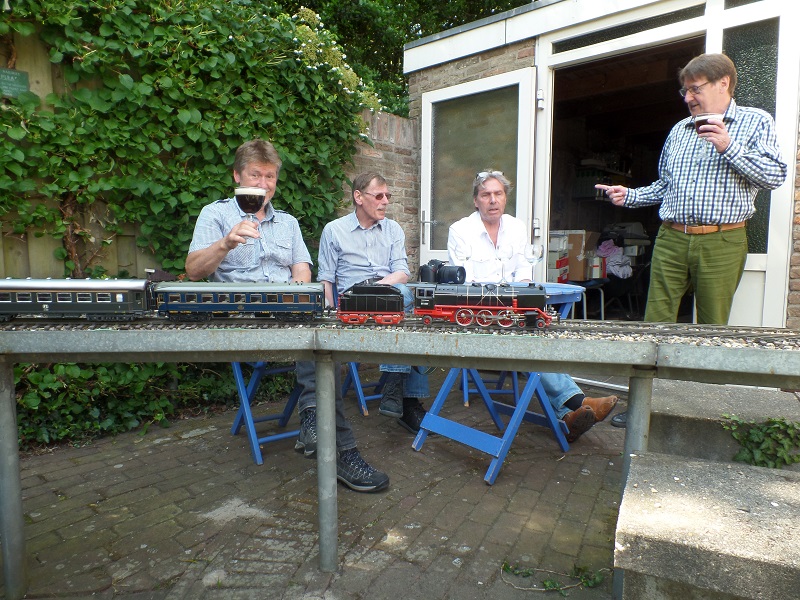 Hans van Dissel also brought a Liebmann T41 2C1 BR 01 steam locomotive, which made a nice train coupled to an original Darstaed coach and some Elettren coaches.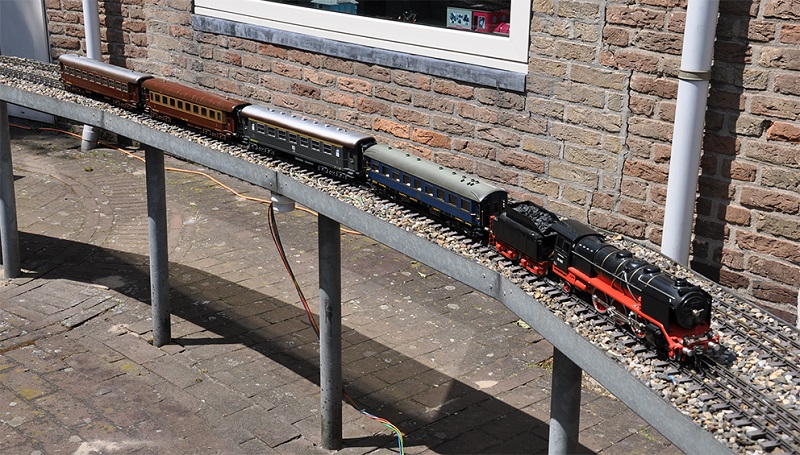 Peter Zwakhals brought his new Ace Trains E/24 SR 0-4-4 M7 Tank loco, which was run with some Darstaed O Gauge Southern Maunsell corridor coaches.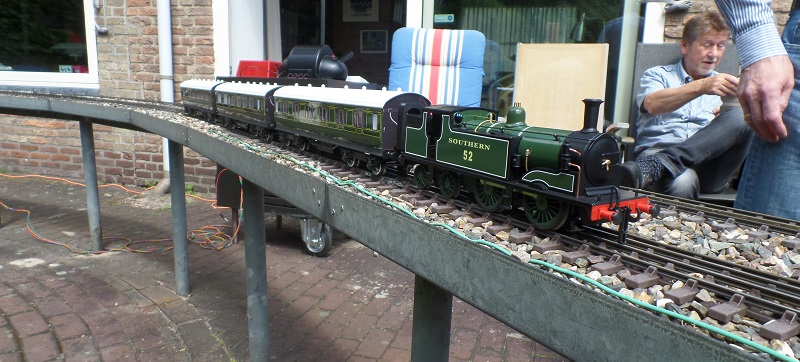 ---
To finish the meeting in style, Fred van der Lubbe took his Gauge 1 BR 4-6-2 A3 'Persimmon' from his collection. This loco is made from a David Andrews messing kit, built to a scale of 10mm = 1foot (roughly 1:30).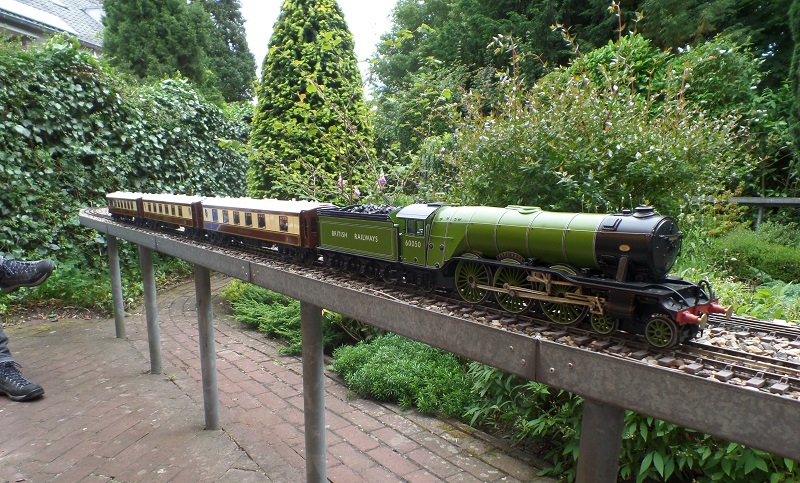 This loco was soon coupled to a rake of 1:32 scale model railway Pullmans (Rosalind, Calais en Car No 41), made by J&M Models.