The 2015 Dutch HRCA AGM was held on a lovely sunny Sunday 10th May. We returned to the garden layout of Fred van der Lubbe, who was our host too in 2010. As with most of the Dutch HRCA members, Fred has an interest in model trains in general, but running live steam on his garden layout is one of his greatest passions. So all in all we had a great day: lovely weather, constant running of trains, and a gathering of a dozen likeminded enthusiasts. Fred has a Youtube channel where many of the trains can be seen running on the layout.
Once everyone had arrived at the meeting, there was a moment of sadness. Henk Brouwer, famous collector of Meccano, Hornby Trains, Dinky and other Binns Road products, has sadly passed away. Henk was ill for a few years. We all will miss him.
---
Members present were (sitting, from left): Jacob Wieringa, Henk Dubbelt, Rob van Teylingen, Hans van Dissel, Duco Postmaa, Piet Scholten and (standing, from left) Peter Zwakhals, Fred van der Lubbe, Barend Westerveld, Paul and Niek van Ees. Fred's brother Dick van der Lubbe was also present, but someone has to operate the camera for our official portrait.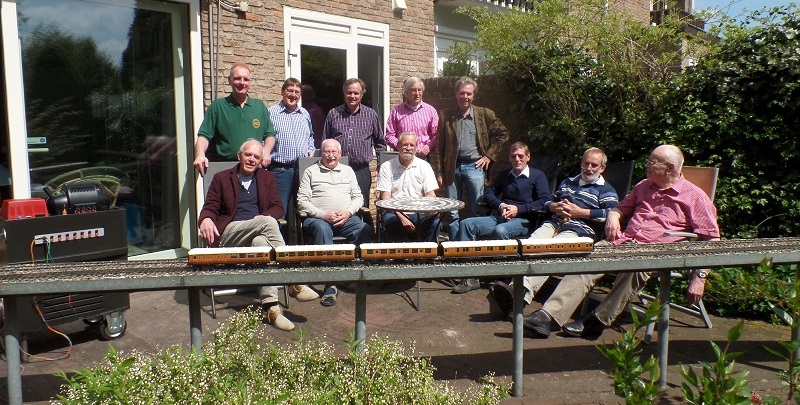 At the meeting, not too much Hornby was run on the layout, but our secretary Peter Zwakhals got his contribution to the meeting running first. An E120 SR Special Locomotive with a number of No. 2 Passenger Coaches. As usual with Peter, all in excellent condition.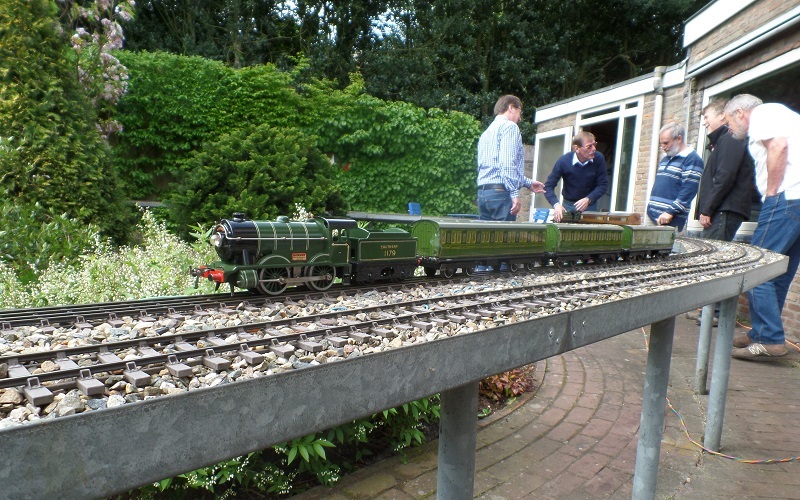 Running green SR stock in a garden layout, which is in the midst of a very large number of garden plants, creates a special effect.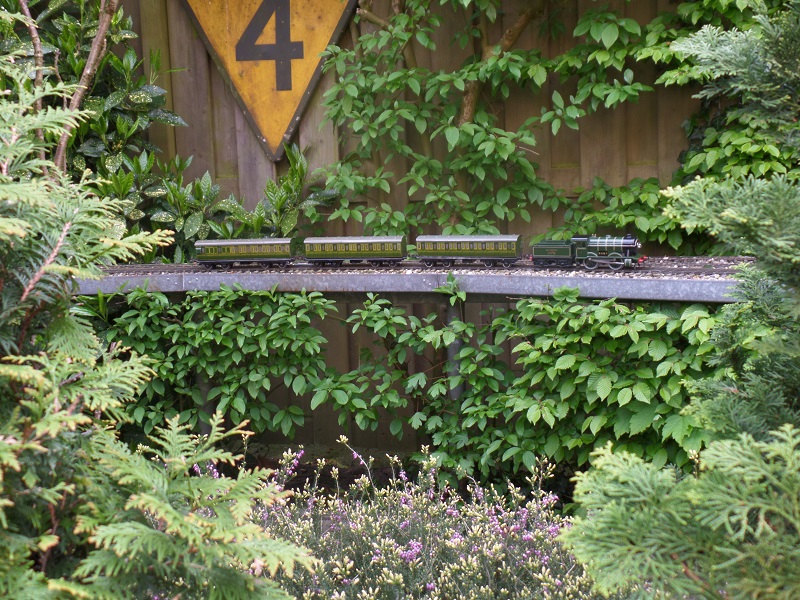 Hans van Dissel brought his clockwork Gauge 1 Jubb Great Central 4-6-2 Tank loco with 2 coaches.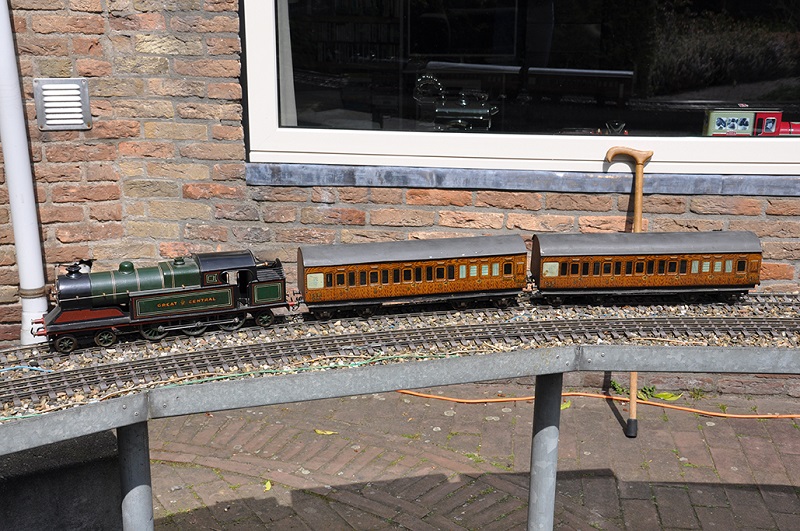 This train had not been run for a long time, so some careful oiling was done, before the train was set off on the track.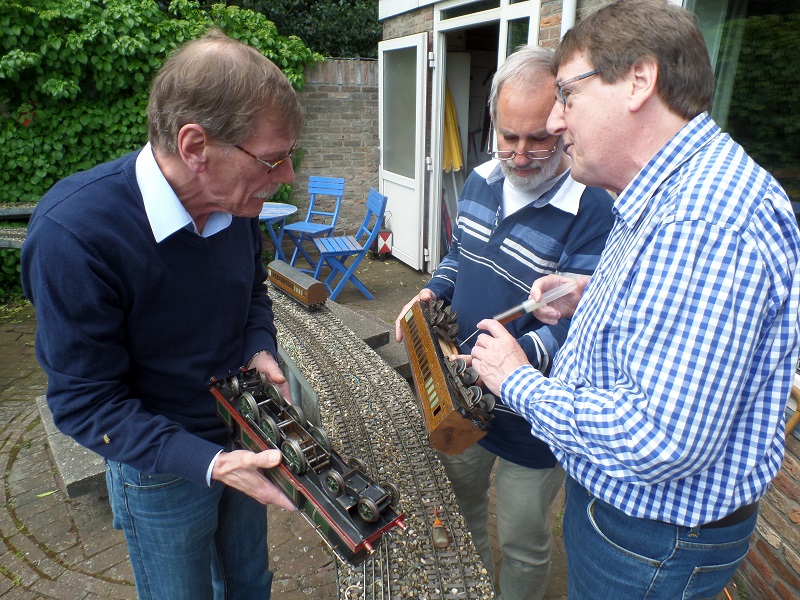 ---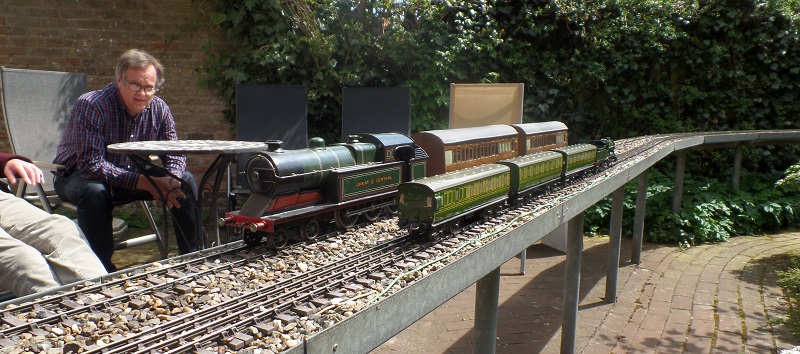 A lesson in scale: the Hornby E120 Special train on the inside loop of the layout is almost dwarfed by the Gauge 1 Jubb train.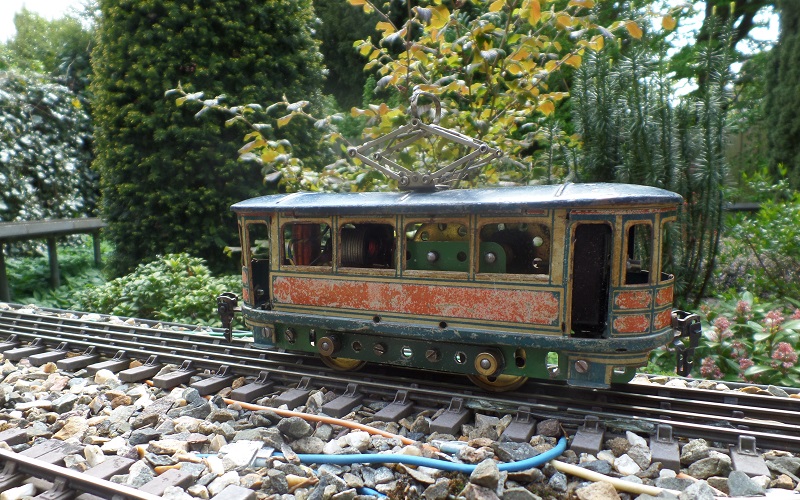 Jacob Wieringa surprised all with the latest creation he found: a vintage Gunthermann tram body, with a Trix mech and a lot of Meccano parts, gears and chain to get it running. And much to our surprise, it ran smoothly along the track.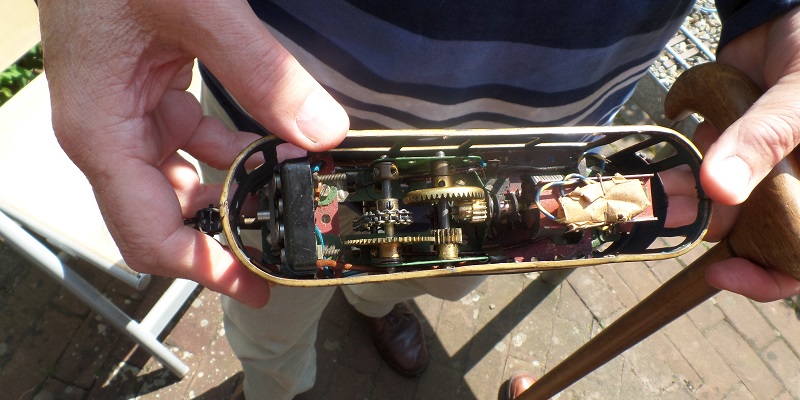 Details of the mech with makes clever use of Meccano parts, gears and chain.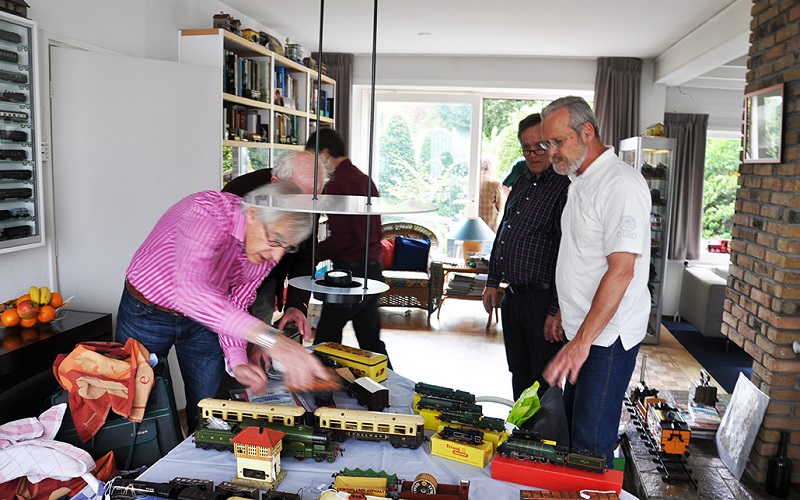 To complete the meeting, there was modest sales table too. Not for sale, but our Dublo collector Rob van Teylingen has started to collect Triang TT too. He brought some nice boxed examples.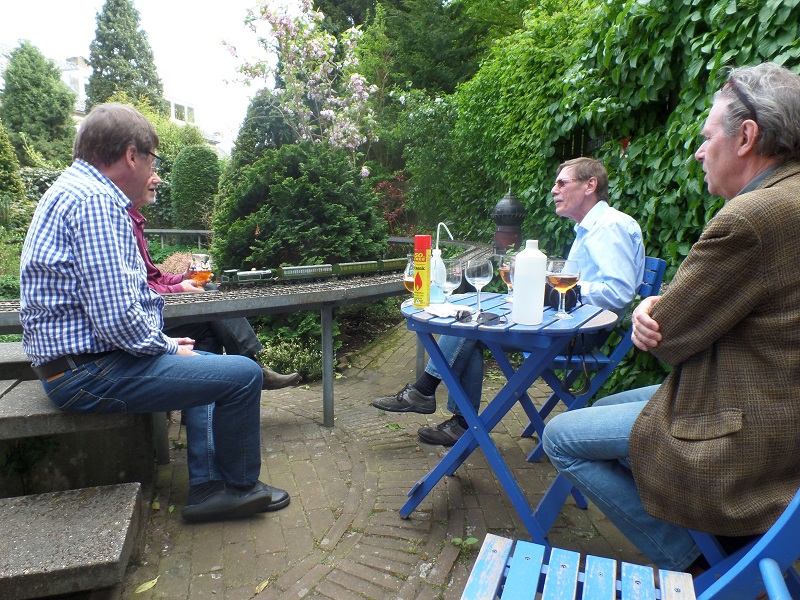 Garden layouts at their best: nice weather, something to drink, nice company, discussing model trains while trains are running on the track. What more can you ask for?
---
Barend Westerveld brought a Stronlite 0-4-0 (copied after a Leeds 0-4-0 Tank) which ran nicely too.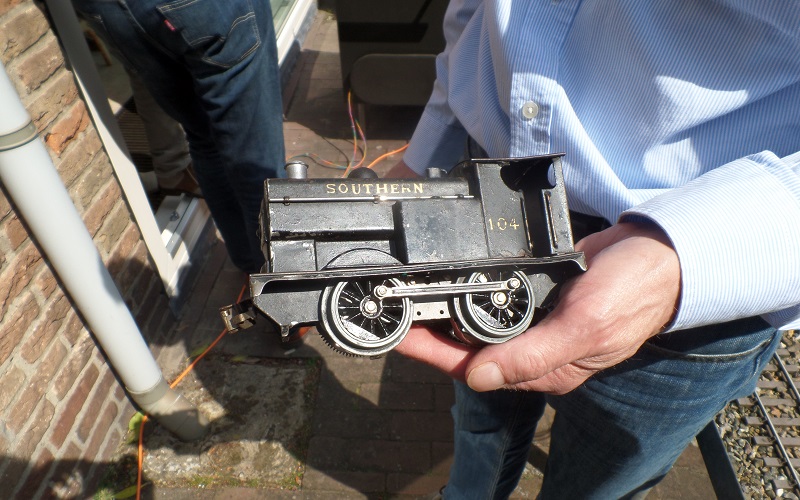 You don't get a chance to run a live steam locomotive very often, so Duco Postmaa brought along his kit made HB Models 0-6-0 Tank. The loco had not been run for many years, but with some pushing it ran for a few laps.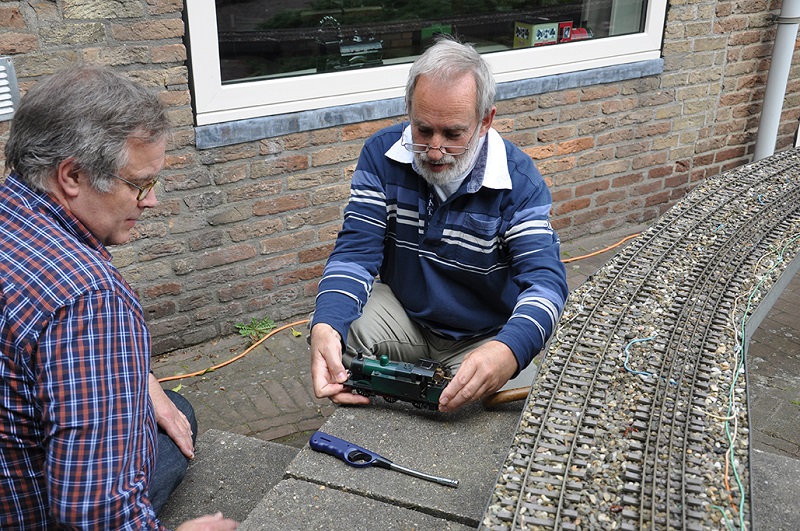 Running live steam locomotives is almost a daily job for our host Fred van der Lubbe. He chose a locomotive which is known for trouble-free running: an Aster JNR B20 0-4-0 Tank, coupled to a rake of LGB D&RGW Coaches. Fired with gas, that train was steaming round the track for more than 10 minutes. A new fill with gas, extended that with another 10 minute run.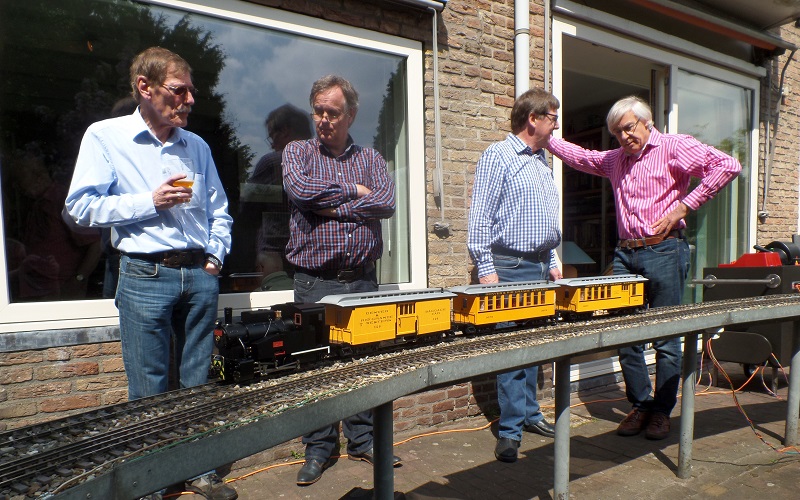 The Hornby SR No. 2 Passengers Coaches were coupled with an ACE Trains ESG/1 4-4-4 in SR green.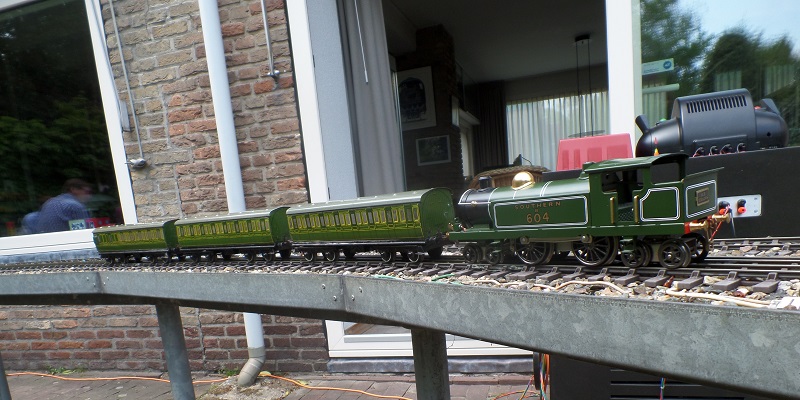 Niek's newly bought Darstaed 2-6-2 Tank in LNER black, was coupled to some ACE Trains LNER C/4 coaches.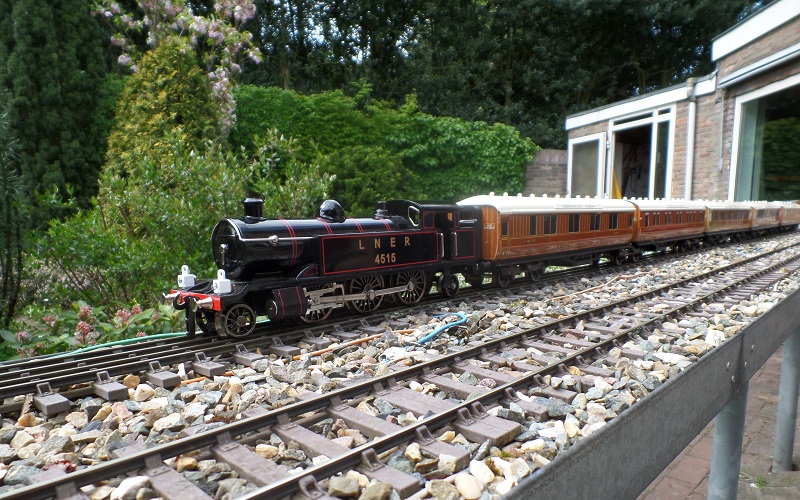 On the layout you can run almost every type of electrical mechanism. DC or AC, 2- or 3-rail, coupled to whatever track available. Fred is using a LGB, a MTH and modern digital Märklin transformers to run all of these variations. A purpose built, mobile operating console makes it easy to get the right transformer connected to the right track. Niek van Ees is running his new Darstaed loco.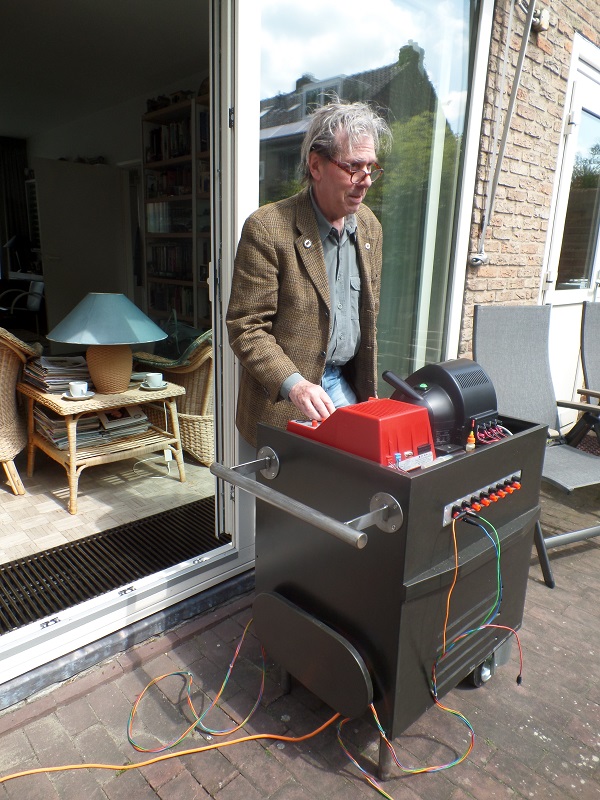 ---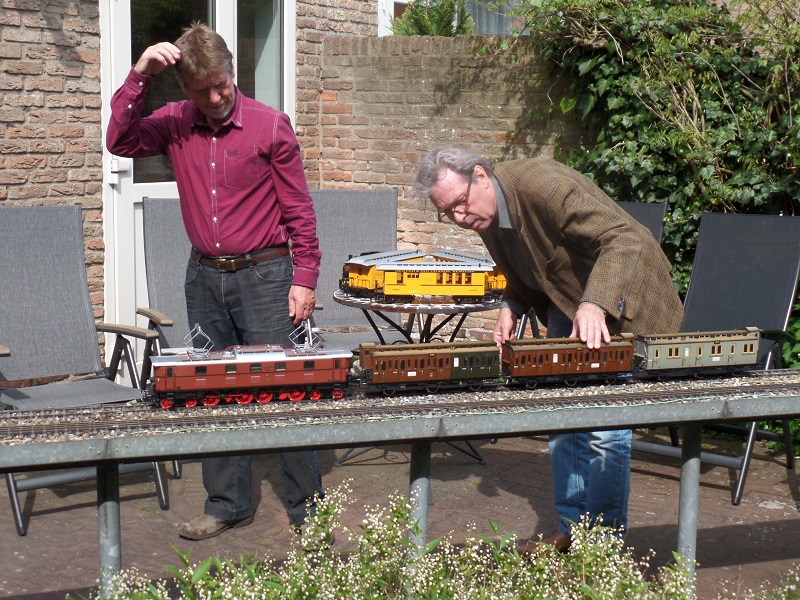 Fred's brother Dick van der Lubbe is a model train enthusiasts too. He brought along a Kiss gauge 1 EP 5 locomotive in Bayern brown/red. The loco was coupled to a rake of Märklin coaches from the same period. Niek van Ees is also keen on running trains, but here Dick seems to have second thoughts, since Niek is used to running vintage trains only. On these functions are mostly restricted to running forward. The modern locos are digital versions, with a variety of remote controlled functions.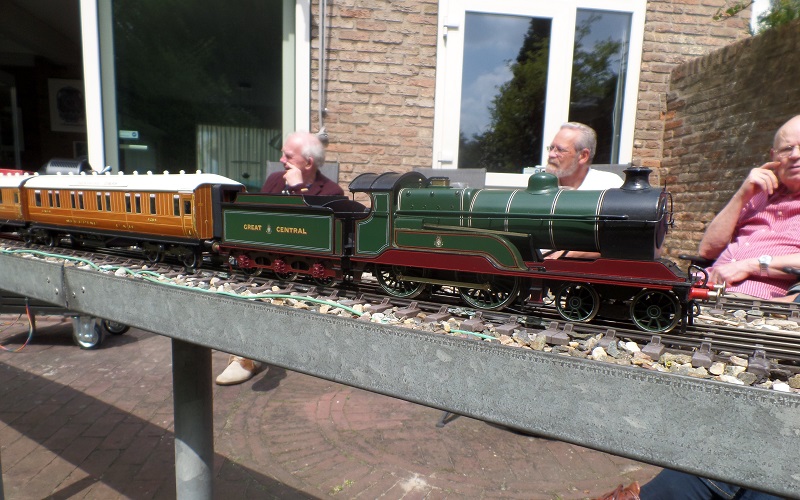 A mystery loco. A nicely made Gauge 0 Great Central Director Class loco. Although there were many experts present, no one seems to know the brand. A skilled modeller, factory made? Please use the contact button if you can help with identification of this loco.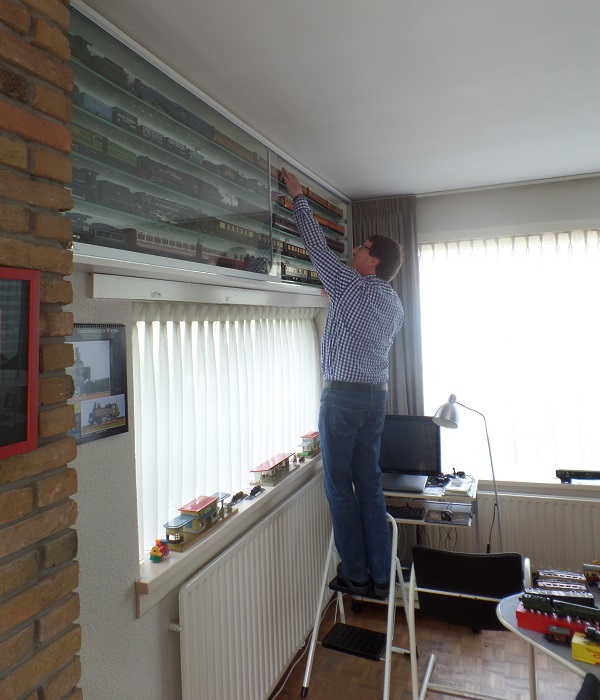 Fred has cleverly stored his collection in glass cabinets in his house. On days like these, there will always be someone present who would love to see some stock running of the most upper shelf.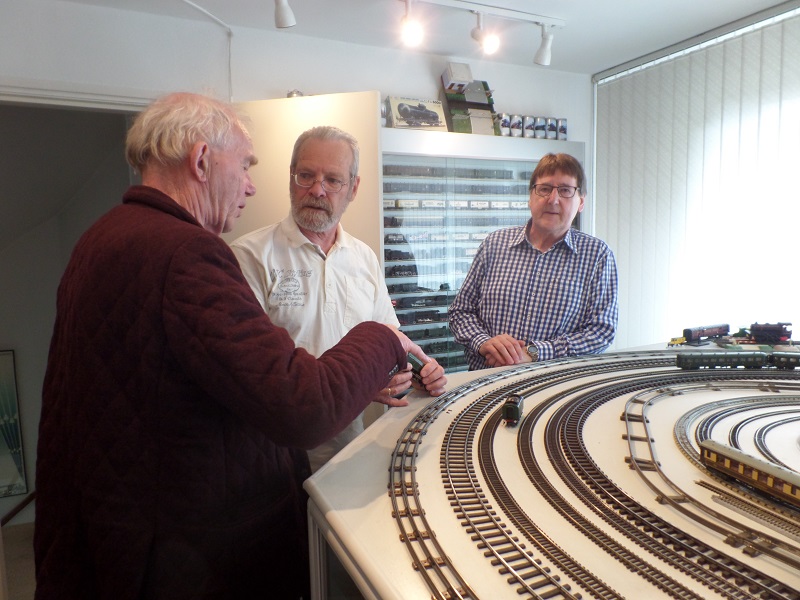 Since Fred's only restriction in collecting is models of steam locomotives, collecting every gauge, 2- or 3-rail, means your layout do have to contain a lot of track variations. Jacob, Rob and Fred are discussing the lack of scenery and/or buildings, due to the many variations of track.