The Dutch HRCA had its annual AGM on Sunday 28 November 2004. On looking back, we can safely say we had an excellent meeting, which will be clear form the pictures on this page.
---
As always we assembled for the traditional group portrait. A grand total of 12 members were present (from left to right): Peter Zwakhals (club secretary), Paul Vreede, Hans van Dissel, Niek van Ees, Jan Bierdrager, Piet Buis, Jacob Wieringa, Paul (seated), Piet Scholten, John Keates, Derk de Vries and Henk Brouwer.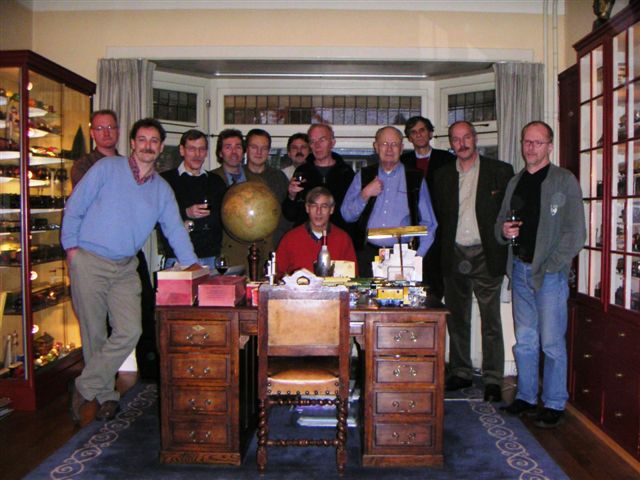 Next to trains, the main attraction of our meetings is conviviality (one of the meanings of that ubiquitous Dutch word "gezelligheid"). While outside darkness rapidly closed in, inside we had ourselves a splendid time. A very good glass of wine quite nicely helped things along, as is evident from the discussion here between Niek van Ees and Joop Wieringa.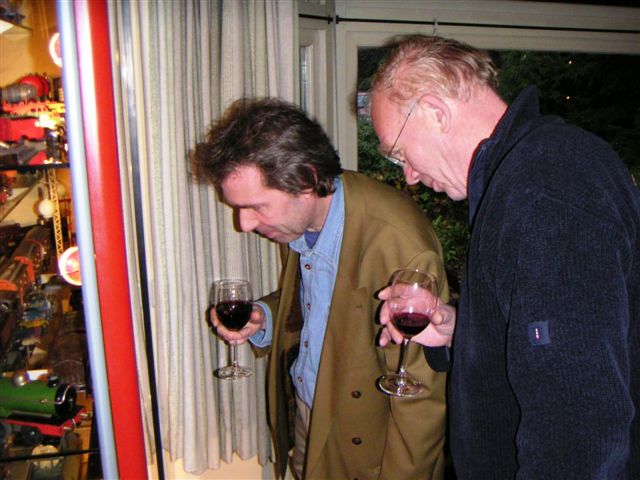 One of the traditions that has developed for our meetings is to outdo one another with the lunch. Not only candle light, but also a traditional Dutch pea soup, rich with smoked sausage, bits of bacon, onion and potato. Accompanied by a plate of herring, these delicacies had disappeared before anybody stopped to think about taking a picture...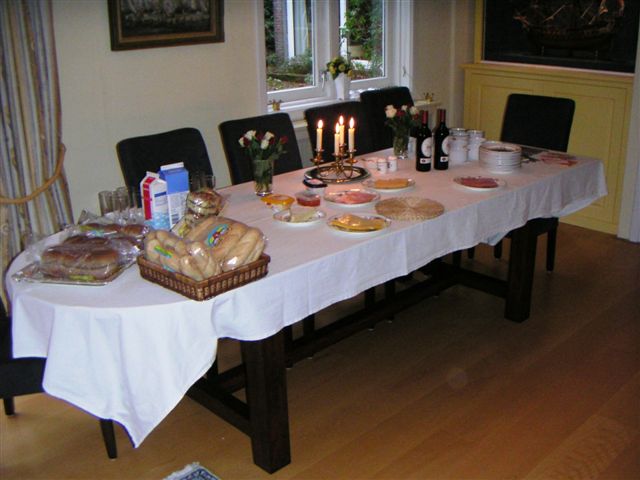 During the welcoming speech, we talked about the Dutch HRCA's early days. Our very first meeting was ten years ago. He related some of the highlights of our times together, and also gladly noted our membership had doubled since then.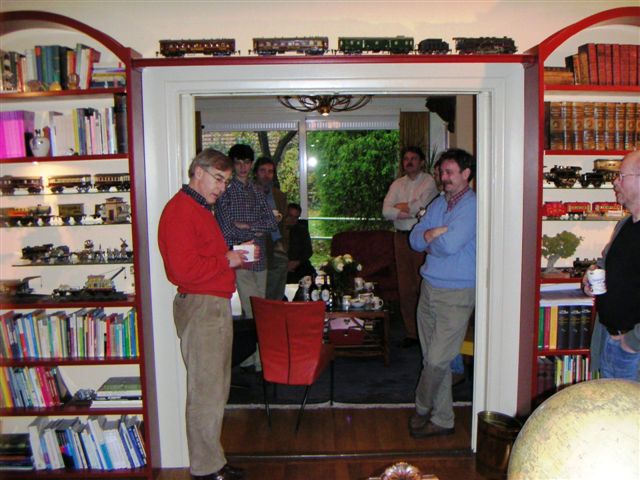 This meeting we gave some special attention to Hornby Dublo. Up until a few years ago the Dutch HRCA consisted solely of 0-Gauge disciples, but now includes new members adhering to the "small stuff". John Keates (and son) as well as Piet Buys had brought some interesting Dublo items to show. They then set up a layout on the kitchen table for a really effective demonstration. Henk Brouwer then produced a magnificent boxed EDP 12 Passenger Train set, the train of which had to show its worth on the layout of course.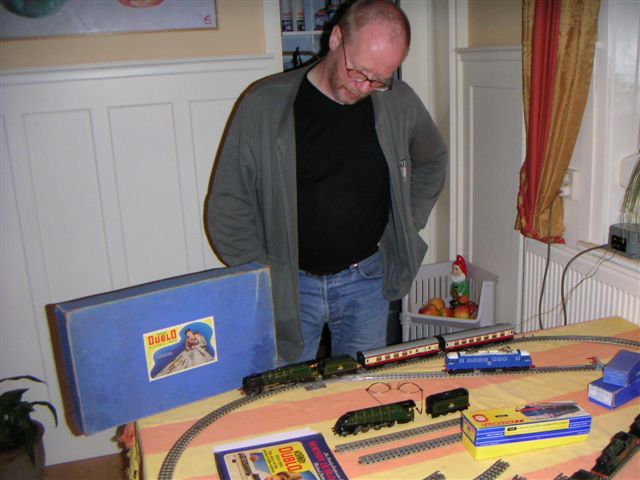 ---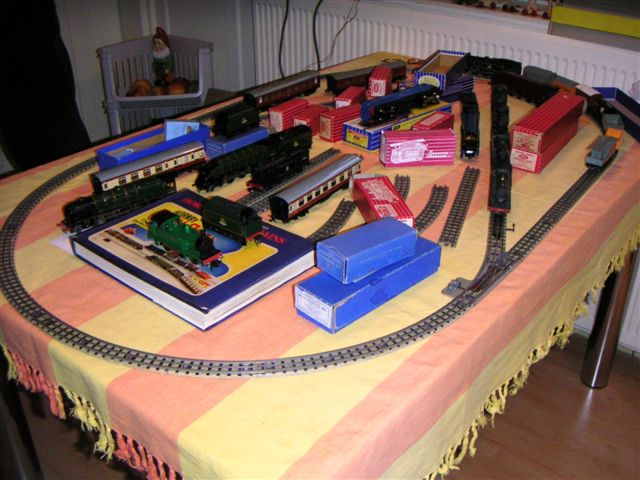 Because John and Piet kept unpacking new items, the temporary layout had by the end of the day grown into quite a collection of very interesting material.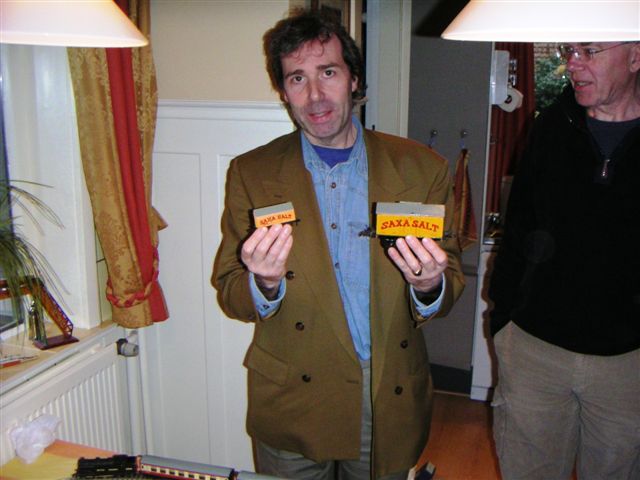 Niek van Ees had occasion to add a Saxa Salt Wagon to his collection. In this picture he appears to be trying to decide between two fine examples, but as a true runner of 0-gauge he did go for the larger one in the end.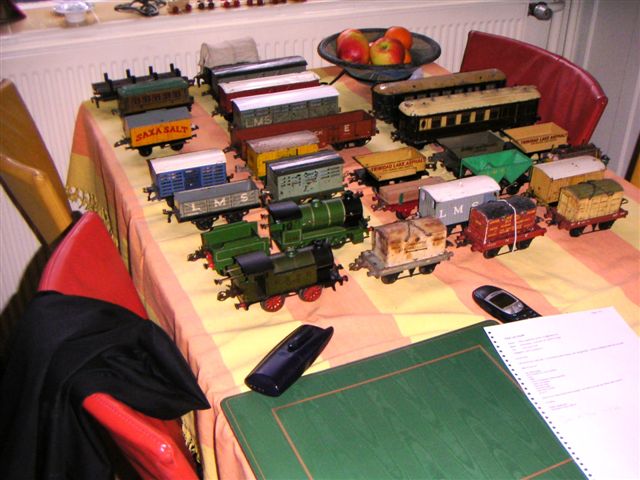 Other members also had ample opportunities to find something nice to take home. We had two sales tables to make our AGM complete, with our host providing the one shown here.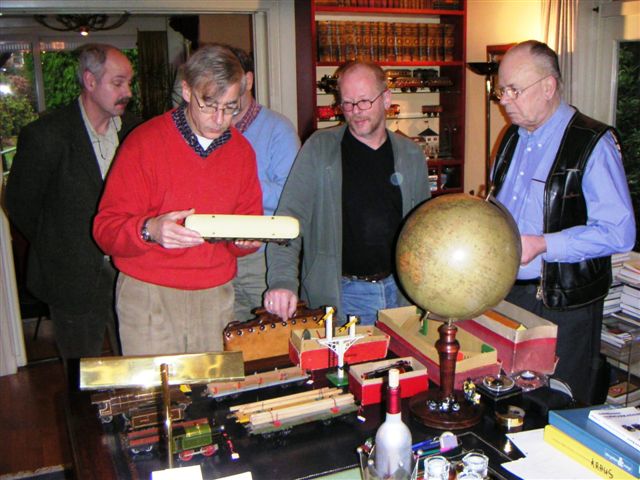 Henk Brouwer had also brought a nice selection of sales stock from his Famous Toys internet store. The picture shows some hard bargaining over a Riviera Blue Train Coach.