On Saturday 20th March 2004, the Netherlands saw a new event focussing on Meccano products. A joint initiative by the Dutch Meccano Guild and the Dutch HRCA, this 'Famous Toys Fair' featured extensive displays of these Meccano toy lines, complete with working Meccano models and Hornby train layouts. To round off the show, there were sales tables offering vintage toy trains, tinplate toys and dolls.
---
The Motive Power Depot on our 0-gauge layout. The Dutch HRCA O-gauge Construction Team this time consisted of Paul, Niek van Ees and Peter Zwakhals.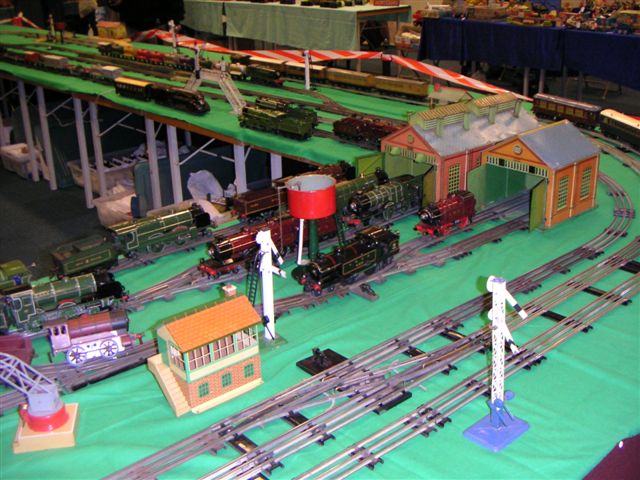 A busy moment at the station. Starting from the back: Southern L1 with a mix of SR Corridor and Passenger coaches; Bramham Moor with No.2 Special Pullmans; a rake of LMS corridor coaches waiting for an engine.
In front of these three lines, an ACE Trains SR EMU is waiting for its next departure. On the inner tracks a mixed goods train hauled by a LNER No.1 Tank, some other coaches and a Metropolitan set.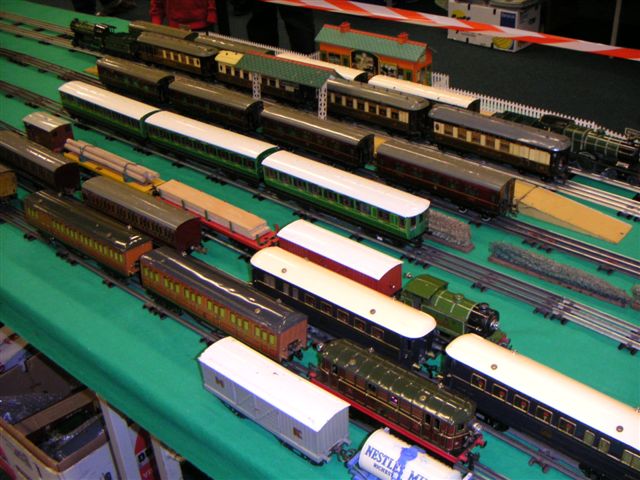 A E220 Special Compound pulling its LMS Passenger train at speed past the Engine sheds.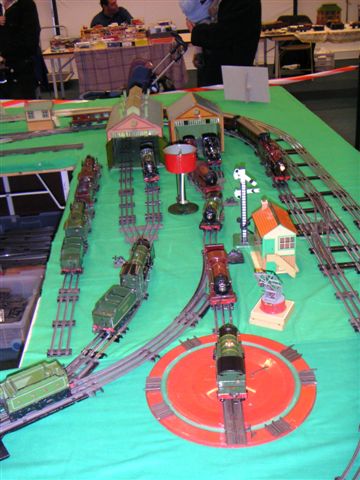 Another view of trains awaiting their turn - taken at eye-level from the end of the sidings. The switch visible on the right operates one of Niek's home-made isolation rails, and looks really good together with the other equipment.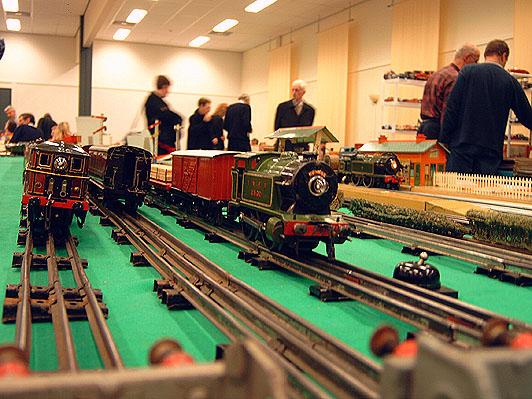 Peter craning his neck to keep an eye on the express train at the other end.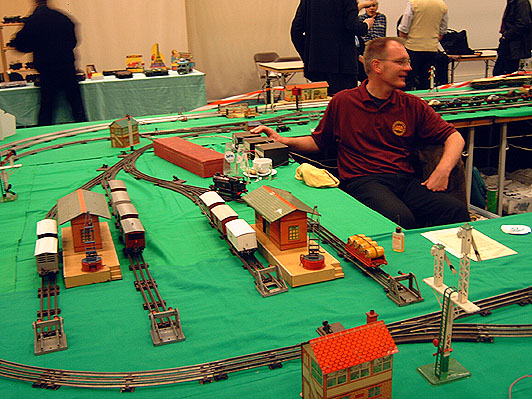 Climbing up a signal post gives a nice overview of the locomotives on shed. In the back, one of Niek's trains is loaded with imported motor cars.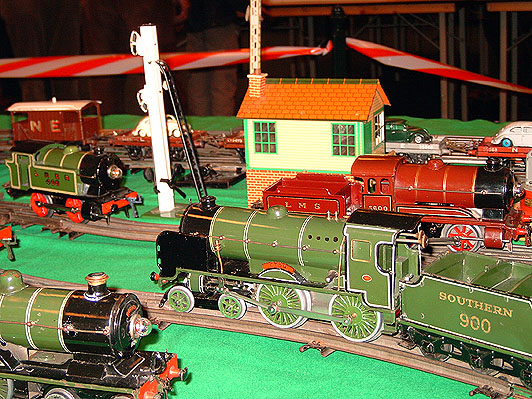 Where else on British rails can you spot a French Nord streamliner? This one belongs to Henk Brouwer, Secretary of the Dutch Meccano Guild and organiser of the Famous Toy Fair, who was delighted to see it run.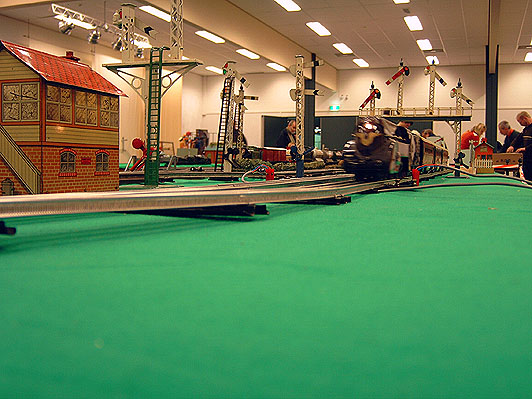 ---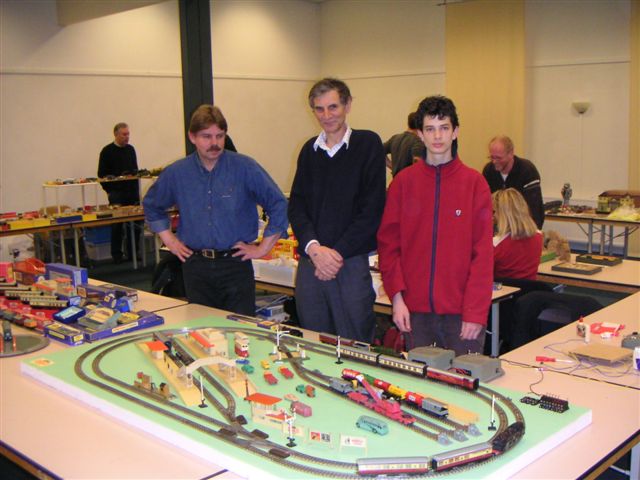 This Dublo 3-rail layout was the first we've ever had at a Dutch HRCA meeting, and in fact we think it's the first ever Dublo layout to be publicly shown in The Netherlands.
The Dutch HRCA Dublo Construction Team consisted of (from left to right) Piet Buis, John Keates and his son. Their lovely post war three-rail layout featured a double track baseboard, complete with station area and goods depot. Locos included Bristol Castle, Silver King, Duchess of Montrose, LMR 8F, N2 and 2-6-4 tanks.
As always the most popular item was the Travelling Post Office which never failed to claim the attention of any children that saw it!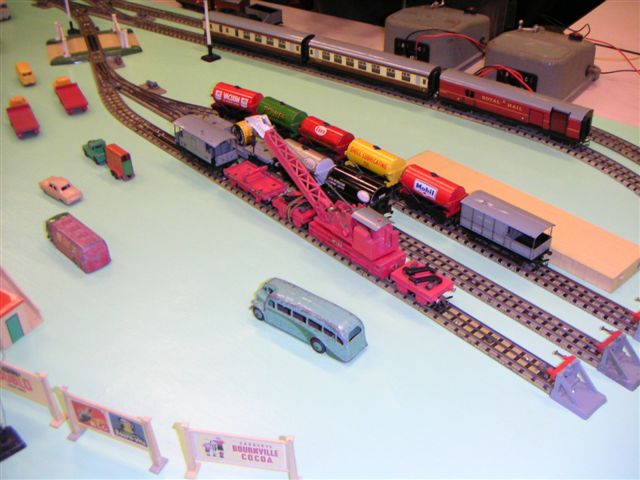 A closer view of the goods area. Some Dublo Dinky Toys added much to the effect. Power was provided by 2 standard Dublo transformers, which performed very well during the entire weekend.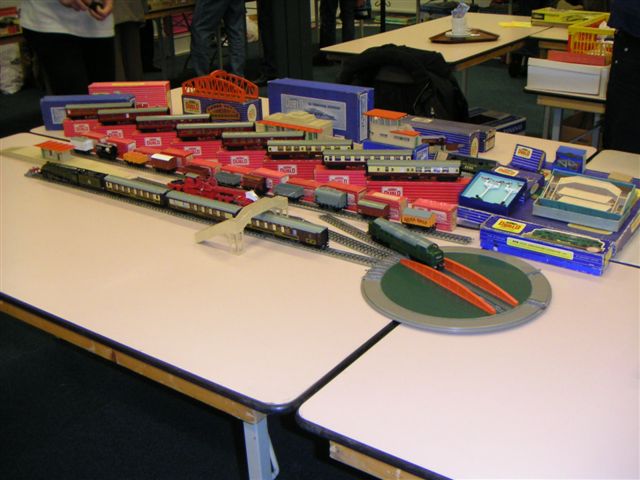 The other side of the Dublo area was used to put up a nice display of mostly plastic super-detailed coaches and wagons. As you can see, most of these were in pristine boxed condition.
There's a lot less interest and knowledge of Hornby-Dublo in Holland, and we were therefore surprised at the positive reaction that we heard at the show. Perhaps we'll find some more members!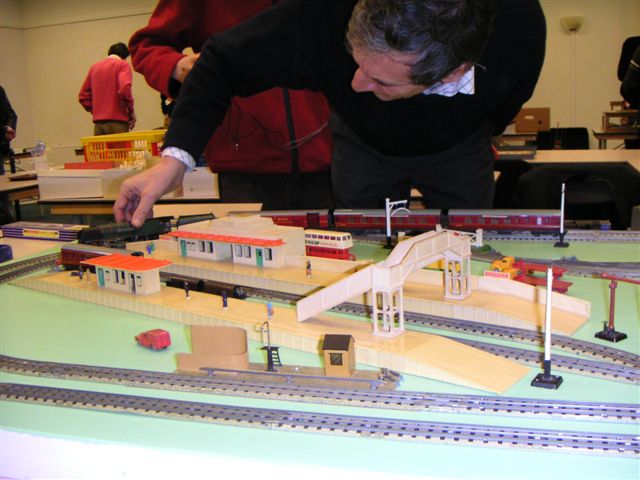 The foreground shows the station area, while in the background John is putting a locomotive back on the track.
---
In the next hall, the Dutch Meccano Guild had their 2004 AGM to coincide with this show. A wide variety of Meccano models was on display, many of which were continually in operation, adding an underlying buzz of electric motors to the lively hubbub of conversation.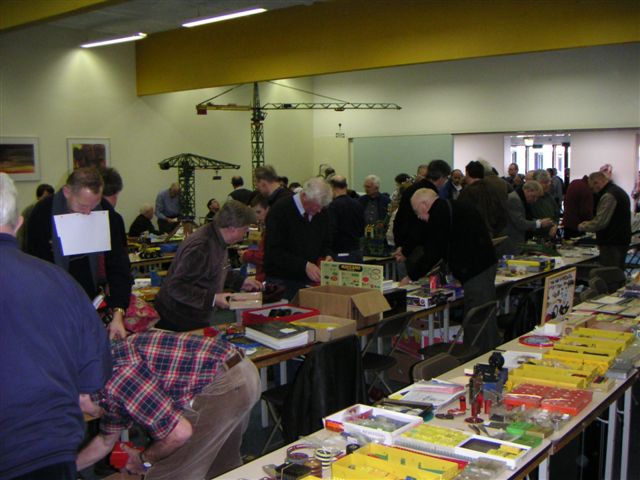 Meccano models on display ranged from rather small to (very!) large, either straight from the manual or built to someone's own invention.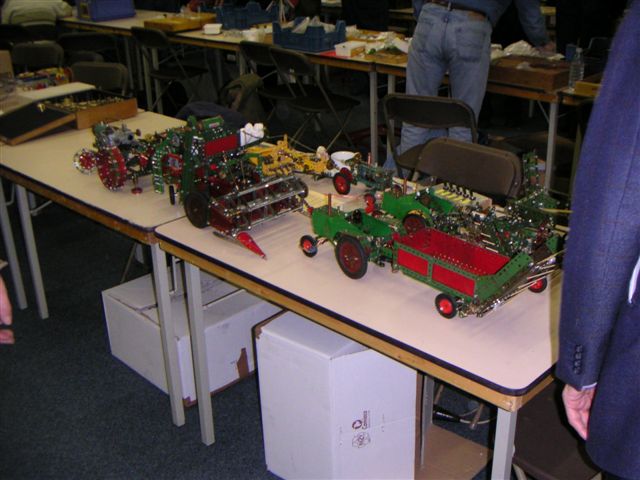 No Meccano show is complete without some giant cranes. The largest crane easily came up to the (high) ceiling of the hall. The one shown here was easier to photograph, and just exudes that typical Meccano flavour.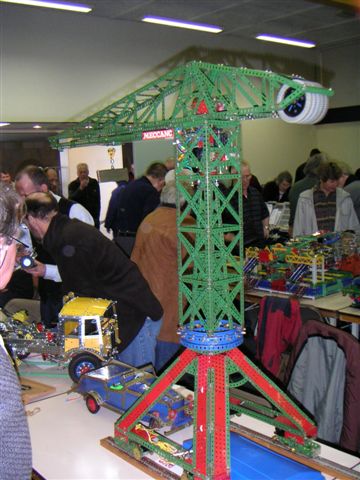 Over two years of work went into this true-to-scale model of a 1960s Convair passenger plane. From working flaps and rudder to operational landing gear and variable-speed propellers, it did all but fly!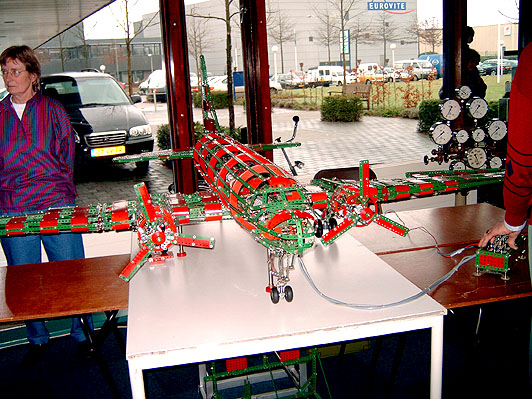 This Meccano model is just about the weirdest we've ever seen anywhere: a woman giving birth! Story behind it is that it was an entry in a sculpture contest with that theme, and the builder decided to stick to the medium he was most familiar with. It won a prize in the contest, and actually also found favour with some of the ladies present - we were told the builder had got it absolutely spot-on.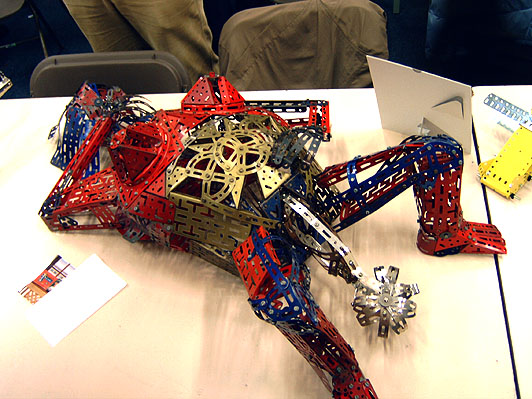 ---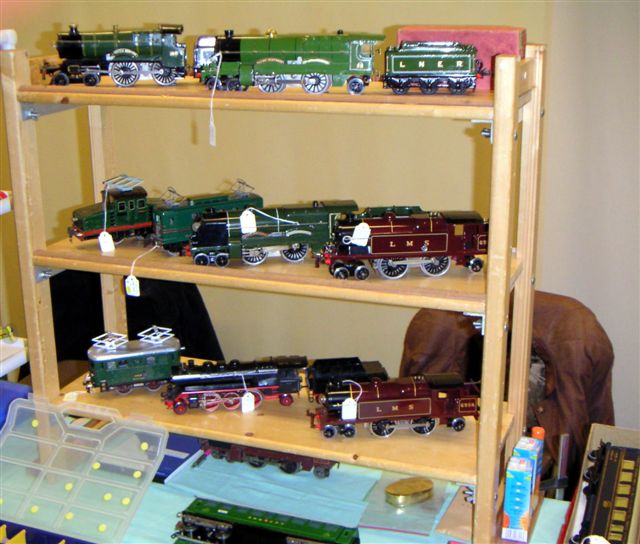 No show is complete without leaving for home with a new addition to your collection, and Piet Scholten had some very tempting items to help you do just that. Both LMS No.2 Special Tanks have been lovingly restored by Piet himself.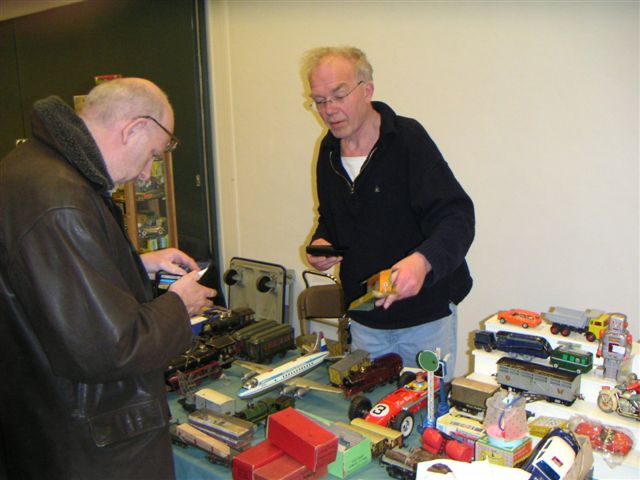 At the sales table of Jacob Wieringa a MO station changed hands quickly. Jacob always offers a large choice of toys to suit every pocket.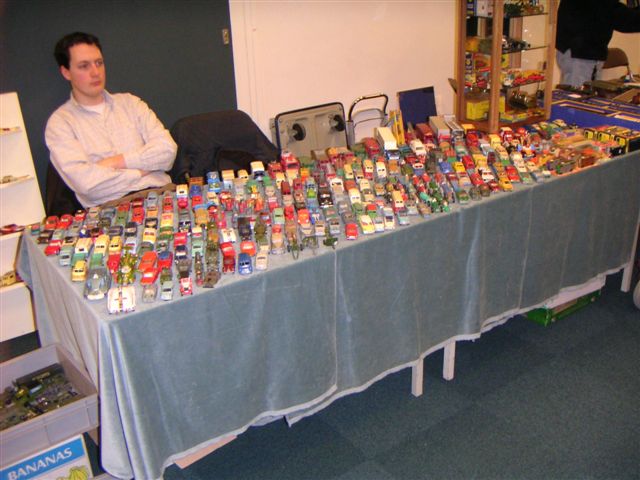 Sadly, the Dutch Dinky Toys Club had to cancel their participation in the show. But at this sales table the visitor could still get a nice glimpse of the variety in this famous range of toys.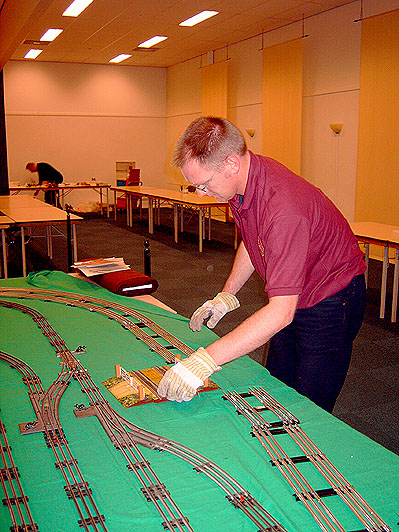 After a long day, the boys put their toys away. Until next time!